There are few things in this world better than cold brew coffee. In fact, I drink cold brew every single day.
I'm pretty basic and typically stick with black coffee, but sometimes you want to enjoy your coffee in different ways.
A delicious smoothie is the perfect way to do that.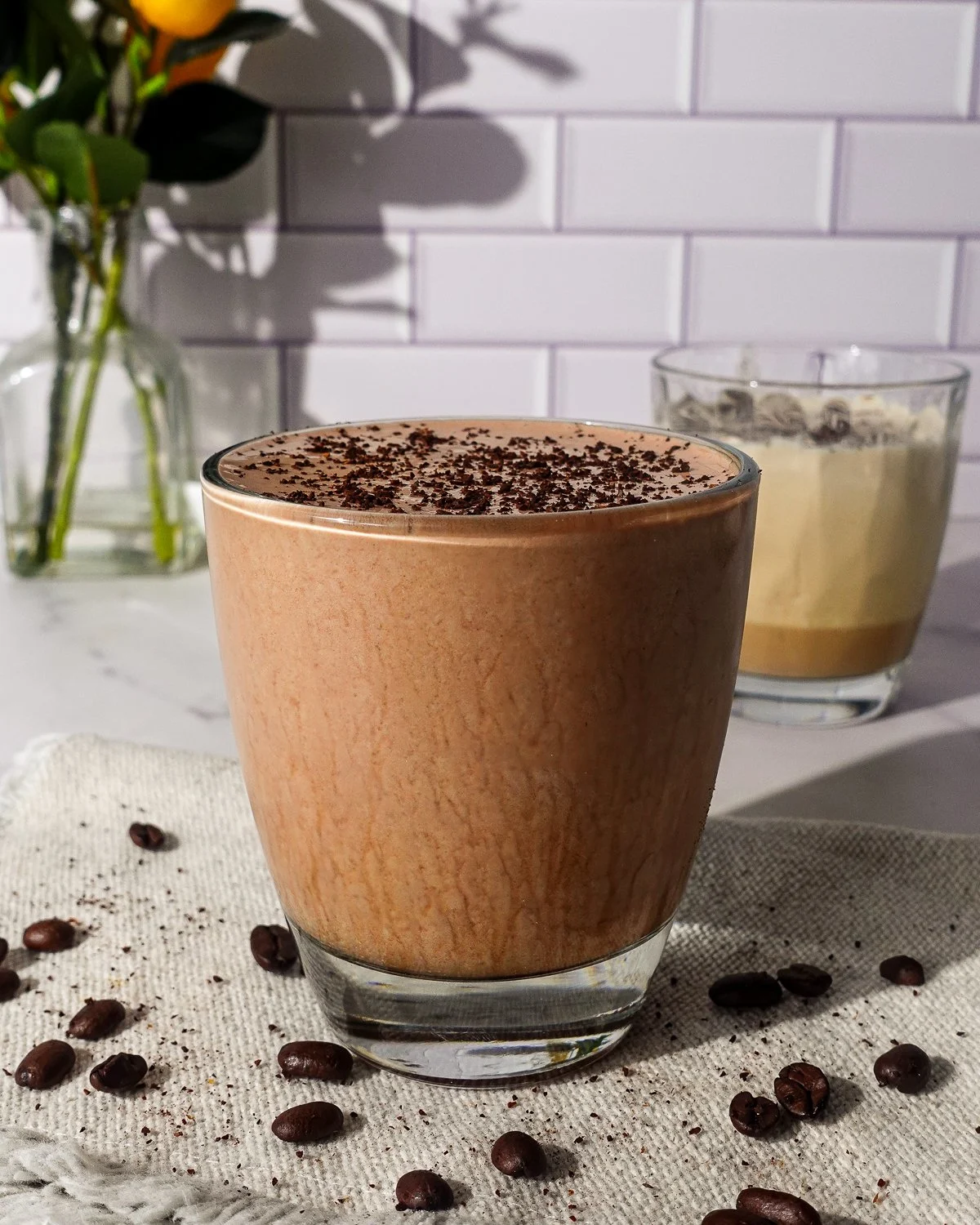 Each creamy smoothie requires just 4 ingredients, and they're customizable to fit the tastes of all coffee lovers.
Many smoothie recipes out there contain bananas, and I don't know about you, but I find the flavor of bananas to be very overpowering. So, we won't be needing any frozen bananas for these smoothies!
Grab your blender and your cold brew, and get ready for your new favorite way to start the day.
The Best Coffee to Use for Cold Brew Smoothies
We obviously want to use cold brew coffee to make these smoothies, but what type should you be using?
I experimenting with using regular cold brew coffee as well as cold brew concentrate, and the concentrate works significantly better.
Cold brew concentrate is simply cold brew coffee that hasn't been diluted, so it has a very strong flavor (similar to an espresso shot). Once combined with the milk and other ingredients for these smoothies, it balances out the flavor perfectly.
When I used regular cold brew, I found the overall coffee flavor to be too subtle.
Don't worry, it is VERY easy to make your own cold brew concentrate at home. In fact, I have an entire guide to walk you through the process.
However, you can just as easily grab some cold brew concentrate at the grocery store.
Most stores will carry it, just make sure it's a concentrate and not a regular bottled cold brew.
Also, if you're going to make these smoothies, please don't just use regular coffee (especially not hot coffee). Sure, it'll be quick, but you won't get that strong coffee flavor and it's going to be seriously lacking in the flavor department.
How To Make Cold Brew Smoothies
If you need an easy breakfast, it doesn't get any easier than these cold brew smoothies. For this recipe, we're going to whip up both vanilla and chocolate versions.
No matter which route you go, you're going to start with some frozen milk.
I learned with my protein milkshake recipe that frozen milk blends up so well to create a creamy texture.
All you have to do is pour the milk into an ice cube tray and allow it to freeze overnight. Once frozen, you'll be ready to whip up a cold brew smoothie in just minutes, which is perfect for busy mornings.
For this recipe, I've found that dairy-based milk works the best. I used Fairlife for this particular batch because it's a great way to add some extra grams of protein, but you can use your favorite milk for this one if you're not worried about the extra boost of protein.
If you need to use plant milk, I've found coconut milk to work the best to achieve a creamy texture. But, you can certainly use almond milk, soy milk, or oat milk if needed, your smoothie may just be a little more icy rather than completely creamy.
To make a chocolate cold brew smoothie, here's all you need:
4 milk ice cubes (which equals 1/2 cup of milk)
2oz (1/4 cup) cold brew concentrate
5g (1 tsp) cocoa powder
1/4 cup sugar-free maple syrup or any liquid sweetener
Once you toss all of the ingredients into a high-powered blender, let it run for about 1-2 minutes and see just how much it fluffs up.
While this healthy cold brew smoothie won't fluff up as much as my protein fluff, you still get a really nice silky smooth consistency similar to soft-serve ice cream.
You can certainly customize this cold brew breakfast smoothie however you'd like. If you want to add some extra creaminess and don't mind the extra calories, adding peanut butter (or almond butter) would be an incredible addition to this chocolate smoothie.
The vanilla version is very similar, and we still only need four ingredients:
4 milk ice cubes (which equals 1/2 cup of milk)
2oz (1/4 cup) cold brew concentrate
2tsp vanilla extract
2 Tbsp honey
For this vanilla cold brew smoothie, I decided to use honey instead of maple syrup, and I highly recommend you do the same! The honey is the perfect compliment to the coffee flavor that is even better than maple syrup. However, any liquid sweetener will work.
The vanilla version ends up tasting like coffee ice cream, which is probably the single best way to enjoy morning coffee.
Feel free to spice this one up with a dash of cinnamon or anything else you'd normally add to your coffee, but I promise it won't need anything else.
How To Turn These Into Protein Smoothies
One of my favorite recipes is my protein milkshake recipe, and it's very easy to turn that into a coffee protein smoothie with around 250 calories and over 30 grams of protein.
For these protein smoothies, rather than just freezing the milk, I actually mix together my ingredients and freeze them all together to save even more time.
The base ingredients for a protein coffee smoothie are:
10oz Skim Milk (this makes a larger smoothie than the original cold brew version)
1 Scoop vanilla protein powder or chocolate protein powder
2 tsp Vanilla Extract
10g (2 tsp) Powdered Sugar
Mix up all of the ingredients together, then freeze them. Once frozen, add to your blender with 2oz cold brew concentrate and you will have a thick, creamy, cold brew protein smoothie that's perfect as a post-workout snack.
Creamy Cold Brew Smoothies With Only 4 Ingredients
You've just discovered the BEST way to start your day. With only 4 ingredients needed, these creamy cold brew smoothies will transform your mornings.
Ingredients
Chocolate Cold Brew Smoothies
4oz (1/2 Cup) Skim Milk (I use Fairlife for extra protein)
2oz (1/4 Cup) Cold Brew Concentrate
5g (1 tsp) Cocoa Powder
1/4 Cup Sugar-Free Syrup or Liquid Sweetener of Choice
Vanilla Cold Brew Smoothies
4oz (1/2 Cup) Skim Milk (I use Fairlife for extra protein)
2oz (1/4 Cup) Cold Brew Concentrate
2 tsp Vanilla Extract
2 Tbsp Honey
Instructions
Freeze milk in an ice cube tray overnight or until completely frozen. Each ice cube generally holds 1oz of liquid, so 4 ice cubes will be all you need for one smoothie.
Add 4 milk ice cubes (1/2 cup's worth of milk) to a high-speed blender with the coffee concentrate and other ingredients (depending on the flavor) and blend until smooth.
Notes
You can use any milk of your choice, but dairy milk tends to froth up the best. For a non-dairy option, I recommend using coconut milk as I used in my Dairy-Free Blizzard.
For the vanilla smoothie, I highly recommend using honey. While you can use a sugar-free syrup instead, the honey flavor works so well with the vanilla.
I tested these smoothies with coffee ice cubes instead of milk ice cubes, but they did not work quite as well. The frozen coffee left a slightly slushy consistency, while the milk ended up completely smooth.
If you want to bump up the protein, you can also add a scoop of your favorite protein powder! If you do this, you'll likely need to add a small amount of additional milk to compensate.
Recommended Products
As an Amazon Associate and member of other affiliate programs, I earn from qualifying purchases.
Nutrition Information
Yield

1
Serving Size

1 Chocolate Smoothie
Amount Per Serving
Calories

65
Total Fat

0.5g
Carbohydrates

12g
Protein

8g