Protein fluff has been floating around in the fitness community for many years. If you've never heard of it before, you may be wondering what exactly it is.
Protein fluff is a blended frozen treat made with protein powder, and it is very high volume and low calorie. Because it is so filling with so few calories, it's a staple in many bodybuilding diets or weight loss plans.
The only problem is, most protein fluff out there is terrible.
Look, I'm all for low-calorie & healthy recipes, but if they don't taste good, what's the point?
Most protein fluff recipes you'll see out there use xanthan gum or guar gum, pudding mix, artificial sweetener, and tons of ice cubes. The result is definitely fluffy, but the flavor is incredibly artificial tasting, and it simply tastes like you are eating protein powder.
Some of these recipes even go as far as to call it "protein ice cream" which I take personal offense to as a lover of ice cream.
We're here to change the protein fluff game.
We're going to make our own protein fluff with protein powder, but we're going to pack this protein fluff recipe with tons of micronutrients thanks to frozen fruit.
All you need for this protein fluff recipe is protein powder, frozen fruit, and water. And I promise you, it will be more delicious than any other protein fluff you've tried.
Our version has under 300 calories for the entire blender, has nearly 40g of protein, and takes about 2 minutes to make!
Ingredients needed for protein fluff
Almost all protein fluff recipes out there will contain xanthan gum, but that's not exactly a staple ingredient that most people have laying around.
Xanthan gum is used as a thickening agent, so when you blend up ice, it helps to "fluff" it up. However, in my personal experience, it can cause gastrointestinal discomfort, and if we're being honest, it just doesn't taste all that great.
We only need THREE ingredients to make our version here.
Ingredient 1: Frozen Fruit
The secret weapon in this recipe is frozen fruit. When you blend ice, it tends to create a slushy, sometimes gritty consistency. But when you blend up frozen fruit, it becomes incredibly smooth and creamy.
I use mixed berries, as they are very easy to find in the freezer section of grocery stores. I prefer some combination of frozen strawberries, blueberries, and raspberries.
However, ANY frozen fruit will work great to make protein fluff.
Frozen banana will be very creamy, but you can also get creative and use things like frozen pineapple or mango.
Ingredient 2: Protein Powder
Of course, this is protein fluff, so protein powder is a necessary ingredient.
Because we are not using any thickening agents like xantham gum or pudding mix, the type of protein powder you use is going to make all the difference.
My protein powder of choice is PEScience, which is a blend of whey & casein protein. Whey protein is the most commonly used protein powder out there, but the addition of casein protein is what is going to keep this protein fluff nice and thick with no additional ingredients.
PEScience is the best tasting (in my opinion) and it's what I use in all my healthy recipes here on my blog. If you want to get some for yourself, you can always use the code "Matt" to save 15%.
I can't guarantee the same results if you use whey protein powder, but I can give you one tip regardless of the protein powder you use: make sure you use a protein powder that you actually like the taste of.
I cannot stress this enough.
Protein powder is one of the few ingredients we're using here, so if you use a vanilla whey powder that you don't love the taste of, you're not going to like the taste of the final protein fluff!
Ingredient 3: Water
If we were using ice as our base, we may need to use almond milk or add Greek yogurt to make the recipe nice and creamy.
But since we are using frozen fruit and a quality protein powder, all we need to do is add water to create a thick & creamy fluff!
Optional Ingredients
My go-to is always a berry protein fluff, so that is what this simple recipe is going to reflect.
One of the beautiful things about this recipe is that it is SO easily customizable, and you can change up the flavors however you'd like.
You can use frozen banana, chocolate protein powder, and add peanut butter to create an incredibly rich dessert.
Or, you can blend together frozen strawberries, vanilla protein powder, and sugar, then add some whipped cream on top to create a delicious strawberries & cream protein fluff.
The only limit here is your imagination! Throw on any toppings you'd like and you'll have yourself a healthy version of soft serve ice cream.
How to make protein fluff
First and foremost, make sure you have a good blender! I have the Ninja Food Processor/Blender, and it's incredible. I can't recommend it enough!
Making your protein fluff is as simple as adding your ingredients to a high-speed blender or food processor and letting it blend up until smooth.
When adding your ingredients to the food processor, I always recommend adding the powder in first. That means adding your protein powder as the first ingredient (along with any other powder you may be using, such as cocoa powder) and then adding your frozen fruit on top of that, then pouring water over the top.
If you were to add 1 scoop of protein powder to the top, it would get all over the sides of the blender and require scraping. When the powder is on the bottom, it mixes right in without any mess.
When you run the blender, it's going to look not-so-pretty at first, but trust the process!
Allow the blender to run on high speed for 1-2 minutes, and you'll see it transform into a beautiful protein fluff.
As long as you have a powerful blender, it will whip up into a beautiful fluff!
And the great thing about this recipe is that you can easily play with the quantities to match your preferences: if you want this to be closer to a fruit smoothie, you can add more water, and if you want the fluff to be thicker, you can easily add more frozen fruit or protein powder.
How to make chocolate protein fluff
Many of you have asked if you can turn this into chocolate protein fluff, so I want to show you how easy it is!
Since the base of this recipe is frozen berries, the color is not going to look like chocolate, and it's still going to look the same as our vanilla version. But, who cares about looks when the flavor is there!
We're going to follow the same protein fluff recipe, but we'll use chocolate protein powder and add additional cocoa powder to the blender.
Once it fluffs up, it's not going to look like chocolate (although it will definitely be darker than the original version), but it will taste like it!
I didn't go overboard with the cocoa powder in my recipe because I didn't want it to become too bitter, but if you're a fan of dark chocolate and want a deeper chocolate flavor, you can certainly bump up the amount used.
For some extra chocolate flavor, I like to add some mini chocolate chips on top. Some chocolate syrup would also be an amazing addition!
And don't worry, the chocolate protein fluff is still plenty thick.
I wasn't quite sure how the combination of berries & chocolate would work here, but I love the final result. You can definitely taste the fruit, but it is not at all overpowering.
You can use frozen bananas instead of frozen berries to create a chocolate version, but that will make something closer to chocolate ice cream than fluff, because bananas won't fluff up nearly as much. Personally, I find the taste of banana to be overpowering, but it'd work!
And hey, nobody is going to complain about chocolate ice cream.
Making dairy-free protein fluff with vegan protein powder
After posting this recipe, I received a lot of questions regarding a dairy-free version.
Since I'm a man of the people, I wanted to try this out with vegan protein powder to see if we still achieve the same fluff.
To test, I used PEScience vanilla vegan protein, which is a blend of pea & brown rice protein powder.
If you've never had vegan protein before, I'll be honest: it's not nearly as good as dairy-based protein powder. The earthy flavor from the peas is a strong taste, so it's not nearly as sweet as regular vanilla protein powder.
Plus, it tends to be slightly gritty.
With that being said, this is definitely the best-tasting vegan protein powder I've tried. I much prefer the regular vanilla over the vegan version, but if you eat a dairy-free diet, this is a great option (if you use the code "Matt" you'll save 15% on your order).
The vegan protein powder did not achieve nearly the same fluff, but it still produced a great result.
When you compare this to the original protein fluff, it's clear that the type of protein powder you use makes all the difference.
If you want to make your own vegan protein fluff like you see here, I did make some tiny adjustments to the recipe. Here's how I made it:
2 scoops (60g) vegan protein powder
1.5 cups (250g) frozen berries
1/2 cup water
1 tsp vanilla extract
2 Tbsp (about 20g) powdered sugar
I needed to add a tiny bit of vanilla and sugar to enhance the sweetness a bit, but that is certainly optional.
If you go the vegan route, you won't achieve nearly the same "fluff" that we're after, but it does make for a nice thick smoothie bowl.
As someone who doesn't love the taste of plant-based protein powder, I can honestly say that this version still tasted great!
Can you make protein fluff without protein powder?
One of the staple ingredients of protein fluff is, of course, protein powder. But what if you want a delicious fluff without needing a protein powder supplement?
You're in luck!
While it's not exactly "fluff," I have a recipe on my blog for vanilla soft serve ice cream that is high in protein and doesn't require any protein powder at all.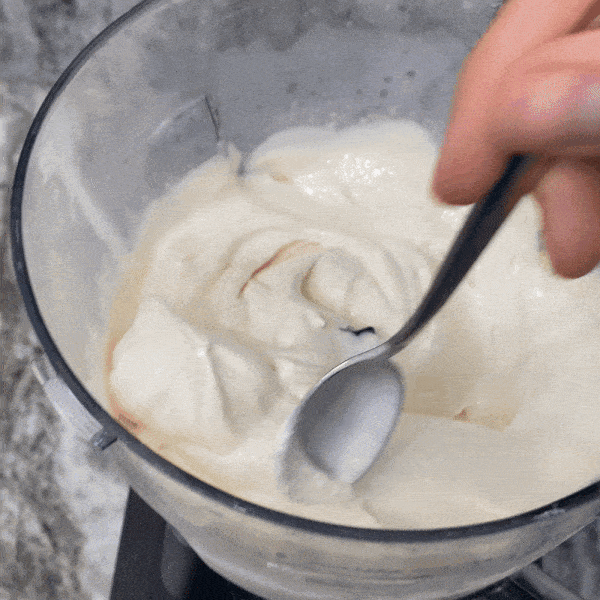 This fluffy ice cream has 300 calories for the entire batch with 24g of protein, which is quite impressive considering there is no protein power involved.
Delicious Protein Fluff With Just 3 Ingredients
This protein fluff is low calorie, high protein, and EXTREMELY filling. And unlike many other protein fluff recipes out there, this one is incredibly simple with only 3 ingredients required.
Ingredients
Original Protein Fluff
1.5 Cups (roughly 250g) Frozen Berries or Other Frozen Fruit
1/2 - 3/4 Cup of Water
Optional: Any other mix-ins or toppings of your choice!
Chocolate Protein Fluff
1.5 Cups (roughly 250g) Frozen Berries or Other Frozen Fruit
20g (1/4 Cup) Cocoa Powder
1/2 - 3/4 Cup of Water
Optional: Chocolate chips for topping
Instructions
Add the protein powder to your blender first- this will prevent it from spraying all over the sides.
Add your frozen fruit.
Pour water over the top. I like to start with 1/2 cup because you can always add more if needed. We want this to be nice and thick, so minimal water is key!
Run the blender on high speed for about 1-2 minutes until it is fully blended and fluffed up.I prefer to eat it right out of the blender (once you carefully remove the blades, of course) because it keeps it nice and cold, but you can pour your protein fluff into a bowl as well.
Notes
To make a larger serving: I often use 2 full scoops of protein powder along with 2 cups of frozen fruit (about 300g) and 3/4 cup of water to make a larger batch. Obviously the calories will be higher, but the volume is ideal for me!
Using a quality protein is key here. 100% whey protein will not be nearly as thick. I much prefer a blend of whey & casein because the additional casein makes it much thicker. A pure casein protein powder will also work great.
You can swap the protein out for vegan protein powder, but you won't get nearly the same fluffiness. See the notes above this recipe card for my vegan protein recommendations & recipe tweaks.
Remember, use protein powder that you like the taste of! I always recommend PEScience because I truly believe it tastes the best. (And if you do want to try PEScience protein powder, you can use the code "Matt" to save 15%)
If you prefer a basic vanilla fluff without frozen fruit, check out my vanilla soft serve ice cream recipe that doesn't require any protein powder!
We use water in this recipe because the protein powder is plenty thick. You can use unsweetened almond milk, or any low fat milk of your choice, but I've found that it truly does not make a difference here.
If you want to lower the calories, you can use one scoop of protein powder and one cup of fruit, just be sure to lower the amount of liquid used. If you go that route, this entire recipe will have only 190 calories and 25g of protein.
Recommended Products
As an Amazon Associate and member of other affiliate programs, I earn from qualifying purchases.
Nutrition Information
Yield

1
Serving Size

Entire Recipe
Amount Per Serving
Calories

285
Total Fat

2g
Carbohydrates

29g
Protein

38g