When it comes to the "healthy" ice cream on the market today, I'm generally not a fan.
Don't get me wrong: I absolutely love ice cream, but those healthy pints too often miss the mark.
Halo Top, Enlightened, Arctic Zero, and others, never quite feel like I'm eating actual ice cream. And if it doesn't taste like ice cream, what's the point?
Enter: Nick's Swedish-Style Light Ice Cream.
Since I am fully immersed in the world of high-protein snacks, I started getting targeted ads for this ice cream, and I was immediately intrigued. I mean, the images make it look too good to be true…
It's easy to make any food look good, but does it actually taste as good as it looks? Well, we're about to find out.
Note that this post is not sponsored and does not contain any affiliate links. The following review is 100% honest and unbiased without any financial incentive.
What makes Nicks Ice Cream different?
Unless you're from Sweden, I'm going to go out on a limb and assume that you have no idea what Swedish-style ice cream actually is.
Unfortunately, I still can't seem to find a definition of it for you. BUT, I can break down what is unique about Nick's ice cream.
First and foremost, Nick's is keto-friendly, with each serving containing around 4-7g of total net carbs. If you were to eat an entire pint, it wouldn't be quite as keto-friendly anymore as you'd be looking at around 20g of net carbs total.
But there are plenty of keto-friendly ice cream options out there on the market today. What really sets Nick's Ice Cream apart is the use of EPG.
EPG is a plant-based fat alternative that has the properties of fat without all of the calories. In other words, it lends that extra creamy texture that you'd expect from ice cream, all while keeping it low calorie!
Nick's Ice Cream has the exclusive rights to use EPG in their low calorie ice cream, which really sets it apart from the competition.
If you're tired of having to wait for your low-calorie pint of ice cream to thaw out before eating, you're not going to run into that problem with Nick's.
Also unique to Nick's Ice Cream is their use of "Perfect Day" milk in their vegan line. Perfect Day uses a plant-based whey protein that is not derived from animals in their milk, making it completely vegan! But since it is actual whey protein, it ends up tasting like real-deal ice cream.
Nicks Ice Cream: Overall thoughts
Nick's Ice Cream has a ton of flavors and products. For my initial review, I was only able to get my hands on 6 different ice cream pints.
In 2022, Nick's Ice Cream released a handful of new ice cream pints, and I was able to get my hands on 7 brand new flavors, as well as some of the vegan options.
In total, I was able to try 19 different pints, an ice cream cookie sandwich, and various protein bars from Nick's.
However, you should note that there are still other flavors that Nick's sells that I haven't tried.
A few flavors you will not see reviewed here include salted caramel (Sälta Karamell), Swedish mint chip (Mint Chokladchip), triple chocolate (choklad), and coffee caramel (Coffee Karamell).
You can find my breakdown of each individual flavor as your scroll down, but here are my overall thoughts on Nick's Light Ice Cream as a whole…
Texture: 9/10
When they say creamy, they aren't kidding. The main reason I don't like "healthy" ice cream pints out there on the market is that they are hard, icy, and don't resemble real ice cream at all. As someone who LOVES ice cream, it never feels like a quality replacement, but Nick's Ice Cream is the real deal.
Flavor: 8/10
It's tough to give one score for the flavor as a whole, so be sure to scroll down to see my thoughts on each individual flavor I tried. However, I can confidently say that the flavor of this ice cream is well above average and did not disappoint!
Mix-Ins: 6/10
Where Nick's Ice Cream falls short compared to some other brands out there are the mix-ins they include with each flavor. Everyone loves digging into a pint of ice cream and getting a whole bunch of chunks in it, but with Nick's, those mix-ins are pretty minimal. I am sure this is to keep the overall calories low, but it's a bit disappointing.
The new flavors in 2022 have a bit more "stuff" in each pint, but still nothing to write home about.
Value: 4/10
As with any healthy alternative on the market (like protein cereal), Nick's is not cheap. If you're ordering through their website, each pint is going to set you back $10. To put that into perspective, a pint of Halo Top or Enlightened will typically be $5-6 at the grocery store, although it varies by location.
Nick's required a $50 minimum if ordering online, which ends up being 6 pints (since they're technically $9.99 each). 6 pints, plus shipping in the United States, ends up costing $75 total. Yes, it's steep.
I haven't seen Nick's Ice Cream in stores near me, so hopefully the price is a bit lower if shopping in-store. You can find their store locator here.
Nutrition Facts: 7/10
Nicks Ice Cream isn't necessarily "protein ice cream" like many others on the market, but most pints contain 16-20g of protein per pint, which is not bad considering each pint contains around 240-360 calories. In fact, that puts a full pint at a very similar spot as a protein bar. But protein aside, these pints are low calorie, low sugar, and low fat (some containing small amounts of saturated fat), making them pretty appealing for any diet out there.
Overall Rating: 7.5/10
If we're going on taste and texture alone, Nick's Ice Cream blows the competition out of the water. It is by far my favorite healthy ice cream, and I'll never turn to a different brand going forward.
However, it's expensive, and I know that will be a deal-breaker for a lot of people! My advice? If you see it in a store near you, grab a pint (or cookie sandwich) and give it a try. You definitely don't need to commit to a full 6 pints, but if you try just 1, I don't think you'll be disappointed.
If you want to see a full video review of the specific flavors I am reviewing below, you can check out my two review videos below:
Vanilla
Swedish Vanilj
Nutrition: 1 Pint = 240 Calories, 10g Fat, 20g Net Carbs, 12g Protein
Texture: Smooth & creamy, exactly the way ice cream should be.
Flavor Accuracy: A perfect example of what a regular vanilla bean ice cream should taste like.
Rating: 8.5/10
Overall Thoughts: I happen to love regular vanilla ice cream, so this one really hit the spot for me. When compared to other light ice cream versions of vanilla, this one blows them all out of the water.
Strawberry Swirl
Strawbär Swirl
Nutrition: 1 Pint = 220 Calories, 6g Fat, 20g Net Carbs, 12g Protein
Texture: Very smooth. Same ice cream base as vanilla.
Flavor Accuracy: This one is tough to judge because the base of the ice cream is actually vanilla. Based on the photo (below) I was expecting strawberry ice cream, which wasn't the case. The strawberry flavor is just packed into the jelly swirl.
Rating: 7/10
Overall Thoughts: Fans of strawberry might be disappointed in this one. I thoroughly enjoyed it, but it's mostly vanilla ice cream with a small amount of strawberry jelly mixed into it. If you're after a strong strawberry flavor, you may want to go a different route.
Swedish Cookie Dough
Nutrition: 1 Pint = 300 Calories, 14g Fat, 36g Net Carbs, 12g Protein
Mix-Ins: The ratios in this flavor are a bit off. While there are a lot of chocolate syrup swirls, there is very little actually cookie dough in it.
Flavor Accuracy: The taste on this one falls short. The chocolate swirl is very overpowering in this, so the taste is too much like vanilla ice cream covered in chocolate sauce.
Rating: 5/10
Overall Thoughts: This was my least favorite flavor I tried, unfortunately. The potential is there, and if the chocolate sauce was reduced about 50% with the amount of actual cookie dough chunks being bumped up significantly (I only found a couple in the entire pint) this would be very much improved.
Peanut Butter Cup
Nutrition: 1 Pint = 360 Calories, 18g Fat, 20g Net Carbs, 16g Protein
Mix-Ins: Compared to the cookie dough flavor I reviewed previously, the mix-ins in this flavor are very generous! There is a great chocolate swirl along with mini peanut butter cups within a peanut butter ice cream base.
Flavor Accuracy: This flavor was EXACTLY what I was hoping for. The peanut butter ice cream is the perfect base, and the ratio of chocolate syrup and mini peanut butter cups compliments it very well. I'm a sucker for peanut butter cup Blizzards, and this is comparable to me.
Rating: 9/10
Overall Thoughts: Definitely my favorite of the bunch. Everyone knows that Reese's Peanut Butter Cups taste better frozen, so if you're a fan of frozen Reese's, you're going to love this one. It's the perfect combination of chocolate and peanut butter!
Cookies & Cream
Cookies and Kräm
Nutrition: 1 Pint = 280 Calories, 10g Fat, 28g Net Carbs, 16g Protein
Mix-Ins: I'll be honest: this was extremely disappointing. I mean, look at the photo above to see what the pint looks like, and compare it to the below photo from Nick's Ice Cream website.
Flavor Accuracy: The flavor on this one also falls short. I was hoping that the cookie pieces would taste like Oreo cookies, but it's more of a soft chocolate cookie dough.
Rating: 5/10
Overall Thoughts: Much like cookies & cream, this flavor just falls short, mostly due to the lack of mix-ins. It ends up tasting much more like vanilla ice cream than anything else, which I don't hate, but is certainly not what you're hoping for when you buy this one.
Swedish Pistasch (Pistachio)
Nutrition: 1 Pint = 230 Calories, 8g Fat, 20g Net Carbs, 16g Protein
Mix-Ins: I was not expecting this pistachio ice cream to contain actual pistachios in it, but that takes this flavor to the next level.
Flavor Accuracy: I'm a sucker for pistachio gelato, and this transports me right back to Italy with that same flavor. It has the perfect pistachio flavor without being overpowering, as many pistachio-flavored foods tend to be.
Rating: 8.5/10
Overall Thoughts: Not only is the flavor of this ice cream very accurate, but it is also insanely creamy. While there aren't a ton of mix-ins in this pint, it does contain actual pistachio pieces, which is very rare to find in anything pistachio flavored. I would absolutely buy this flavor again.
Strawberry Cheesecake
Strawbär Cheesecake
Nutrition: 1 Pint = 270 Calories, 15g Fat, 11g Net Carbs, 12g Protein
Mix-Ins: Pieces of strawberries and graham cracker crust are very generous in this one. Every spoonful seemed packed with flavor!
Flavor Accuracy: The strawberry cheesecake pint was exactly what I was hoping for. The ice cream itself is strawberry-based, and the graham cracker crust pieces taste like they came straight from a cheesecake.
Rating: 9/10
Overall Thoughts: As a big fan of strawberry cheesecake, I love this flavor. It is very accurate that what you'd hope it would taste like, and the mix-ins are very generous compared to many of the other options that Nick's offers.
Campfire S'mores
Campfire S'mörgs
Nutrition: 1 Pint = 310 Calories, 18g Fat, 10g Net Carbs, 12g Protein
Mix-Ins: Like many other pints, the number of mix-ins in this pint left me feeling disappointed. Expecting lots of graham cracker pieces and chocolate, I found mostly graham cracker crumbs and not much chocolate.
Flavor Accuracy: The flavor of the ice cream itself is marshmallow, which ends up tasting like a slightly sweeter version of vanilla. The graham cracker crumbs add a tiny bit of flavor, but you don't really get a taste of s'mores.
Rating: 5/10
Overall Thoughts: Unfortunately, this pint falls short. If you're after s'mores flavor, I would actually go with Rocky Road (below) as it is chocolate ice cream with a marshmallow sauce mixed in, which gives me way more s'mores vibes (minus the graham cracker, of course).
Rocky Road (Rocky Fjord)
Nutrition: 1 Pint = 370 Calories, 24g Fat, 9g Net Carbs, 15g Protein
Mix-Ins: This pint is described on the Nick's website as chocolate ice cream with "huge chunks of nuts and rivers of marshmallows" and to be honest, I'd consider that pretty accurate.
Flavor Accuracy: I haven't eaten a lot of Rocky Road ice cream in my life (I'm not a huge fan of chocolate ice cream) but this pint is what you'd expect! Rich chocolate ice cream, pieces of nuts, and tons of melty marshmallow sauce.
Rating: 8/10
Overall Thoughts: I really enjoyed this pint a lot. Since I don't love chocolate ice cream, it doesn't sit atop my list, but any fans of rocky road ice cream will not be disappointed. This pint is on the higher end of the calorie scale when it comes to Nick's ice cream pints, but it's definitely worth it.
Swedish Apple Pie
Nutrition: 1 Pint = 290 Calories, 16g Fat, 8g Net Carbs, 11g Protein
Mix-Ins: There's a very generous swirl of apple pie filling in this pint, which will please all apple pie lovers.
Flavor Accuracy: This pint is spot-on. The ice cream has a touch of cinnamon in it, and the apple pie swirl is bursting with authentic apple pie flavor.
Rating: 9/10
Overall Thoughts: This may be my favorite pint of Nick's Light Ice Cream! It tastes just like having some vanilla ice cream on top of a slice of fresh apple pie, which is one of my favorite desserts out there. The swirl of apple pie flavor is plentiful, giving you apple flavor with every bite.
Swedish Munchies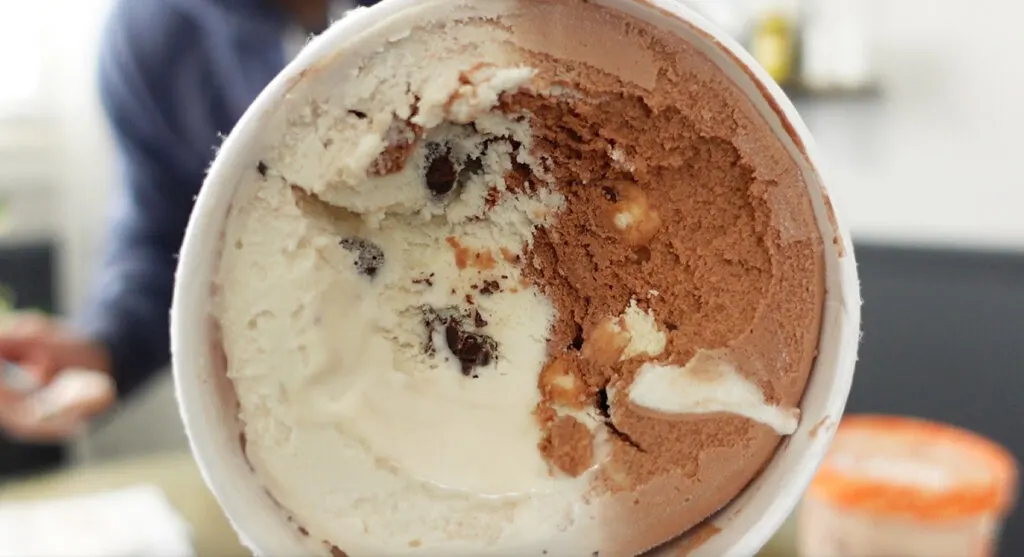 Nutrition: 1 Pint = 330 Calories, 21g Fat, 8g Net Carbs, 15g Protein
Mix-Ins: At first glance, I did not see any mix-ins in this pint. But after a couple spoonfuls, it revealed a generous amount of brownie & cookie dough chunks.
Flavor Accuracy: This flavor is a mix of vanilla & chocolate ice cream with brownie pieces and cookie dough pieces mixed in, and that is exactly what ya get.
Rating: 8/10
Overall Thoughts: Swedish Munchies is a very straightforward flavor, in a good way. The brownie and cookie dough pieces are soft & delicious, and there were plenty of them throughout this pint.
Raspberry Swirl
Raspbär Swirl
Nutrition: 1 Pint = 260 Calories, 14g Fat, 8g Net Carbs, 10g Protein
Mix-Ins: The pieces of freeze-dried raspberries are plentiful in this pint, and there is a decent amount of chocolate syrup swirl as well.
Flavor Accuracy: The raspberry flavor is pretty subtle because the only flavor is coming from the small pieces of raspberry themselves, rather than the ice cream.
Rating: 6/10
Overall Thoughts: Raspberry isn't my favorite flavor out there, so I knew that I wouldn't be in love with this pint. However, I was expecting way more raspberry flavor out of this one. This pint is vanilla ice cream with small pieces of raspberry, so the raspberry flavor is quite subtle. As someone who doesn't love raspberry, I don't mind it, but you may be disappointed if you're looking for a lot of fruit flavor.
Hazelnut Cream
Hazelnöt Kräm
Nutrition: 1 Pint = 330 Calories, 24g Fat, 5g Net Carbs, 12g Protein
Mix-Ins: There's a small amount of chocolate syrup in this one, along with lots of small pieces of actual hazelnut.
Flavor Accuracy: I'm not sure what to think of this one. It has a very "nutty" flavor, but considering it is hazelnut & chocolate, I was expecting Nutella, which this certainly was not.
Rating: 4/10
Overall Thoughts: It may be my own fault, but I was expecting this to be more of a Nutella flavor, and it was definitely not that. The ice cream itself is hazelnut flavored, but it really just tastes like vanilla. There are supposed to be chocolate chunks in this pint, but it appears to just be a small swirl.
If you love actual hazelnuts, you'd enjoy this pint. It tastes almost as though they blended up hazelnuts right into the ice cream, so you taste the nuts with every bite. For me, it wasn't enough flavor to really enjoy.
Vegan Flavors
I tried these 6 vegan ice cream pints from Nick's, and you can find the full review of every flavor on my other blog, Protein Snack Finder. But I'll give my overall thoughts below for ya!
Nutrition: 1 Pint = 270 Calories, 18g Fat, 62g Carbs (5g Net Carbs), 4g Protein
Pros: Very light and creamy, indistinguishable from regular ice cream
Cons: Not a lot of "stuff" mixed into each pint, and protein is very low overall
Tastes Like: Honestly, the vegan ice cream tastes just like their regular ice cream!
Rating: 7.5/10
Vanilla Cookie Sandwich
Nutrition: 1 Sandwich = 240 Calories, 14g Fat, 9g Net Carbs, 8g Protein
Pros: The cookies are really soft, almost as they are cookie dough, and the vanilla ice cream is incredibly creamy. Plus, the sandwich is huge!
Cons: There are 51g total carbs but only 9g net carbs, leaving you with a lot of fiber & sugar alcohols. Many people may find their stomachs not super happy with that.
Tastes Like: Vanilla ice cream between cookie dough with large chocolate chunks.
Rating: 8/10
Overall Thoughts: This ice cream sandwich is phenomenal. For only 240 calories, it's surprisingly large and filling. On taste alone, this is a clear-cut 9/10. However, I need to dock a point based on two things:
The high amount of fiber & sugar alcohol in a single sandwich is not something I'd be able to consume on a regular basis, personally.
The cost cannot be ignored. At $5 per sandwich, this is a very pricey treat. It's absolutely worth trying if you are able to, but it won't become a staple in my freezer due to the price point, unfortunately.
Bonus: Nick's Keto Snack Bars
Nutrition: 1 Bar = 180 Calories, 10g Fat, 3g Net Carbs, 15g Protein
Flavor Tried: Choklad Peanöt (Chocolate Peanut)
Pros: Packed with peanuts and soft, chewy caramel. Very similar to the consistency of an actual protein bar.
Cons: Has an artificial flavor from the sweetener used, so you wouldn't exactly mistake it for a candy bar. If you're sensitive to that artificial flavoring, you may not like these.
Tastes Like: A high-protein version of a Snickers Bar.
Rating: 8/10
Overall Thoughts: I happen to really love these bars! I reviewed the Snickers Protein Bars at one point, and I was seriously disappointed. These Keto Snack Bars taste like what a Snickers protein bar SHOULD be. While not an exact replica of a candy bar, the peanuts & caramel combination makes this one of the closest things to a candy bar that I've tried.
Bonus: Nick's Smak Bars
Smak Bars are the new refrigerated protein bars from Nick's. They're described as "the first Swedish-style refrigerated protein bar," but I'm still not sure what makes these Swedish-style, exactly.
I tested 4 different flavors, but they deserved their own review, so you can find that on my second blog, Protein Snack Finder.
Conclusion: Is Nick's Ice Cream worth it?
All in all, Nick's Ice Cream is my favorite "healthy" alternative to ice cream.
I'm never going to give up actual ice cream, because I believe in flexible dieting and have no dietary restrictions when it comes to carbs or sugar. Regular ice cream is just too delicious to give up.
However, sometimes you just want an alternative, and I can highly recommend Nick's Ice Cream.
If you happen to be low-carb or keto, you won't find a better low-carb ice cream than Nick's.
Every flavor is not a home run, but they are still consistently better than other brands I have tried.
Nick's Ice Cream has a bunch of other flavors that I haven't been able to try (along with some amazing-sounding ice cream sandwiches), so I can't say how they are as a whole. But in my opinion, these products are all worth trying.
Yes, they come with a hefty price tag. But as an occasional treat, I believe they are definitely worth a try, especially if you are just a curious person like me.
Have you tried Nick's Ice Cream pints, or any of the other Nick's products? Let me know how you feel about them! Everyone's tastes are different, so I'm always curious to hear if you guys agree with me or not.