The Choco Taco was discontinued in 2022 (although I'm convinced it's going to make a "surprise" comeback) and it has left a void in many people's lives.
If you're unfamiliar with the Klondike Choco Taco, it's a dessert taco that has ice cream stuffed inside a waffle cone shell, then topped with chocolate and peanuts.
Since we can no longer buy them, we need to start making them on our own!
And since I'm all about taking classic recipes and putting a healthy spin on them, let's make a lower calorie, higher protein version of the beloved ice cream truck treat (fun fact: Taco Bell also carried the Choco Taco for a hot minute as well).
The original Choco Taco contains 230 calories, 11g fat, 31g carbs (mostly sugar), and only 2g protein.
Psht, we can beat that.
Our copycat Choco Taco contains 170 calories, 10g of fat, only 15g of total carbs, and 9g of protein!
I love coming up with high-protein recipes, and as much as I'd love for this Choco Taco recipe to be packed with even more protein, I wasn't prepared to add extra protein just for the sake of it.
I wanted this recipe to be able to be enjoyed by any Choco Taco fan, and I believe I've accomplished that.
How to make healthier Choco Tacos
The star of this copycat Choco Taco recipe is the waffle cone shell, so you'll want to pick up a waffle cone maker for them. I bought a cheap one off Amazon, and while I don't use it a ton, I'm always very grateful to have one when the situation arises (like these Choco Tacos).
Waffle cones are essentially flour, sugar, butter, and vanilla flavoring, so we're going to follow that formula but add some vanilla protein powder into the mix.
If you do not have protein powder, or you don't want to use it for any reason, it can be swapped out for more flour in this recipe.
To make the shells, all you have to do is mix up the ingredients for the high-protein waffle cones until you have a thick, spoonable batter. Once it's mixed up, it should resemble a thick waffle mix.
Heat up the waffle cone maker, then place a large spoonful of batter right in the center of the plate.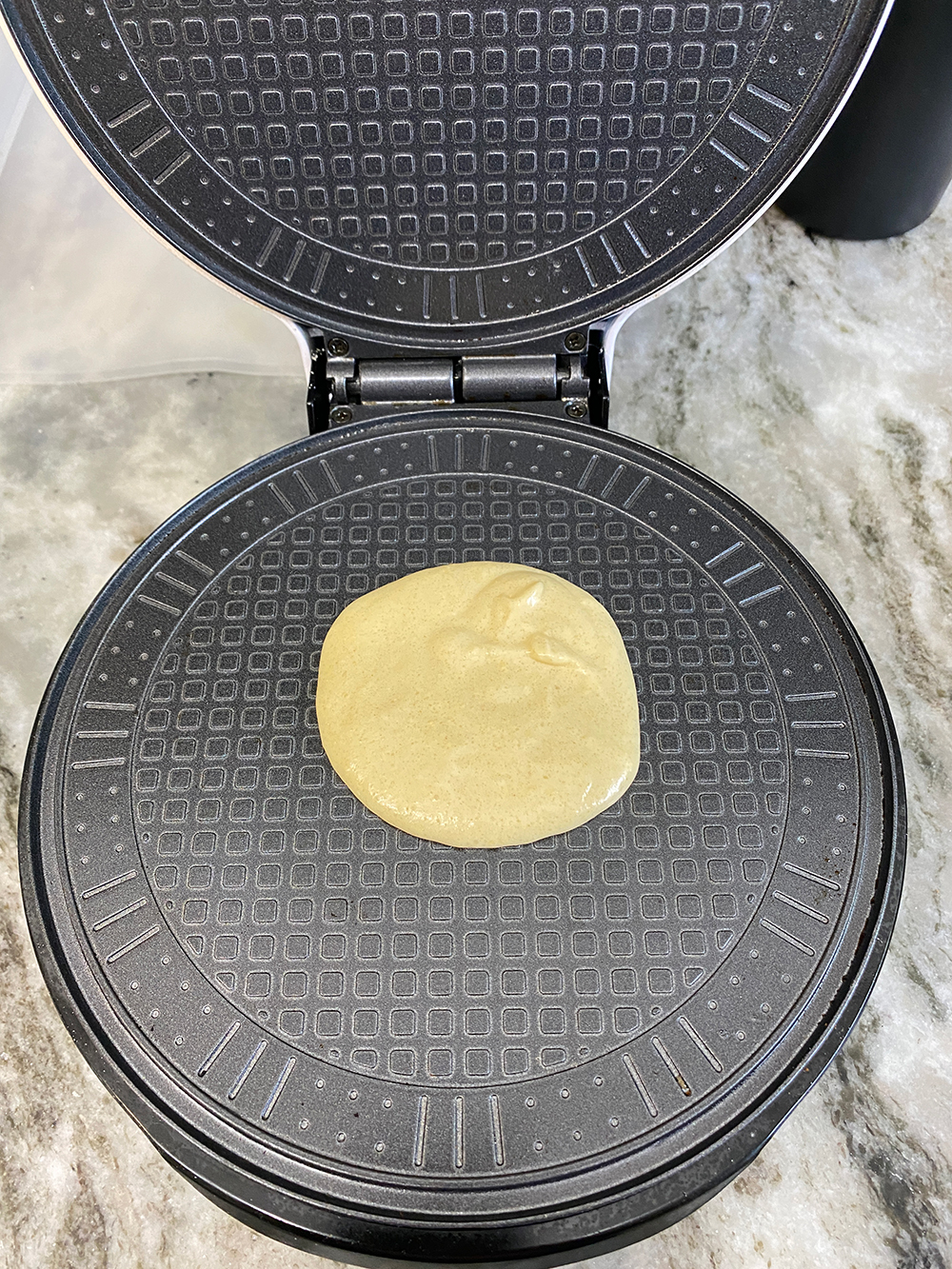 It may not look like enough batter, but since the machine is designed to press the waffle cones very thin, it will spread out a ton.
Once you close the lid to the waffle cone maker, this is how much it will spread:
You want to let the waffle shell cook until it is dark brown in color (the photo above is still slightly undercooked).
Don't worry, the batter makes enough for 9 shells, so you can experiment with the first couple of shells until you get it just right.
The waffle shell won't be perfectly browned across the entire thing, since most machines have "hot spots" to them, but it should be mostly browned.
When you remove the waffle cone from the machine, it's going to be very soft and flimsy because it crisps up as it cools.
Form it into a taco shell shape, then prop it up between two cups or mugs to hold the shape: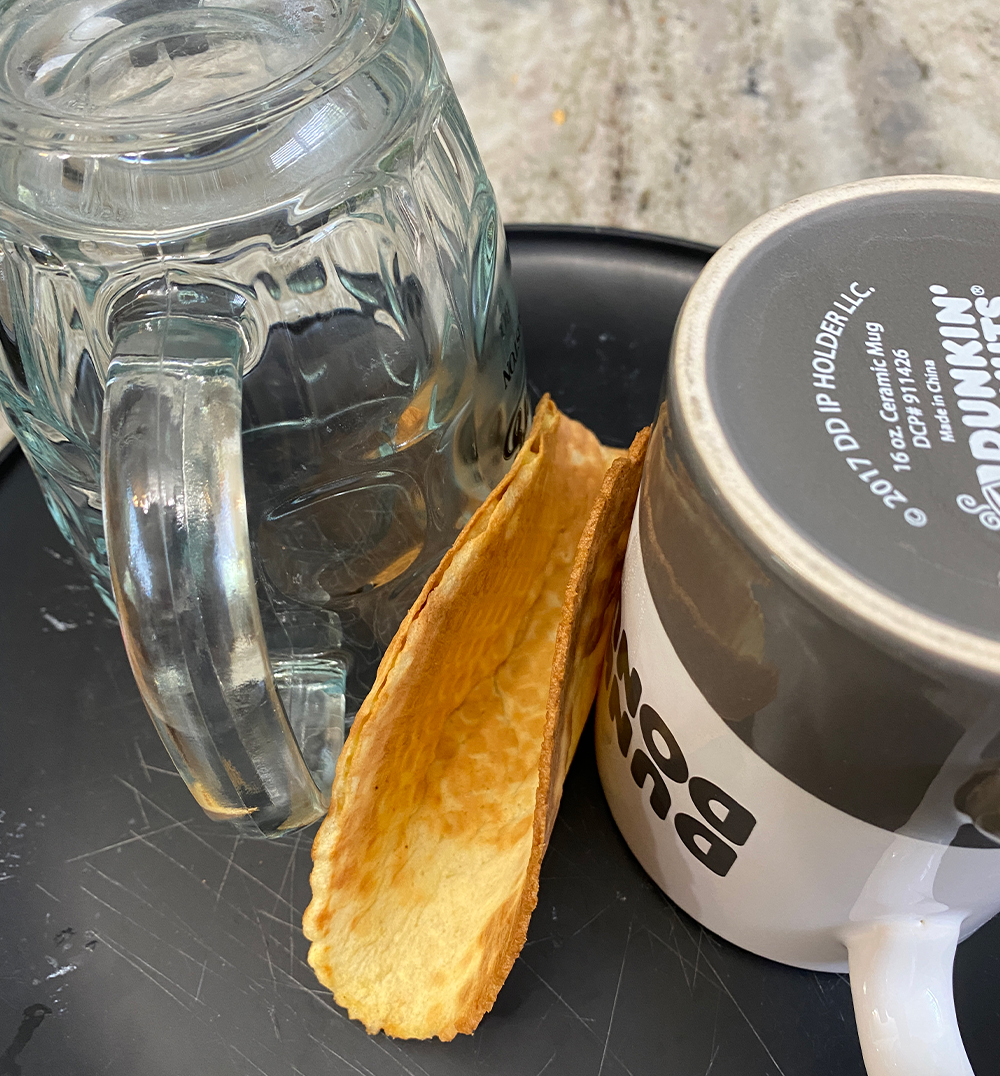 There are many methods to shape taco shells, so you can use any method you'd like, but I found this to be the quickest and easiest.
After a couple minutes, the Choco Taco shell will be hardened enough to the point where it holds its shape (but still isn't crispy), so you'll be able to remove the waffle cone shell to form the next one.
Once all the Choco Taco shells are cooked and cooled, you can stuff them with your vanilla ice cream.
Depending on what kind of ice cream you are using, especially if it's high-protein, you will likely need to let the vanilla ice cream sit out at room temperature in order to more easily stuff your shells with softened ice cream (or if you're lazy, you can toss your ice cream in the microwave for a short amount of time to speed the process).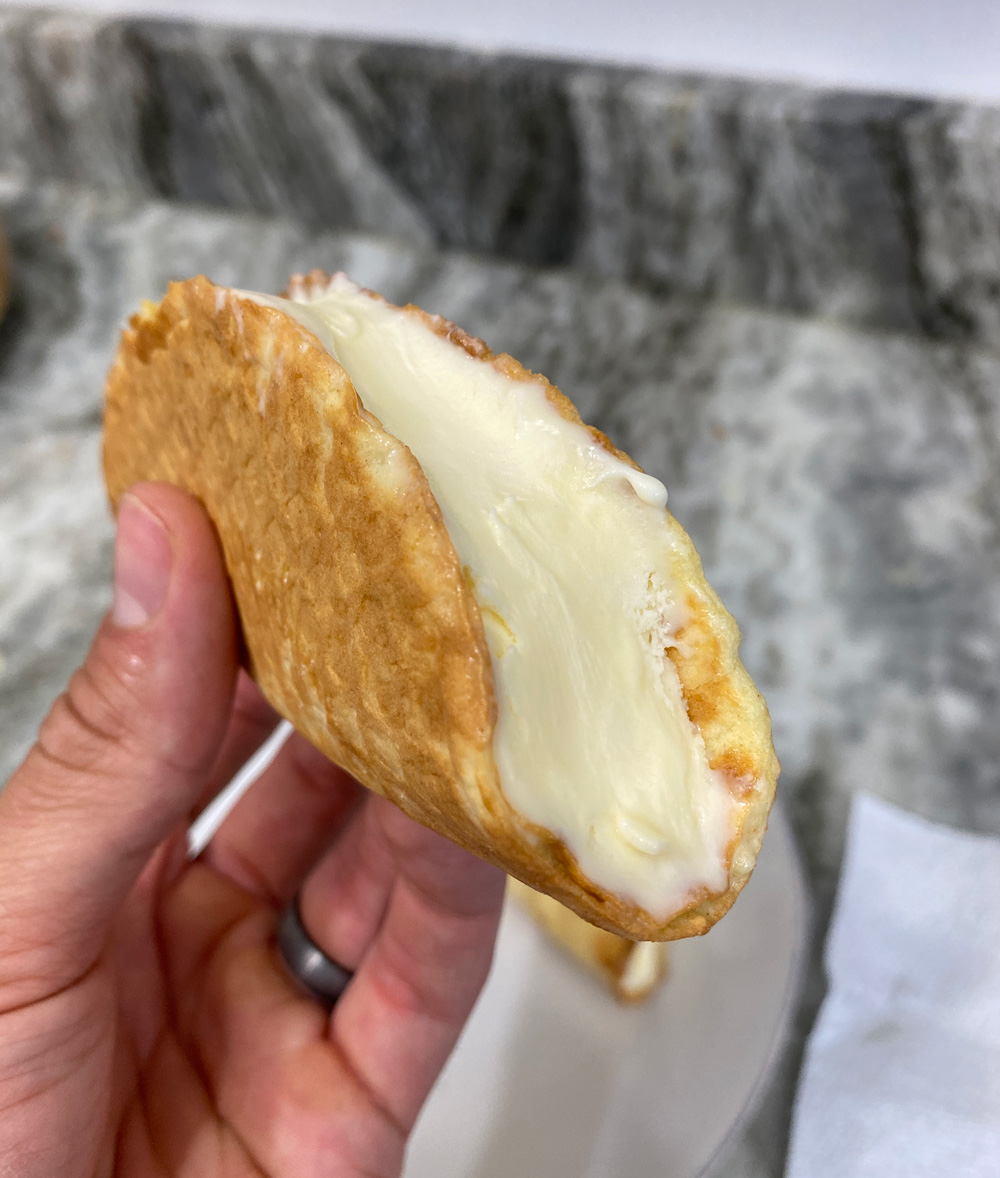 Since I know many people will be curious, I measured out the ice cream used and it came to right around 40g of ice cream per shell, so that is what the nutrition facts here reflect. This may differ slightly depending on how large you make the shells, though.
Once the waffle cone shells are stuffed with ice cream, you'll need to return them to the freezer for 1-2 hours. This will not only allow the ice cream to harden, but give the shells time to crisp up some more.
After a little time in the freezer, you're ready to top your Choco Tacos!
We're making our very own chocolate magic shell to dip these tacos in, because it's a very easy way to add some extra protein here. You can use regular melted chocolate in its place, but you'll need to adjust the nutrition facts to reflect that.
Just dip the tops of the tacos in the chocolate mixture, then immediately dip into the crushed peanuts. The chocolate will solidify very quickly (within about one minute) so you want to be sure you dip it into the chopped peanuts right away.
Set the dipped Choco Tacos down for a minute or two, and then they'll be ready to go.
You can enjoy your homemade Choco Taco right away, but if you make a large batch and want to save some for a later date, they keep very well in the freezer.
Add any uneaten Choco Tacos to a freezer-safe bag and save them until you're ready to devour.
More classic ice cream recipes to enjoy
I'm no stranger to ice cream recipes, especially when it comes to taking a classic favorite and putting a healthy spin on it.
Here are some of my favorites that are worth checking out: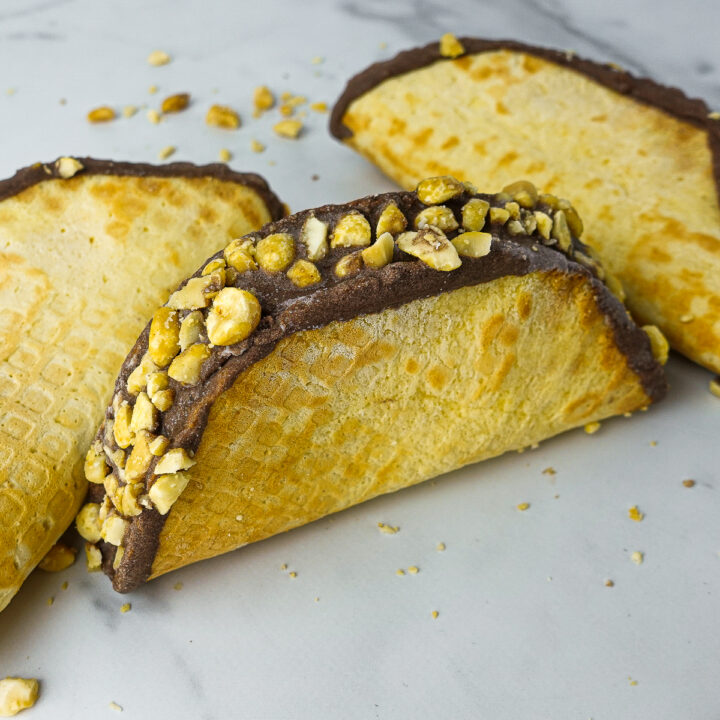 Healthier Homemade Choco Tacos
Total Time:
2 hours
10 minutes
Choco Tacos may have been discontinued, but that's not going to stop us from making our very own at home! This version is lower calorie, lower sugar, and higher protein than the Klondike version, too.
Ingredients
Ingredients for Taco Shells (makes 9 shells, so you can scale down as needed):
45g All-Purpose Flour
28g Light Butter
1 Egg
2 Tbsp Milk of Choice
Pinch of Salt
Chocolate & Peanut Coating (will be enough for 9 Choco Tacos, so scale as needed):
42g Coconut Oil
5g Cocoa Powder
45g Peanuts
Ice Cream Filling
40g Halo Top Ice Cream Per Taco (ANY light ice cream will work great)
Instructions
In a large bowl, mix together flour, protein powder, sugar substitute, and a pinch of salt.
In a separate bowl, whisk together 1 egg, 2 tablespoons of milk, and 28g (2 tablespoons) light butter.
Add the liquid ingredients to the dry ingredients and mix until you have a thick spoonable batter.
Heat up a waffle cone maker and then add a large spoonful of batter into the center (don't worry, a little goes a long way). Close the lid and let the waffle cone cook until it is dark brown in color- see photos above this recipe card for a visual.
Remove the waffle cone from the waffle cone maker, form it into a taco shape, and stand it up between 2 cups to hold the shape. If you have a taco holder, that will work perfectly, but since I don't, I just kept it simple using what I had.
The shell will only take a couple of minutes to harden enough that you can remove it and let it sit right on a plate. Continue for as many shells as you'd like to make. Note: these shells harden & crisp up as they sit, so don't be alarmed if they feel soft.
Once all the shells are prepped and cooled, stuff them with your vanilla ice cream (you may need to allow your ice cream to soften first depending on which kind you are using). I measured it out and 40g of ice cream fit into each shell, but it will depend on how large your shells are.
Put the stuffed tacos in the freezer for 1-2 hours to allow the ice cream to firm back up and for the shell to fully cool.
Once completely frozen, prep the chocolate coating and peanuts in 2 separate bowls. Melt the coconut oil in the microwave, then whisk in the chocolate protein powder, cocoa powder, and powdered sugar in one bowl. In another bowl, add your crushed peanuts.
Dip the tops of the tacos in the chocolate mixture, then immediately into the peanuts. This chocolate mixture acts as a magic shell, so it will harden quickly!
Enjoy immediately, or return to the freezer in a freezer-safe bag and enjoy at a later date.
Notes
The nutrition facts listed here are using Halo Top ice cream, which is a light ice cream with extra protein. If you make these Choco Tacos with regular light ice cream (using Breyers "No Sugar Added" as an example) the nutrition for each taco would be 175 Calories, 12g Fat, 14g Carbs, and 7g Protein.
PEScience is a blend of whey & casein protein powder, which is what I use in all my recipes. In most cases making substitutions won't work, but for this recipe, using 100% whey protein should still work great.
The shells are meant to be slightly crispy but still a little soft like a regular Choco Taco. If you want a very crunchy shell like a waffle cone, leaving the protein powder out should accomplish that.
Recommended Products
As an Amazon Associate and member of other affiliate programs, I earn from qualifying purchases.
Nutrition Information
Yield

9
Serving Size

1 Choco Taco
Amount Per Serving
Calories

170
Total Fat

10g
Carbohydrates

15g
Protein

9g