All menu item photos property of Arby's
---
If you enjoy dining out but want to be mindful of your calories & macros, then navigating the menu at fast food restaurants can be really tough.
Arby's is no exception to this, as the menu has a ton of different sandwiches, sides, and desserts that can vary greatly in terms of nutrition.
Don't worry, that's why I'm here!
By breaking down the calories & macros of the Arby's menu, we'll be able to help you identify the healthiest options for your diet.
In this blog post, I will break down the current Arby's menu, and provide some tips for customizing your order to fit your dietary preferences. Whether you're following a low-carb diet, looking for vegetarian options, or just trying to make healthier choices, I've got you covered.
Note that Arby's menu may have changed since publishing this post, as certain menu items may be limited or seasonal. I will do my best to update this post when major changes are made to Arby's menu.
Which Arby's Menu Items Are the Healthiest?
We all define the word "healthy" differently, so there's no clear-cut answer as to which menu items are the healthiest.
However, we can identify some of the healthiest options based on different dietary preferences!
We're looking at calories & overall macros here, so we're not going to be looking at certain aspects such as sodium content, grams of sugar, trans fat, etc. I like to keep things high-level and just look at grams of fat, grams of protein, and grams of carbohydrates.
​If you are concerned with how much sodium is in each item, be sure to check out Arby's website, which lists the full milligrams of sodium for each item.
---
Arby's Menu Items with the Most Protein
If your goal is to eat a high-protein diet, then Arby's has some great options. I mean, they do have the meat, after all.
Here are the Arby's menu items with the most protein, regardless of calories. If you want fewer calories than what is listed here, be sure to check out the next section!
Chicken Club Wrap: 880 Calories, 49g Fat, 64g Carbs, 48g Protein
Half Pound Roast Beef Sandwich: 610 Calories, 30g Fat, 38g Carbs, 48g Protein
Half Pound Beef 'N Cheddar Sandwich: 740 Calories, 39g Fat, 48g Carbs, 49g Protein
Buffalo Chicken Wrap: 790 Calories, 45g Fat, 61g Carbs, 39g Protein
---
Macro-Friendly Arby's Options Under 500 Calories
To live a healthy lifestyle, it's important to have a well-balanced diet. While eating high-protein is recommended, you might not want to consume a ton of calories in order to accomplish that.
Rather than trying to get as much protein as possible, here are some healthier options all under 500 calories.
If you're unfamiliar with the term "macro-friendly," it simply means that the macros (fat, carbs, and protein) are balanced and not hugely favoring one.
Classic Roast Beef Sandwich: 360 Calories, 14g Fat, 37g Carbs, 23g Protein
Bourbon BBQ Rib Sandwich: 490 Calories, 19g Fat, 49g Carbs, 29g Protein
6 Piece Chicken Nuggets: 310 Calories, 15g Fat, 18g Carbs, 25g Protein
Roast Beef Slider: 170 Calories, 7g Fat, 16g Carbs, 10g Protein
Chicken Slider: 230 Calories, 9g Fat, 25g Carbs, 11g Protein
---
Low-Carb Arby's Options for Keto Diets
If you're in search of a low carb option at Arbys, you may feel completely out of luck seeing as the entire menu is made up of mostly sandwiches.
Arby's used to offer a side salad, but with no salad options currently on the menu, we have to get a little bit creative.
You can order any sandwich without a bun, then swap the sauce for a low-carb option to keep the carbs to a minimum.
For example, you can order any of the roast beef sandwiches without a bun for a virtually carb-free meal. You'll want to be mindful of any cheddar cheese sauce or BBQ sauce, but ordering no bun is a great option for a low-carb diet.
Arby's Sesame Seed Bun: 210 Calories, 3.5g Fat, 36g Carbs, 7g Protein
---
Low Fat Arby's Options
When eating low-fat, you may struggle to find a lot of healthy options at Arby's. However, there are a handful of sliders and smaller menu items that are lower in fat overall.
Here are some examples of menu items with under 10 grams of fat for a low-fat diet. Note that you can also lower the fat of most sandwiches by removing any cheese or heavy sauces, such as cheese sauce or mayonnaise.
4 Piece Chicken Nuggets: 210 Calories, 10g Fat, 12g Carbs, 17g Protein
Chicken Slider: 230 Calories, 9g Fat, 25g Carbs, 11g Protein
Roast Beef Slider: 170 Calories, 7g Fat, 16g Carbs, 10g Protein
Bourbon BBQ Rib Slider: 200 Calories, 6g Fat, 27g Carbs, 9g Protein
Calories & Nutrition Facts for Arby's Beef Sandwiches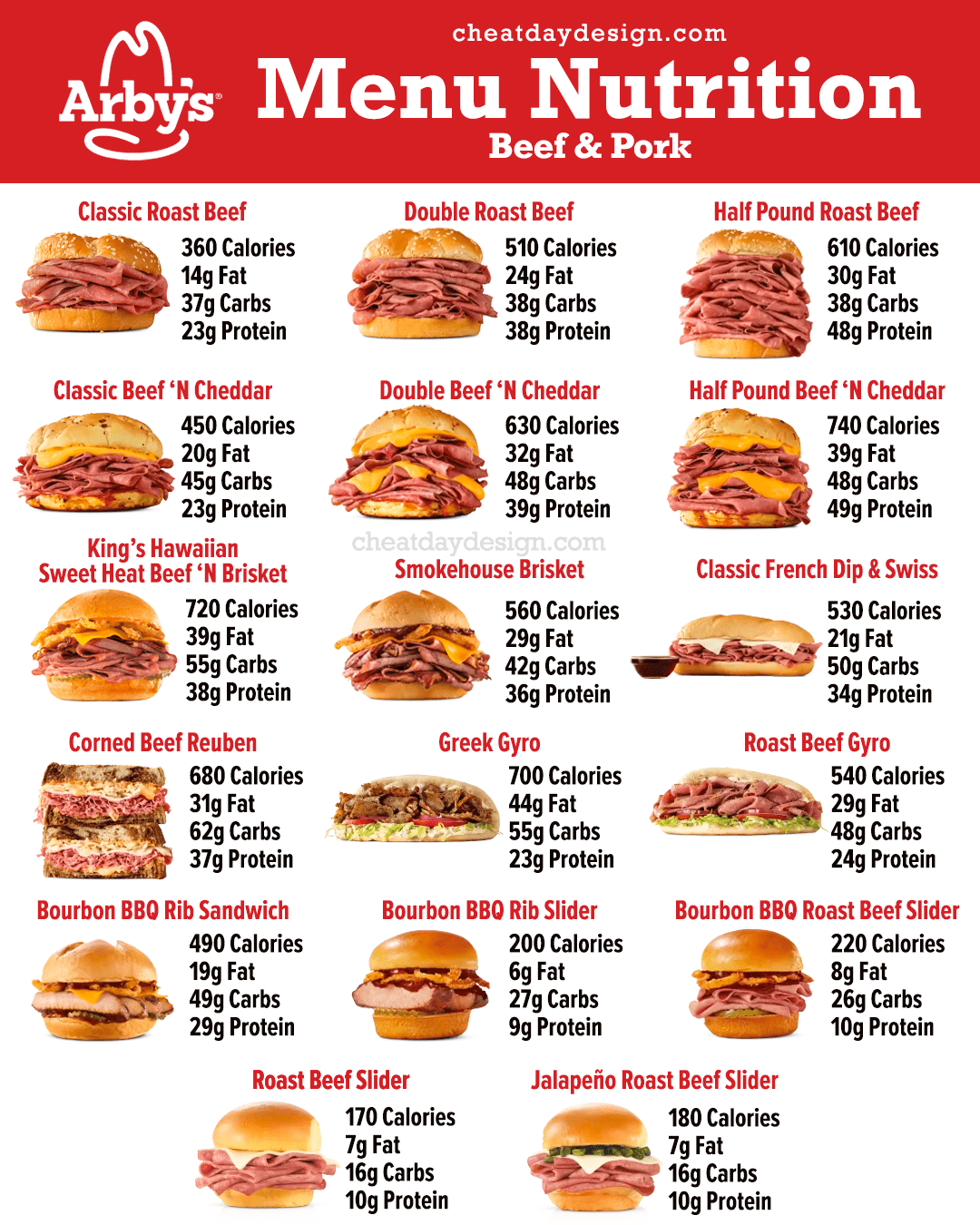 Arby's offers a variety of beef and pork options on its menu, ranging from classic roast beef to more exciting options such as the Bourbon BBQ Rib Sandwich and the Smokehouse Brisket.
However, when it comes to choosing the healthiest option, it definitely varies based on your goals.
Arby's sliders are a great option for those who are looking for a smaller meal or lower-calorie option.
The Jalapeño Roast Beef Slider and the Roast Beef Slider are both relatively low in calories and fat, with 180 calories and 7g fat and 170 calories and 7g fat, respectively.
No slider contains more than 220 calories, making them all pretty solid options.
Arby's may be best known for its roast beef sandwiches, and they are all great sources of protein. The half pound roast beef is obviously a very large sandwich (it contains a half pound of meat, after all) but it packs 48 grams of protein as well.
It's important to be mindful of the additional toppings when choosing a healthy sandwich option. Compared to the half pound roast beef sandwich, the half pound beef 'n cheddar contains an additional 130 calories from the cheese sauce, so it may not be the better choice.
If you want well-rounded options with a fair amount of protein and low calories, the classic roast beef sandwich or classic beef 'b cheddar are awesome options.
Calories & Nutrition Facts for Arby's Chicken Items
When it comes to chicken menu options at Arby's, there are quite a few to choose from, but the calories and nutritional information vary greatly between them. Unfortunately, Arby's doesn't currently offer a grilled chicken sandwich, so all of the Arby's sandwiches contain fried chicken.
The Classic Chicken Sandwich is a great option for those who are looking for a lower calorie and fat content, with 510 calories and 25g fat.
The Buffalo Chicken Slider and Bourbon BBQ Chicken Slider are also relatively low in calories and fat, with 260 and 280 calories, respectively, and both have a fair amount of protein as well.
For those looking for higher protein content, the 5PC Chicken Tenders or 9PC Chicken Nuggets and the Chicken Club Wrap are all good options, with 39g, 38g, and 48g of protein, respectively.
However, it's important to keep in mind that these all have a fair amount of fat, so if you eat a low-fat diet, they may not be ideal.
The Pecan Chicken Salad Sandwich is a higher calorie and fat option, with 840 calories and 46 g fat. While it does have a moderate amount of protein at 28g, it's important to be mindful of the high calorie and fat content.
Some people need a higher-calorie option for a number of reasons, so if that's the case, it may actually be a good choice for you.
Calories & Nutrition Facts for Arby's Sides & Dessert
Arby's offers a lot of different sides and desserts, including fries, bites, shakes, cookies, and turnovers.
Currently, there is no side salad or vegetable side available, so we'll need to find a good option from the options they currently offer. These sides and desserts may not be traditionally "healthy," but we can still find the best option for your diet.
Starting with the fries, the small Crinkle Fries and Small Curly Fries have the same calorie count, but the Crinkle Fries have slightly more fat and carbs overall. The medium sizes of both fries have around 400 calories, while the large sizes have over 500 calories.
If you're looking for a healthier option, it's best to stick with a small order of curly fries or crinkle fries, or share a larger size with someone else.
The Jalapeño Bites are a popular side at Arby's, but both the 5PC and 8PC options are relatively high in fat and contain little protein. The 4PC Mozzarella Sticks have a lower calorie count than the Jalapeño Bites and contain more protein, making that a pretty healthy choice overall.
The shakes at Arby's are absolutely delicious, but they come with a lot of calories and carbs. The Vanilla Shake has the least amount of calories of the shakes, and the rest of the shakes (orange cream, chocolate, and jamocha shake) all contain roughly 550 calories.
These are for the regular-sized shakes, and Arby's does offer even larger sizes, so splitting a shake with someone is the best choice if you want to keep your calories lower.
Healthy Eating Tips at Arby's
Arby's menu is always changing, but as it currently stands, a lot of the healthier items such as roast turkey sandwiches, roast chicken, and salads are all off the menu.
Because of this, the menu may not look as healthy as you are used to, but that doesn't mean we can't make the most of what Arby's has to offer!
Here are 5 tips for healthy eating at Arbys:
Choose a wrap: You can actually order any sandwich as a wrap, or you can swap the bun for any other bread that's available. While the exact nutrition information for a wrap is not available on the Arby's website, a wrap or tortilla will typically contain fewer calories and carbs than a large bun.
Limit the cheese and sauce: Request your sandwich without cheese, sauce, or mayonnaise to reduce the calories, fat, and sodium on any sandwich.
Opt for a slider: Arby's sliders are smaller than their regular sandwiches and will have the lowest calories of any sandwich. Since they are small, you may not be incredibly full after one slider, but it's a great calorie saver nonetheless.
Be mindful of your side choices: Since healthier sides like side salads and apple slices are not currently available, order a smaller portion of curly fries or share a larger portion with someone else to keep the serving size (and calories) under control.
Order extra veggies: You can also ask for extra vegetables, like lettuce, tomato, and onion, to add some more volume to your sandwich. Not only will this help fill you up, but it will also give you some extra micronutrients as well.
Conclusion: Is Arby's Healthy?
Arby's has a menu that's quite different from other fast-food restaurants.
Unlike traditional menus like Burger King or McDonald's, Arby's does not have any burgers on their menu, rather sandwiches loaded with roast beef.
While that may make Arby's a healthier choice than some others, it does lack a lot of healthy options that other fast food joints offer.
For example, Arby's has no grilled chicken like Chick-fil-A has, and unfortunately offers no salads like Wendy's does.
Ultimately, whether or not Arby's is healthy depends entirely on your definition of the word. Hopefully this blog post was able to help you identify healthy choices for you, because I truly believe that any fast food can fit into any person's diet.
Now, Arby's isn't ideal for low-sodium diets. Lunch meat, like roast beef, is typically loaded up with sodium. For example, the French dip & swiss contains a huge 2,540mg of sodium, which is over 100% of the recommended daily value.
So, if you need to eat low sodium, then Arby's is most definitely not a very healthy choice.
But for everyone else, you should be able to find menu items that fit your diet & lifestyle, especially if you are willing to make some substitutions.