Starbucks didn't invent cold foam, but it certainly popularized it in recent years.
I had no idea what cold foam was when I first heard about it, and I just assumed it was a gimmicky way to advertise whipped cream.
Well, it turns out cold foam is actually just cold, frothy milk, and it's effortless to make your own at home!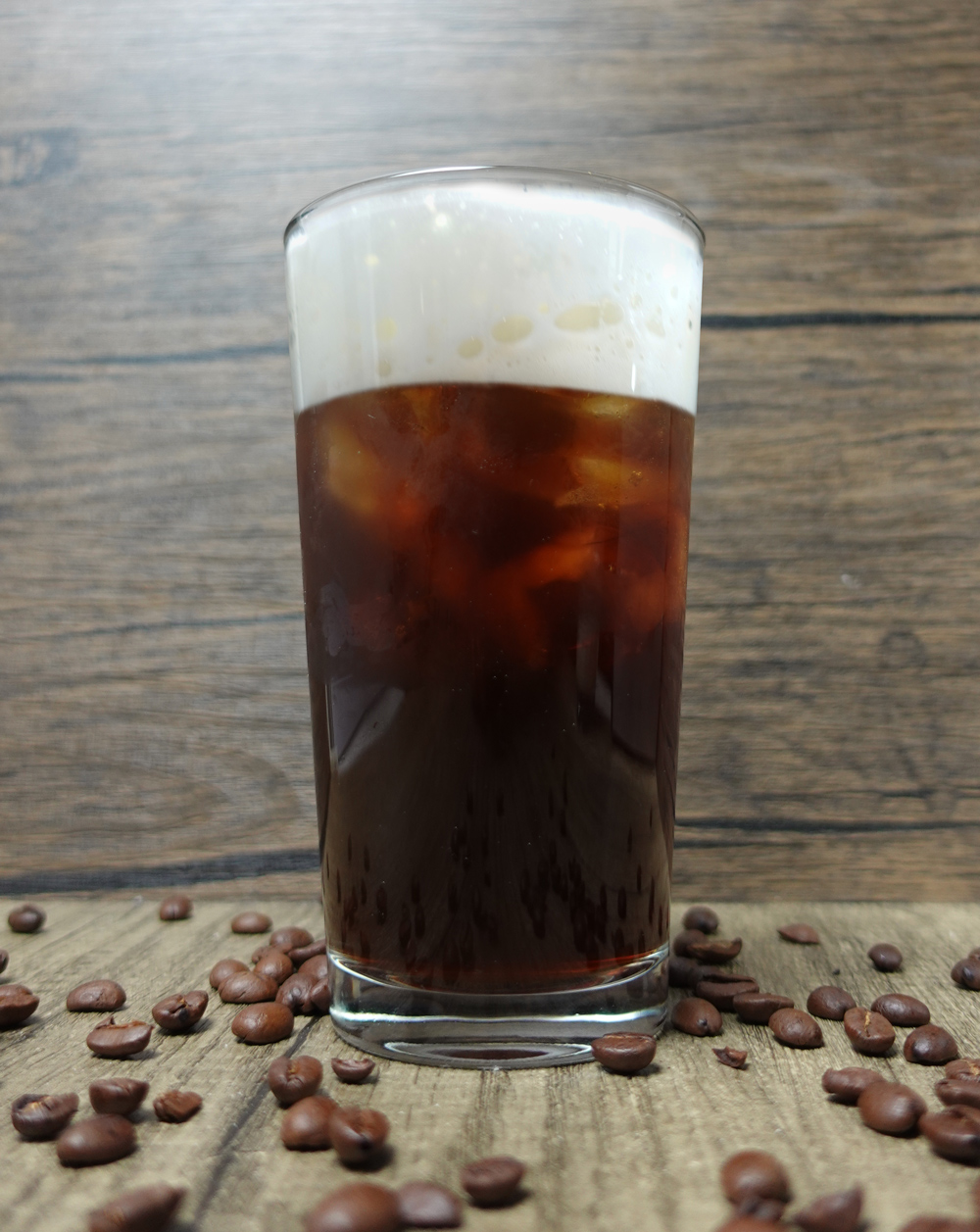 What is cold foam?
Cold foam is simply frothed milk that is meant to be served over cold drinks, like iced coffee or cold brew.
It is most often made with nonfat milk, but you may find it made with other types of milk (which we will explore in more detail below).
Cold foam may have flavors added to it, like vanilla for a Starbucks vanilla sweet cream cold foam, or caramel syrup for caramel cold foam, but it is unflavored in its most basic form.
The beauty of cold foam is that it can sit right on top of your cold drink like whipped cream but without a ton of added calories and sugar. It will slowly mix into the drink over time, but the majority of the cold foam will sit right on top of your cold drink!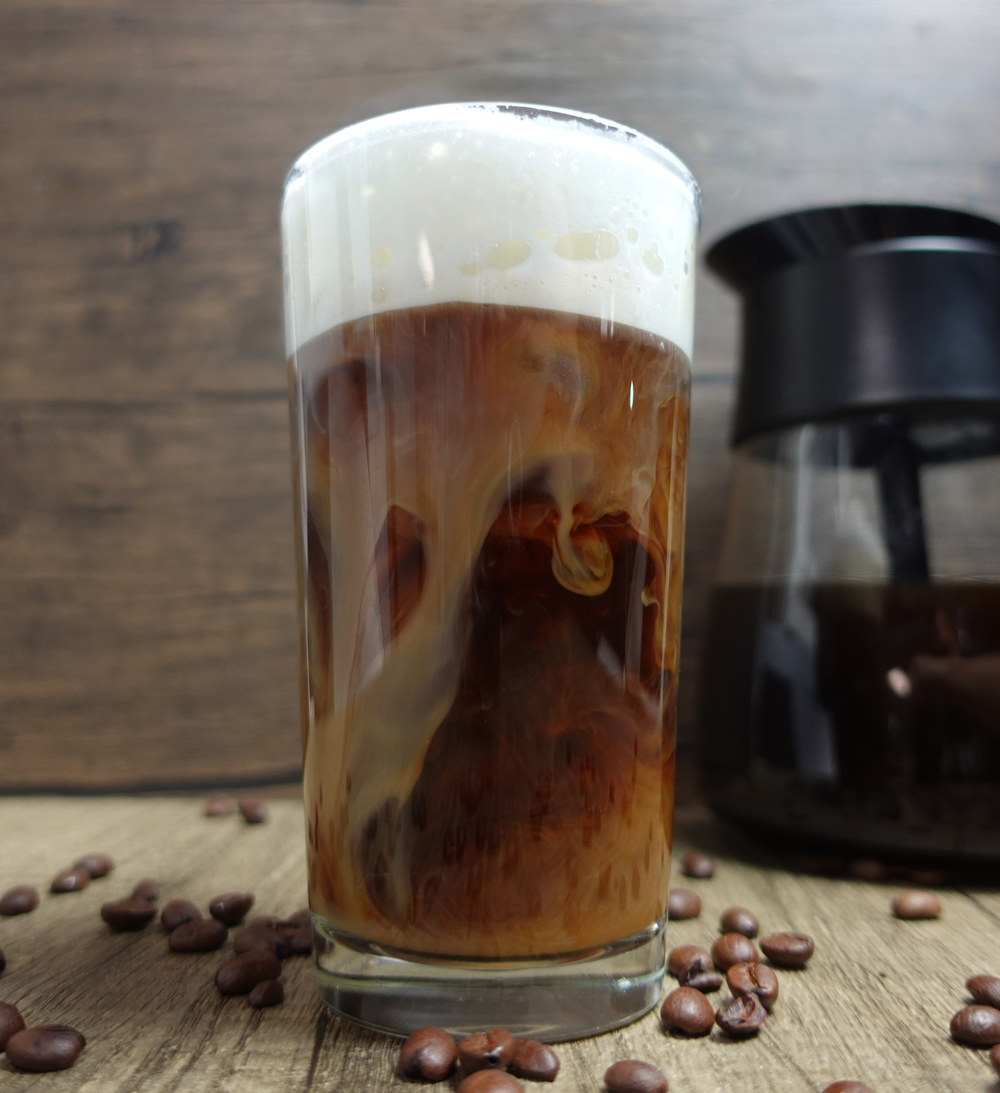 If you want to make your own Starbucks cold foam at home, I'll show you how.
How to make cold foam
To make cold foam, all you need to do is froth milk, but there are different methods you can use to accomplish that.
The most effective method (and quickest) method is by using a handheld milk frother.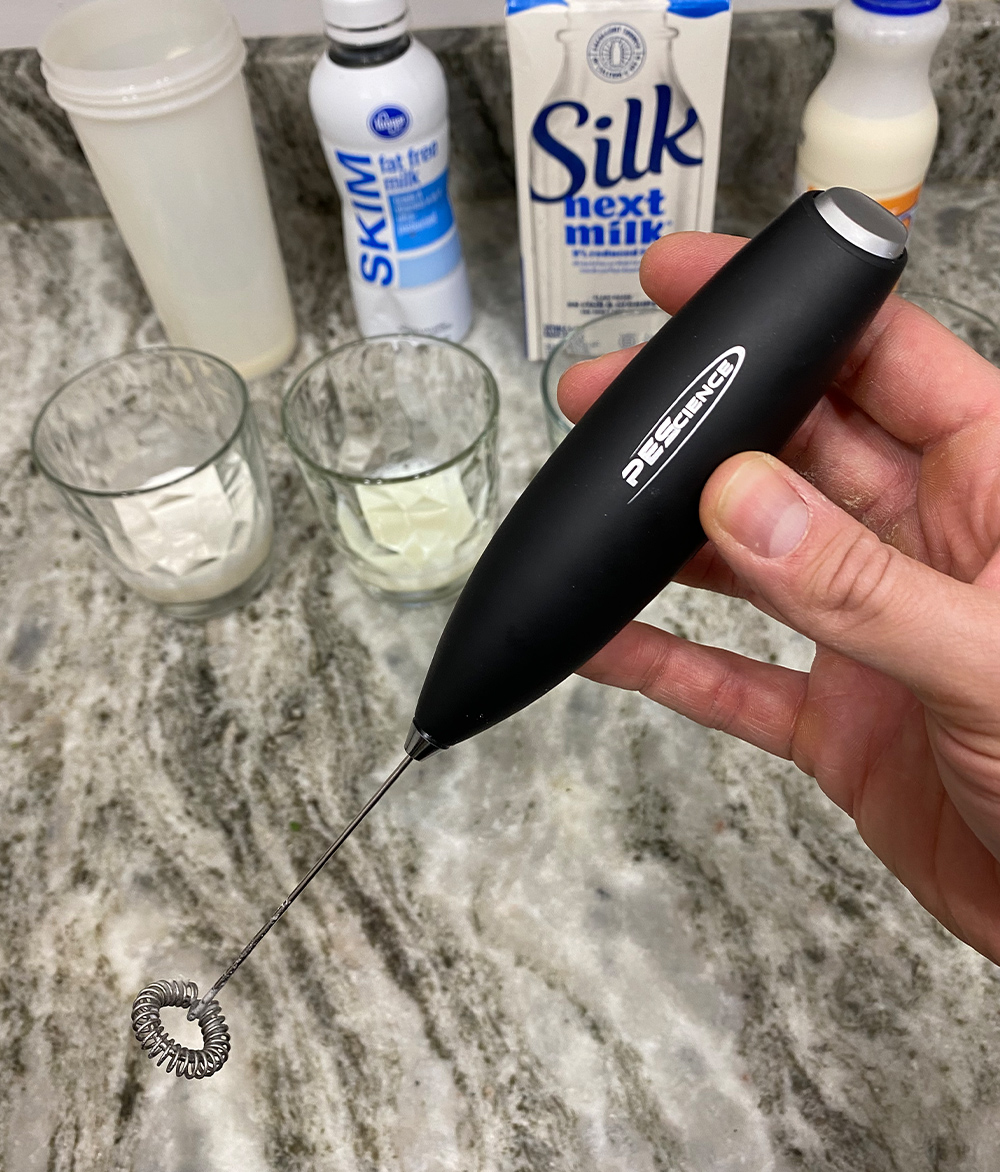 I use this battery-powered mixer from PEScience, which is the same as any milk frother you'll find online or in stores.
All you have to do is add your milk to a glass, insert the frother, and let it run for 20-30 seconds. In no time at all, you'll have a stiff froth that you can pour right over your drink.
I highly recommend picking up a milk frother (they're very cheap on Amazon if all else fails) but there are other methods you can use to froth your milk:
You can add the milk to a high-speed blender and run for 1-2 minutes until frothy.
Use a French press to achieve a frothy milk in about 30 seconds.
Add cold milk to a mason jar and vigorously shake until frothy.
Nothing will work quite as well as a milk frother, but if you're in a pinch, the mason jar method does work… sort of.
When I tried this method, the milk did become frothy, but it was lacking that stiffness that cold foam should have.
If the cold foam isn't stiff, it will mix immediately into your iced coffee without getting that wonderful aesthetic of the cold foam sitting atop your cold brew.
Which kind of milk is best for cold foam?
Traditional cold foam is made with nonfat dairy milk because it creates the thickest, stiffest foam.
But, out of curiosity, I wanted to try out a few different types of milk to see how they compared.
I decided to try a protein shake (because I'm all about protein), skim milk, plant-based milk, and heavy whipping cream.
I added 1/4 cup of each type of milk to a glass, used a milk frother for about 30 seconds, and here is how each turned out:
As you can see, there are very clear differences in the total volume, and the skim milk comes out as a clear winner.
I'll break down each in a bit more detail below, but I'm going to skip the protein shake version. As you can see by the photo (on the far left), the protein shake created some bubbles, but no real foam, so I wouldn't recommend going that route.
Making cold foam with nonfat milk (the best method)
You'll get the best results by using skim milk, and you can clearly see why based on the volume you get out of it.
Just 1/4 cup of skim milk froths up into about 1 cup of cold foam, which you can easily use to top 2 iced coffee drinks!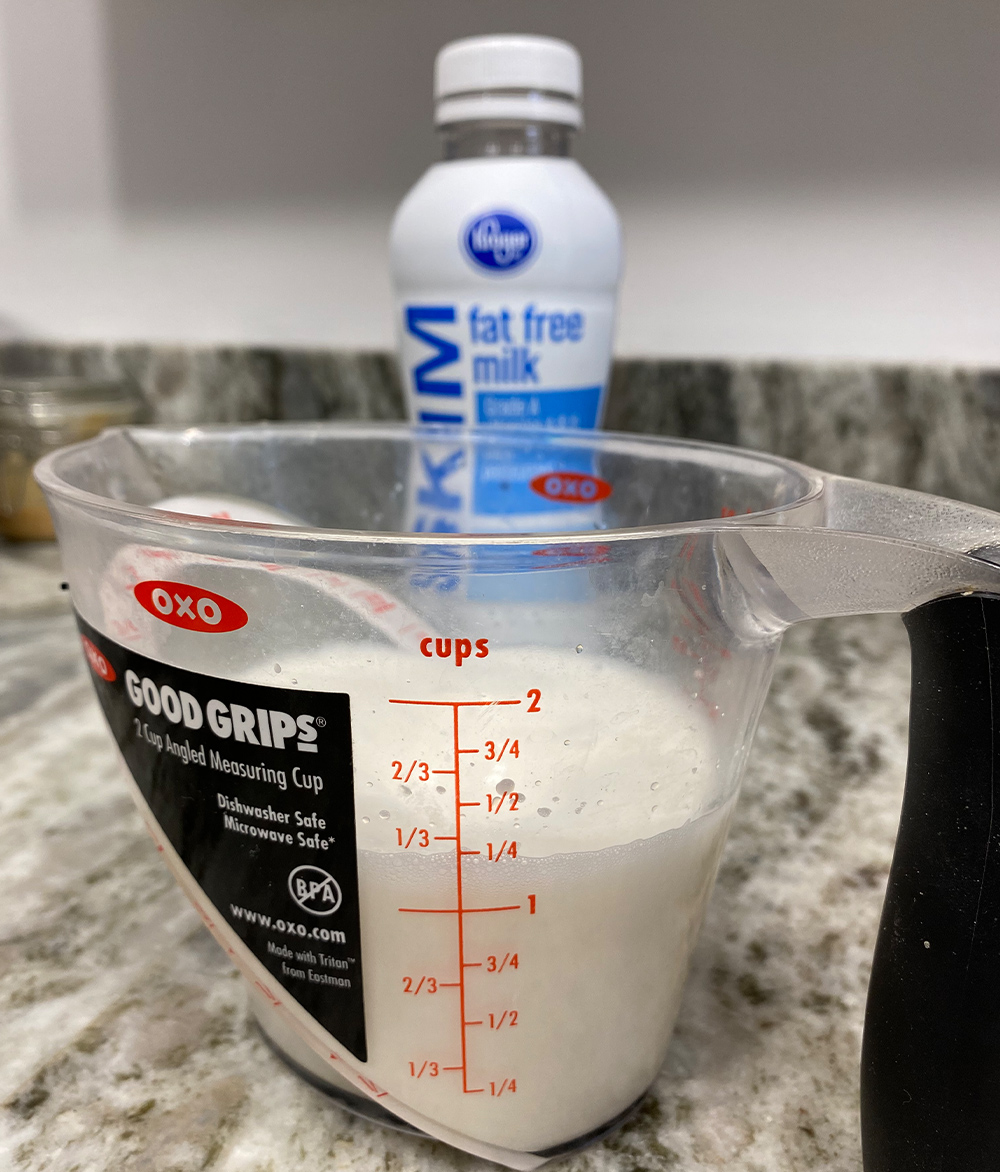 It may seem like the frothing just created a bunch of bubbles, but the cold foam is surprisingly stiff. In fact, it's thick enough to eat with a spoon right off the top of your iced coffee!
While it may look like whipped cream, it's only going to taste like skim milk unless you add flavoring to it.
You can create your own vanilla sweet cream with vanilla syrup (or vanilla extract plus sweetener), you can add pumpkin to create pumpkin cream cold foam, or even caramel to make a salted cream cold foam.
I definitely recommend getting creative with it! But, if you want to keep the calories and sugar down, you can stick with plain cold foam.
Making cold foam with heavy cream
Since heavy cream is used to make whipped cream, I figured it would also make great cold foam.
Turns out that cold foam and whipped cream are vastly different.
If you use a milk frother with heavy cream you get, well… whipped cream.
I can definitely see the appeal of adding a small amount of heavy cream to skim milk to make a thick & slightly sweet cold foam, but it's definitely not the best type of liquid to use to make cold foam on its own.
Making cold from with non-dairy milk
Skim milk makes great cold foam, but what if you're vegan or non-dairy? I wanted to try a couple different dairy-free alternatives to see if they could accomplish a decent cold foam, too.
I tried some unsweetened almond milk, and unfortunately, it did not froth up much at all. In fact, all it really did was create some bubbles that quickly died down once the frothing process was finished.
Thinking that maybe it was the fact that unsweetened almond milk is mostly water, I decided to try Silk Protein, which is a blend of almond & cashew milk with pea protein added.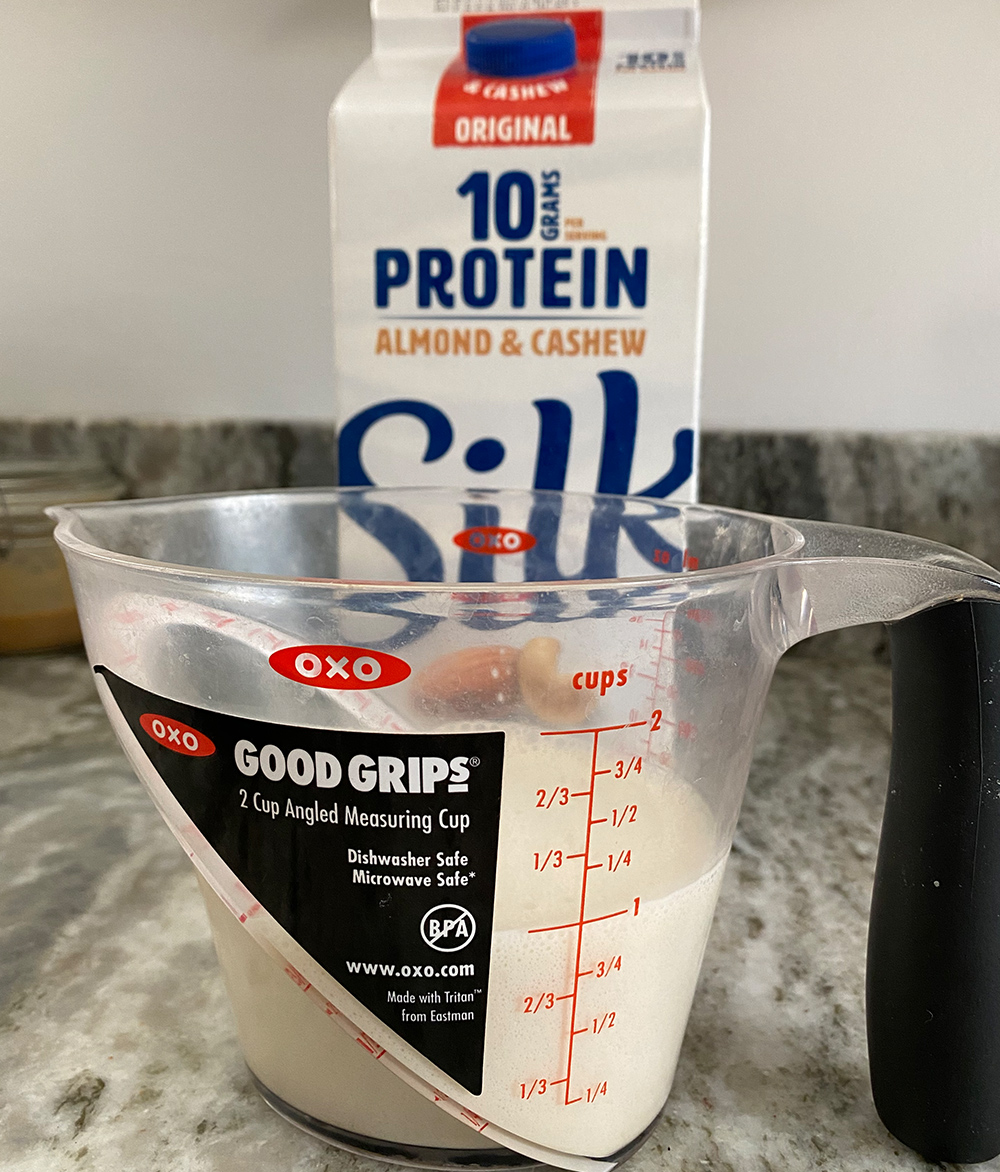 This milk frothed up significantly better than the unsweetened almond milk.
While not quite as impressive as the dairy milk, if I had to choose a dairy-free alternative, this is definitely the route I'd go!
Generally speaking, if you want to use a non-dairy milk for cold foam, opt for something with a little bit of thickness to it. Unsweetened almond milk is mostly water, so the result is very watery. Silk Protein is thicker milk, which leads to a thicker cold foam.
If I had to choose other vegan milk options to make cold foam with, I would opt for oat milk or coconut milk, both of which are much thicker than almond milk.
The best type of coffee for cold foam
If you're in search of the best cold coffee to top with cold foam, I highly suggest making your own cold brew at home.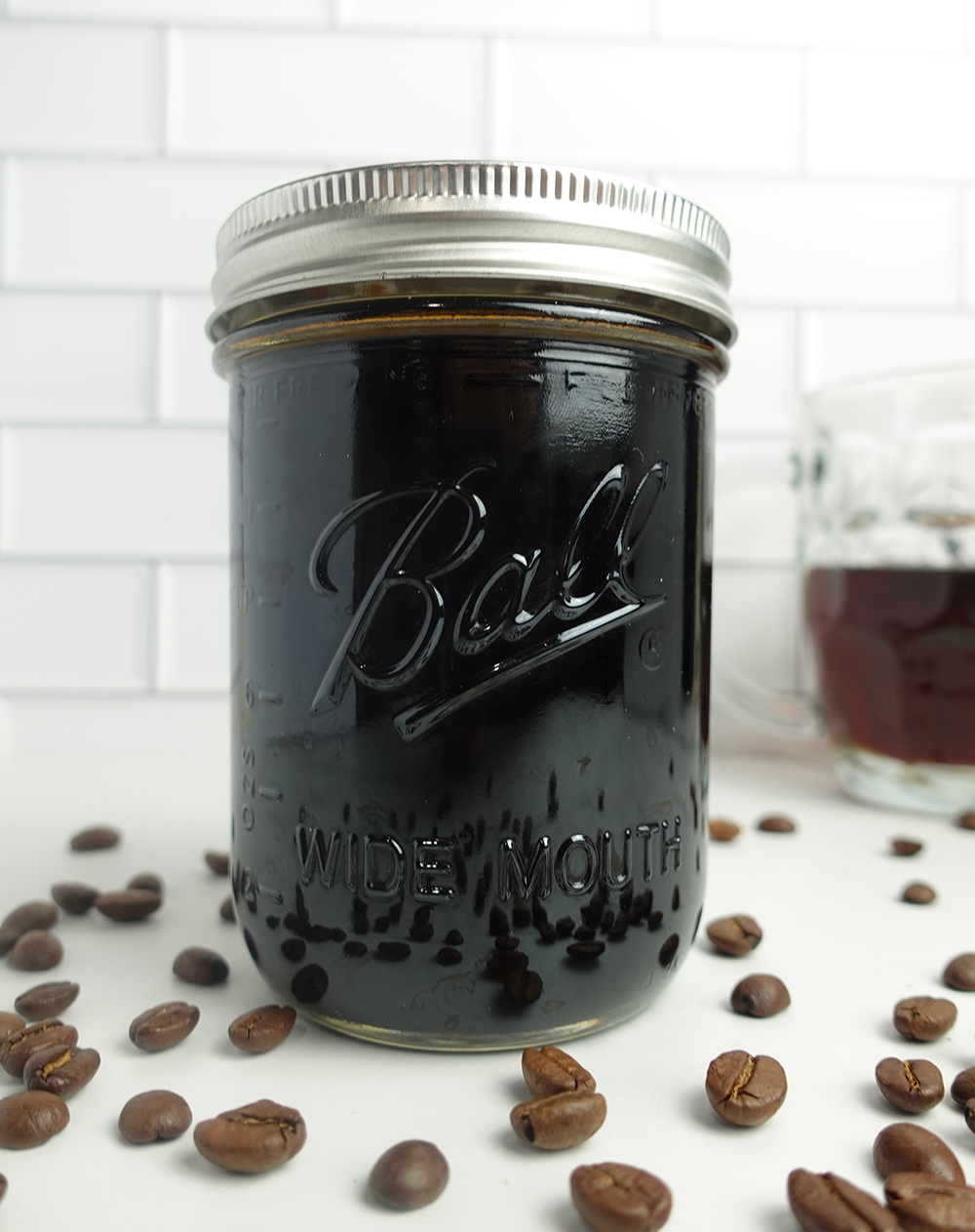 You can make your own cold brew coffee very easily with my fool-proof guide, and it will be the perfect complement to any coffee recipes using cold foam.
Or, if you prefer decaf, you can even make your own decaf cold brew!
Whichever route you go, it will be the perfect base for absolutely any drink you want to make. I recommend giving this Snickers Cold Brew a try or checking out some of my friend The Macro Barista's coffee recipes.
How to Make Cold Foam
Cold foam cold brew coffee has become a very popular drink, and it's surprisingly easy to make it home! All you need is some milk and a frother and you'll be ready to enjoy some homemade cold foam.
Ingredients
1/4 Cup Skim Milk or Low-Fat Milk
*See recipe notes above for alternatives
Instructions
How to make cold foam with a milk frother (preferred method):
Add 1/4 cup of cold milk to a cup.
Insert the milk frother and run for 20-30 seconds.
Pour over your favorite cold brew.
How to make cold foam with a French Press:
Pour your milk into the French Press (this method works better with a larger quantity of milk).
Press the plunger down, lift it up, and continue for 20-30 seconds.
Pour over your favorite cold brew.
How to make cold foam with a blender:
Pour the milk into a high-speed blender or food processor.
Run the blender on high for 1-2 minutes until the milk has become frothy.
Pour over your favorite cold brew.
How to make cold foam with a mason jar:
Pour the milk into a mason jar and tightly close the lid.
Shake vigorously for about 1 minute, until the milk becomes frothy.
Pour over your favorite cold brew.
Notes
Dairy-based milk works the best for cold foam, and I found the best results came from using skim milk. If you opt for a non-dairy alternative, the same methods will work, but the cold foam will not become nearly as stiff.
Recommended Products
As an Amazon Associate and member of other affiliate programs, I earn from qualifying purchases.
Nutrition Information
Yield

1
Serving Size

1/4 Cup Milk
Amount Per Serving
Calories

23
Total Fat

0g
Carbohydrates

4g
Protein

2g