Fast food burgers have become a comforting staple in the American diet.
They're delicious, convenient, and typically pretty cheap. On a busy day, it's simply too convenient to pass up.
Yet, the journey towards healthy eating typically means ditching fast food burgers. In search of healthier options, people will either ditch fast food completely or turn to a "healthier" fast food restaurant like Panera Bread or Subway.
I'm here to tell you that there is absolutely nothing wrong with enjoying a fast food burger regardless of your health goals.
Sure, a grilled chicken sandwich or grilled chicken salad will be generally healthier than a burger, but that doesn't make burgers off-limits.
So, to help you out, I'm going to rank 18 different fast food burgers to help you find the healthiest fast food burger out there.
The Burger Ranking Criteria
Navigating the vast sea of fast-food burgers to find a healthier choice can feel like an impossible task. To help guide you, I've put together a unique ranking system to act as a compass to guide you toward a healthier burger choice.
We all define "healthy" differently, so there is no single criteria I can use to tell you what the healthiest option truly is. For some people, healthy means low sodium, for others, it might mean high fiber or low calorie.
There are lots of criteria out there, and we can't take every little thing into account, so I am ranking these burgers on the areas I place importance on.
Here's a breakdown of the criteria I used to rank the healthiest fast food burgers:
Calorie Count: A lower calorie count is favorable as it aligns with the common goal of reducing calorie intake for a healthier lifestyle. Each burger scored higher if it contained fewer calories.
Protein Efficiency: Protein is a crucial nutrient that keeps you full and helps build muscle. A higher protein-to-calorie ratio means you're getting more protein per calorie, which is beneficial. Hence, burgers with a higher protein efficiency scored better.
Sodium Count: Sodium is essential for bodily functions, but too much of it can lead to high blood pressure and other health issues. Lower sodium content is preferable for a healthier choice, and burgers with less sodium scored higher.
The Protein Efficiency Score is based on the amount of protein per 100 calories. This provides insight into how protein-dense a burger is relative to its calorie content. I didn't want to just rank based on protein (or calories, for that matter) since every burger is a different size.
I combined the scores based on calories, protein efficiency, and sodium to get a final score for each burger. Long story short: I did the calculations to find the most well-rounded burgers out there.
When these factors were taken into account, here is how each fast food chain scored:
Burger King: Final Score = 8.2
McDonald's: Final Score = 8.133
Wendy's: Final Score = 8.0
Shake Shack: Final Score = 7.793
White Castle (Slider): Final Score = 7.715
Five Guys: Final Score = 7.043
DQ: Final Score = 6.952
In N Out: Final Score = 6.860
Whataburger: Final Score = 6.839
Steak n Shake: Final Score = 6.782
Checkers: Final Score = 6.595
Culver's: Final Score = 6.522
Carls Jr: Final Score = 6.535
Sonic: Final Score = 6.520
Burgerfi: Final Score = 6.027
Jollibee: Final Score = 5.938
Jack in the Box: Final Score = 5.917
Smash Burger: Final Score = 5.167
Whataburger: Final Score = 4.973
While you may prefer to look at the quality of ingredients or overall nutrient density, I simply had to draw the line somewhere to come up with my definition of what contributes to the healthiness of a burger.
Note: we are looking at single hamburgers ordered as-is, without substituting any of the condiments.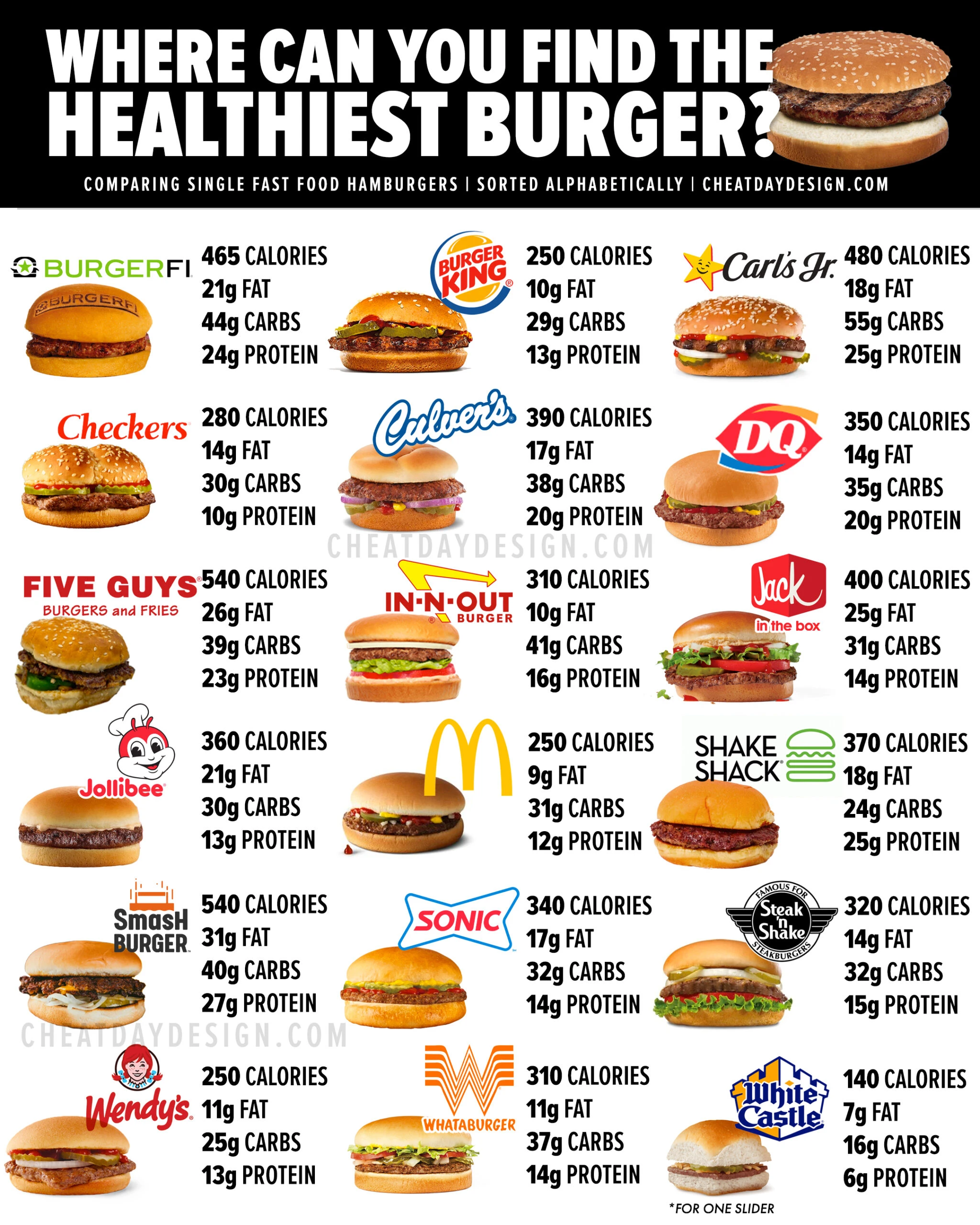 18. Smash Burger
Classic Smash Burger: 540 Calories, 31g Fat, 40g Carbs, 27g Protein (Sodium: 1280mg)
Smashburger's classic burger comes in as our least "healthy" option.
While it contains the most calories and sodium of any fast food burger, it does also come with the highest protein at 27 grams. This burger's uniqueness comes from its smashing cooking technique, which seals in the juices and flavors, so while it's high in calories, it's really delicious.
17. Jack in the Box
Jr. Jumbo Jack: 400 Calories, 25g Fat, 31g Carbs, 14g Protein (Sodium: 700mg)
Finding a low-calorie option at Jack in the Box may be difficult, but not impossible. The Jr. Jumbo Jack steps in as a lighter choice, especially when compared to its bigger sibling, the Jumbo Jack, which carries a heavier calorie count of 540.
With 400 calories and 14g of protein, the Jr. Jumbo Jack isn't a bad pick if you're trying to keep things on the lighter side, although it's placed at 17 out of 18 on our healthiest burger list. The 25g of fat and 700mg of sodium are something to think about if you're keeping an eye on your fat and sodium intake.
16. Jollibee
Yumburger: 360 Calories, 21g Fat, 30g Carbs, 13g Protein (Sodium: 630mg)
Looking for something different in the world of fast food? Jollibee's Yumburger might just hit the spot. This burger brings a unique flavor to the table, and at 360 calories, it's a decent choice for those looking to explore beyond the usual burger joints.
With 13g of protein, it's not a protein powerhouse, but it still provides a decent amount to keep you fueled. The Yumburger's fat content sits at 21g, which is a bit on the higher side given its calorie count, and the sodium level is moderate at 630mg.
15. Burgerfi
Burgerfi Single Burger: 465 Calories, 21g Fat, 44g Carbs, 24g Protein (Sodium: 755mg)
With 465 calories, Burgerfi's Single Burger is a reasonable choice for those wanting a satisfying meal without stretching the calorie bank too much.
Packing a solid 24g of protein, this burger helps keep you full while contributing to your daily protein goal. The 21g of fat and 755mg of sodium are moderate, so it's not the leanest option out there, but it's a step in a healthier direction compared to some other fast-food burgers.
14. Sonic
Jr. Hamburger: 340 Calories, 17g Fat, 32g Carbs, 14g Protein (Sodium: 690mg)
The Jr. Hamburger (technically Jr. Cheeseburger without the cheese) from Sonic strikes a moderate chord with 340 calories. It's a straightforward choice for those aiming to keep their meal under control, calorie-wise.
With 14g of protein, it's a decent option to help keep you full, while the 17g of fat and 690mg of sodium are somewhat middle-of-the-road. It might not be the leanest choice in the fast-food arena, but it's a smaller, simpler burger for when you're looking to enjoy a classic taste without going overboard.
13. Carls Jr
Big Hamburger: 480 Calories, 18g Fat, 55g Carbs, 25g Protein (Sodium: 970mg)
Diving into the higher calorie pool, the Big Hamburger from Carl's Jr. stands out with its 480 calories. It's one of the heavier choices on our list, landing in the third spot for highest calorie count.
But hey, sometimes a bigger appetite calls for a bigger burger. And with 25g of protein, it's doing a decent job at balancing out those calories with some muscle-friendly nutrition.
The carb count stands at 55g, and while that's on the higher side, the protein content might just make the trade-off worth it for some. With 18g of fat and 970mg of sodium, it's a bit of a splurge, but sometimes, that hearty burger craving just wins.
12. Culver's
Single Butterburger: 390 Calories, 17g Fat, 38g Carbs, 20g Protein (Sodium: 480mg)
Culver's is known for its ButterBurgers, so named for the lightly buttered, toasted buns. The burger has a moderate calorie count with a decent protein content, making it a filling yet balanced choice.
The slightly crisp, buttery bun adds a unique flavor, setting it apart from other fast-food burgers in the flavor department.
11. Checkers
All-American Burger: 280 Calories, 14g Fat, 30g Carbs, 10g Protein (Sodium: 930mg)
Finding a lower-calorie option at Checkers is pretty easy with the All-American Burger, which sits at just 280 calories. It's a straightforward choice for those looking for a classic fast-food burger without the extra caloric load.
The 10g of protein is not very impressive but can contribute to your daily intake without overdoing it on calories or fat.
10. Steak 'n Shake
Single Steakburger: 320 Calories, 14g Fat, 32g Carbs, 15g Protein (Sodium: 820mg)
The Single Steakburger from Steak 'n Shake is a straightforward choice with 320 calories. With 15g of protein, it's a decent option to keep you going.
The burger shines with its hand-crafted, cooked-to-order patty, offering a fresher taste. It's a simple, well-made burger for those who appreciate a classic burger without too many extras.
The sodium is a bit high at 820mg, so keep that in mind if you're watching your sodium intake.
9. Whataburger
Whataburger Jr: 310 Calories, 11g Fat, 37g Carbs, 14g Protein (Sodium: 750mg)
Opting for a Whataburger Jr. offers a more calorie-conscious choice compared to the classic Whataburger burger. With nearly half the calories and significantly lower fat content, it's a lighter option while still offering a reasonable protein content to keep you satiated.
The downsized version does not compromise on the rich, savory flavor of the beef patty that Whataburger is known for. However, it does come with a reduction in sodium, making it a slightly better option for those monitoring their sodium intake.
8. In N' Out
Hamburger: 310 Calories, 10g Fat, 41g Carbs, 16g Protein (Sodium: 650mg)
In N' Out is famed for its fresh ingredients and simple, tasty burgers. The moderate calorie count and decent protein content make it a balanced choice for a satisfying meal.
The option to "protein style" your burger by replacing the bun with lettuce leaves is a popular choice for those looking to cut carbs, too.
7. Dairy Queen
Hamburger: 350 Calories, 14g Fat, 35g Carbs, 20g Protein (Sodium: 870mg)
The Dairy Queen Hamburger is a balanced choice with 350 calories and a solid 20g of protein, making it a fulfilling option without tipping the calorie scale too high.
The 20 grams of protein is on the higher side compared to other options with under 400 calories, speaking to the leanness of the beef that Dairy Queen is using.
6. Five Guys
Single Hamburger: 540 Calories, 26g Fat, 39g Carbs, 23g Protein (Sodium: 380mg)
Five Guys' Single Hamburger comes in at 540 calories, making it a heartier choice for those with a bigger appetite. It packs a decent protein punch with 23g, aiding in keeping you satisfied for longer.
The fat content is on the higher side at 26g, but on the flip side, the sodium is relatively low for a fast-food burger at 380mg.
While it might not be the leanest option out there, the allure of Five Guys still lies in its commitment to quality ingredients and the endless customization options for your burger. So, if you're in the mood for a customizable, hearty burger, this one's a notable choice.
5. White Castle (Slider)
The Original Slider: 140 Calories, 7g Fat, 16g Carbs, 6g Protein (Sodium: 380mg)
White Castle's slider is a smaller, lighter option for those miniature cravings. Its lower calorie count and modest protein content make it a snack-sized choice for those looking to keep their calorie intake in check.
You'll likely pair multiple sliders together, so if you were to enjoy 3, you'd be looking at 420 calories & 18 grams of protein. While not the most impressive in the protein department (thanks to the excess bread you get with sliders), it still makes for a solid meal.
4. Shake Shack
Hamburger: 370 Calories, 18g Fat, 24g Carbs, 25g Protein (Sodium: 1250mg)
Topping the list is Shake Shack, offering a burger that balances a modest calorie count with the highest protein efficiency among the options. Known for its quality ingredients and modern-day roadside burger stand concept, Shake Shack provides a slightly more gourmet fast-food experience. However, its sodium content is the highest among the list, which might be a concern for some.
3. Wendy's
Jr. Hamburger: 250 Calories, 11g Fat, 25g Carbs, 13g Protein (Sodium: 1030mg)
Wendy's Jr. Hamburger is a great choice for those seeking a lower-calorie option without skimping on taste. At just 250 calories, it's a reasonable choice when you're keeping an eye on your caloric intake. The protein content is decent at 13g, which can help keep you satisfied until your next meal.
The 11g of fat and 1030mg of sodium are a trade-off for the lower calorie count, so while it's a lighter choice, it's still worth keeping those in mind. Wendy's prides itself on using fresh, never-frozen beef, which is a notch above in the fast-food realm, offering a fresher taste.
2. McDonald's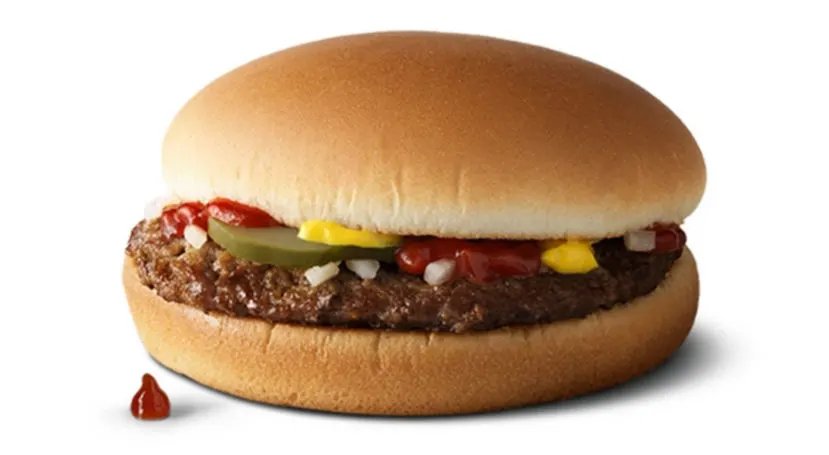 Hamburger: 250 Calories, 9g Fat, 31g Carbs, 12g Protein (Sodium: 510mg)
The McDonald's Hamburger is a classic, simple choice and ranks as the second healthiest burger on our list. With a modest 250 calories and 9g of fat, it's a lighter option for a fast-food burger. The 12g of protein is fair, helping to keep you satisfied.
The burger keeps sodium in check at 510mg, which is a plus compared to many other fast-food options. It's a straightforward, no-nonsense burger that provides a familiar taste without piling on too many calories or too much sodium. This makes it a solid choice for those looking to enjoy a traditional fast-food burger while still keeping their nutrition in line.
1. Burger King
Hamburger: 250 Calories, 10g Fat, 29g Carbs, 13g Protein (Sodium: 560mg)
Taking the top spot as the healthiest burger is the Burger King Hamburger with a low 250 calories. The balanced nutritional profile boasts 13g of protein and just 10g of fat, making it a great choice for those looking to keep their calorie intake in check while still enjoying a tasty meal.
With a sodium content of 560mg, it's on the lower side in the fast-food world, which is a definite perk. The flame-grilled patty sets it apart, offering a distinct taste while keeping the nutrition balanced.
Healthy Fast Food Ordering Tips
Trying to eat "healthy" while ordering a fast food burger can feel difficult, but I'm here to simplify it. We already break down the various options out there, but what if you're faced with another option entirely?
With a bit of strategy, you can enjoy a delicious burger without straying too far from your nutrition goals. Here are some tips to make the most of your fast food burger experience:
1. Opt for a Single Patty:
Most fast food restaurants offer burgers with multiple patties. If you're looking to reduce calorie and fat intake, stick to a single patty option. For instance, the Burger King Hamburger topped our list as the healthiest burger choice, with just 250 calories.
2. Skip or Limit Condiments:
Condiments like mayonnaise, ketchup, or special sauces can add extra calories, sugar, and fat. Opt for mustard or hot sauce keep your calories very low, or be careful to use a light amount of condiments.
3. Add Extra Protein:
If you're looking to increase your protein intake, consider adding an extra patty. While that will certainly bump up the calories & fat, if muscle building is the goal, the extra calories will be worth the protein.
4. Choose Leaner Meats:
If you simply can't make a burger work, you can pivot to a similar, but different sandwich entirely. For example, the Grilled Chicken Sandwich from Whataburger is a great high-protein, lower-calorie choice.
5. Go Bun-less or Opt for a Lettuce Wrap:
Skipping the bun or choosing a lettuce wrap can significantly cut down on calories and carbs. This is a great option for those following a low-carb or ketogenic diet. You should not be afraid of carbs in bread, but for anyone eating low-carb, it's a great option.
6. Add Extra Veggies:
Load up your burger with extra lettuce, tomatoes, onions, pickles, or other available veggies to increase the nutrient content without adding many extra calories.
7. Be Mindful of Side Choices:
Pair your burger with a side salad, fruit, or other healthier side options instead of fries or onion rings to keep the overall calorie count of your meal down if you're watching your calories.
8. Watch Portion Sizes:
Opt for smaller, regular, or junior-sized burgers to keep your calorie intake in check. For instance, the Jr. Jumbo Jack from Jack in the Box is a lower-calorie option compared to its larger counterpart.
Many fast food restaurants will have different sizes and you may not even notice. Even Wendy's has a Jr. Hamburger and a "Dave's Single", which sound the same, but are very different in size and calories.
With a little creativity, you can make any fast food burger work for your goals!
Conclusion: Can Fast Food Burgers Be Healthy?
Navigating the fast-food menu for healthier options can be a daunting task, but armed with the right information, you can make choices that align with your nutrition goals.
While a fast-food burger may never be as healthy as a home-cooked meal, knowing the nutritional information of what's available can help you make better on-the-go decisions.
Remember, what's "healthy" varies from person to person, and balancing calories, protein, and sodium is just one way to evaluate your options. Be sure to make decisions on what is the most important to you.
But now, the next time you find yourself at a fast-food joint, you'll be well-equipped to make a choice that's right for you!