Welcome back to my corner of the internet where health and happiness coexist without the stress of strict diets or food restrictions.
If you've come across any of my other posts, you know I'm all about eating what you enjoy, and I don't believe we should fear any food. Fast food might not be your typical go-to for traditional "healthy" choices, but that shouldn't make it off-limits.
Today we're going to journey through the Whataburger menu to break down the nutrition facts of the entire menu and find the best choices for your diet & lifestyle.
Whether you're treating yourself to a classic burger or looking for a lower-calorie alternative for breakfast, I'm here to help you navigate the Whataburger menu's calories and macros.
As someone who lives in the Midwest, I don't have any Whataburger locations near me. And having gone through the entire menu for this blog post, that makes me really sad because it looks like Whataburger has some truly amazing options.
Let's get into it.
Whataburger Ordering Tips for Every Diet
Eating at Whataburger doesn't mean you have to abandon your diet goals. Whether you're watching your carbs or aiming for high protein, there are many ways to enjoy Whataburger using some clever substitutions and choices.
Here's how you can order from Whataburger's menu for different goals:
Low-Carb/Keto Diets
Unlike many fast food restaurants, Whataburger offers salads, which is a huge plus for anyone trying to eat low-carb. And while salads are always an option for those watching their carbs, Whataburger provides even more flexibility.
You can order any sandwich without a bun for an instant high-protein, keto-friendly option. Removing a small bun will save you 36g carbs, and going bun-less on a large sandwich will save 56g carbs.
A bunless burger with all your favorite toppings will give you plenty of food to keep you full without needing to worry about carbs.
Low-Fat Diets
Low-fat dining can be a bit more challenging at Whataburger, since we're mostly dealing with beef and deep-fried food, but there are ways to make it work.
The Whataburger Jr, for example, contains only 11 grams of fat. If you opt for a Grilled Chicken Sandwich without sauce, you'll have a delicious option with only 8 grams of fat.
If you choose to go with a sandwich, you can experiment with leaving off the condiments and/or cheese to bring the total fat content way down.
And of course, there is always salad with grilled chicken. While each salad is a bit different, a Cobb Salad with grilled chicken will contain only 12 grams of fat.
Low-Calorie Diets
Whataburger offers several lower-calorie options that I'll be breaking down as we go through this post.
Aside from picking these leaner choices, you can also reduce the calorie count of any item by leaving off condiments or cheese.
Removing cheese alone will save 45-90 calories depending on the sandwich. Customize your order to your liking, but keep those easy modifications in mind if you're counting calories.
High-Protein Diets
For those focusing on protein, Whataburger's menu has plenty to offer. Opt for options like the Cobb Salad with Grilled Chicken, which packs a whopping 44g of protein, or the Taquito with Cheese & Bacon for a satisfying breakfast with 20g of protein.
Don't shy away from beef, either; Whataburger's burgers can be protein-packed, especially when doubled up. Just keep an eye on the total macros to ensure they align with your goals.
By understanding Whataburger's menu and being strategic with your choices, you can make your meal fit any dietary goals you have. The next time you're at Whataburger, remember these tips, and don't be afraid to ask for customizations or substitutions.
Calories & Nutrition Facts for Whataburger Sandwiches
When it comes to Whataburger sandwiches, you'll find everything from light and simple options to hearty and indulgent burgers.
Whether you're craving a classic Whataburger or want something a little heftier, there's a sandwich here to suit your appetite and your nutritional needs.
Unlike many current fast food offerings, Whataburger does in fact offer a grilled chicken sandwich, which is great news for anyone looking to keep things a little bit healthier in terms of lower calories and higher protein.
Lowest Calorie Whataburger Sandwich
Whataburger Jr: 310 Calories, 11g Fat, 37g Carbs, 14g Protein
Want to keep things light? The Whataburger Jr. has got you covered.
With just 310 calories, it's perfect for when you're looking to save room for a side or dessert or just want a smaller meal. Don't be fooled by its junior size; it'll still get the job done with 14g protein. And hey, fewer calories means more room for fries, right?
Highest Calorie Whataburger Sandwich
Southern Bacon Double Burger: 1,185 Calories, 77g Fat, 62g Carbs, 59g Protein
Hungry? Well, the Southern Bacon Double Burger is here to satisfy.
This mega-burger is for the true carnivore, with a whopping 1,185 calories and 59g protein. With two beef patties, crispy bacon, and condiments, this sandwich is the definition of indulgence.
Can anyone enjoy this sandwich? In moderation, sure. But it is definitely best-suited for anyone in need of a high-calorie option, especially once it's paired with a side.
Highest Protein Sandwich Under 500 Calories
Grilled Chicken Sandwich: 430 Calories, 14g Fat, 44g Carbs, 29g Protein
I have no idea why more fast food restaurants don't have grilled chicken sandwiches, but let's all just be thankful that Whataburger does.
At only 430 calories, it's a lean and mean protein machine with 29g of protein. While it may not blow you away in the protein department, it's definitely a great option if you want to maximize your protein intake without going overboard on calories.
Most Macro-Balanced Sandwich
Double Whataburger Jr: 420 Calories, 20g Fat, 37g Carbs, 23g Protein
Balance is the name of the game, and the Double Whataburger Jr. plays it perfectly. With 420 calories, 20g fat, 37g carbs, and 23g protein, it's a macro-friendly option for those looking to keep their macros in check.
Calories & Nutrition Facts for Whataburger Sides & Salads
When it comes to sides at fast food restaurants, you're typically choosing between fries and onion rings, and Whataburger is no exception to that.
When you're choosing one of those as a side, you're typically not looking for a traditional "healthy" option, but it's helpful to know the calorie counts.
Small fries at Whataburger will be just 280 calories, which is not too difficult to fit into any diet. Onion rings don't come in a small size, so the lowest calorie option will be medium size with 300 calories, which is not too bad.
Luckily for everyone looking for lower-calorie options, Whataburger offers salads, which is something a lot of other fast food restaurants can't say.
Since there's not too much to break down in terms of sides and desserts, let's look at some of the salad options. With each salad, you have the option to add grilled chicken, a Whatachik'n filet, or a spicy filet, which really opens up the possibilities.
Lowest Calorie Whataburger Salad
Garden Salad: 160 Calories, 10g Fat, 10g Carbs, 10g Protein
When you're in the mood for something crisp, refreshing, and light on calories, the Garden Salad is your go-to.
With just 160 calories and a balanced 10-10-10 macro split of fat, carbs, and protein, it's the perfect side or a light meal on its own. Fresh veggies and a light dressing make this salad a great choice when you want to keep things simple and satisfying.
Highest Protein Whataburger Salad
Cobb Salad With Grilled Chicken: 430 Calories, 12g Fat, 10g Carbs, 44g Protein
OK, technically the cobb salad with a fried chicken filet contains 1 extra gram of protein, but since it comes with over 100 extra calories, I'll consider the grilled chicken the best option here.
The Cobb Salad with Grilled Chicken is the champion of protein without piling on the calories. With a hefty 44g of protein, it's a perfect choice for any high-protein diet.
Most Macro-Balanced Salad
Garden Salad with Chicken Filet: 400 Calories, 20g Fat, 22g Carbs, 35g Protein
If you want a well-rounded option, the Garden Salad with Chicken Filet is the epitome of balance. With 400 calories, it provides a pleasing blend of 20g fat, 22g carbs, and a solid 35g protein.
It's not just about numbers, though. The addition of a chicken filet will really elevate the otherwise boring garden salad, creating a meal that's much more satisfying than salad alone.
Calories & Nutrition Facts for Whataburger Breakfast
Whataburger has tons of amazing breakfast options to fit most diets.
Whether you want to go the vegetarian route and stick with an egg & cheese sandwich or pancakes, or you want to enjoy some meat in a breakfast bowl, Whataburger has you covered.
Most of the breakfast options are sandwiches, but with the choice of a classic bun, biscuit, or wrap, there are tons of ways to customize your breakfast.
Quick side note: I was shocked to see the Honey Butter Chicken Biscuit containing only 13 grams of protein, but that is because it is a small piece of chicken (the equivalent of one chicken strip) and does not add a ton of protein.
Lowest Calorie Whataburger Breakfast Item
Hash Brown Sticks: 190 Calories, 11g Fat, 21g Carbs, 2g Protein
While Hash Brown Sticks take the cake for the lowest calorie option, they're typically enjoyed as a side. Crispy and golden, they're a delicious addition to any breakfast order.
But if you're looking for a main breakfast item, the Egg Sandwich is a great option with just 310 calories.
Highest Calorie Whataburger Breakfast Item
Breakfast Bowl with Sausage: 940 Calories, 66g Fat, 53g Carbs, 34g Protein
In search of an indulgent breakfast to fill you up in the morning? Look no further than the Breakfast Bowl with Sausage.
At 940 calories, it's a meal designed to satisfy the biggest of breakfast appetites. With sausage, eggs, a biscuit, hashbrowns, cheese, and gravy, this breakfast bowl packs a punch in flavor and will keep you full all morning long…unless you have an insane appetite.
Highest Protein Breakfast Under 500 Calories
Taquito with Cheese & Bacon: 405 Calories, 22g Fat, 28g Carbs, 20g Protein
If protein is what you're after, the Taquito with Cheese & Bacon won't disappoint. With 20g of protein and only 405 calories, it's one of the better protein sources you'll find.
Most Macro-Balanced Breakfast Item
Taquito with Cheese & Bacon: 405 Calories, 22g Fat, 28g Carbs, 20g Protein
The Taquito with Cheese & Bacon wins the award for best protein source and most macro-balanced option. With 405 calories, it hits the mark for fat, carbs, and protein, making it a well-rounded choice for breakfast.
The sausage breakfast on a bun is another balanced option, but with 525 calories, it's a bit less "macro-friendly". Either way, these choices will help keep your day well-balanced and your macros in check.
Calories & Nutrition Facts for Whataburger Shakes & Malts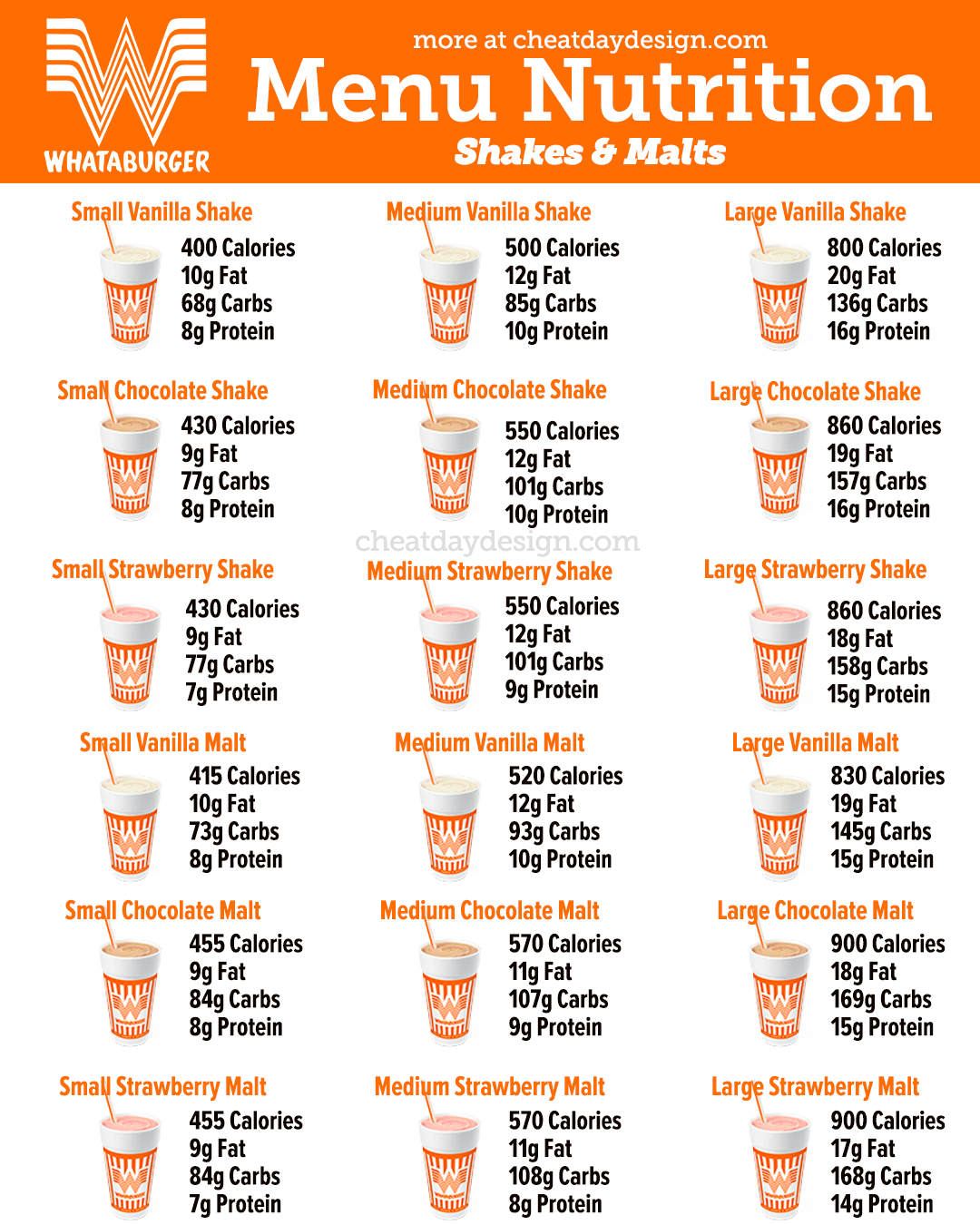 Life's too short not to enjoy a sweet treat now and then, and Whataburger's shakes and malts are delicious sweet treats to enjoy. Whether it's vanilla, strawberry, or chocolate, these creamy delights are meant to be savored, not scrutinized.
When it comes to shakes and malts, Whataburger offers three sizes to fit your appetite and desire for indulgence. A small shake typically ranges from 400-500 calories, medium shakes fall between 500-600 calories, and a large shake will tip the scales at 800-900 calories.
The small vanilla shake, for instance, comes in at 400 calories, while the large doubles that at 800. But let's be honest: when it comes to a dessert like this, the real decision lies in which flavor will bring you the most joy, not how many calories it has.
Remember, moderation is key, and it's essential to enjoy your food. When it comes to dessert, it's all about what makes your taste buds the happiest. Enjoy it, embrace it, and let the shake (or malt) do the talking.
Conclusion: Is Whataburger Healthy?
Navigating a fast-food menu doesn't have to be a dietary minefield. As we've explored in this guide, Whataburger's menu offers a ton of choices that can align with most health goals and preferences.
Whether you're seeking the lowest calorie sandwich, the most protein-packed salad, or a delicious shake that fits within your caloric budget, Whataburger has lots of options.
The key lies in understanding what's available and being willing to make those simple customizations to suit your needs.
Remember, food is meant to be enjoyed, and being mindful of what you eat doesn't have to equate to restriction. Choose what makes the most sense for you, savor the flavors, and have fun with your food.
After all, every food is perfectly fine in moderation. So, is Whataburger healthy? It definitely can be!
We all view "healthy" differently, but there's no denying that there are tons of ways to customize your order to suit your needs. In that sense, Whataburger can absolutely be a healthy option.