This recipe took me a few tries, but I've finally landed on a version that I am proud to bring you.
These protein cinnamon rolls are one of the most delicious ways to get some extra protein in for breakfast…
These protein cinnamon rolls are packed with 11g of protein each, but you'd never know it. They're soft, buttery, and packed with delicious cinnamon flavor.
This recipe is kid-approved, and it's a perfect recipe to make with your kids on a weekend or snowy day. They'll never know that they're secretly healthy!
In my trials, I made sure that you'd be able to peel these protein cinnamon rolls, because what fun is a cinnamon roll if you can't peel it all the way down to its core?
Needless to say, these cinnamon rolls deliver.
If you need some validation that these protein cinnamon rolls are actually as good as they look, the reviews I've been getting over on Instagram have been nothing but positive:
How to make
To make the cinnamon roll dough, you're going to start by mixing all of the liquid ingredients together, then adding in the dry ingredients next.
Once you mix the liquid ingredients with flour, it's going to start to resemble dough, but won't quite be there yet.
You're going to add the protein powder as the last ingredient, and that is what is going to bring everything together.
As I learned in my Air Fryer Donut Holes recipe, adding the protein powder last makes a big difference. By adding it as the final ingredient, it will prevent the dough from becoming too sticky to work with.
It's worth noting that I use a protein powder that is a blend of whey & casein protein, and I highly recommend you do the same. You can use 100% whey protein, but whey protein tends to be stickier and leads to baked goods that are drier (check out my Protein Powder Substitution Guide to see the differences). If you want to use the same protein powder I use, the code "Matt" will save you 15% on PEScience brand protein powder.
Once you have worked the dough with your hands to bring it all together, you'll add the dough to a lightly floured surface to roll it out. I formed my dough on a sheet of parchment paper to make things easy, but it will work just fine on a clean countertop.
Using a rolling pin, roll the cinnamon bun dough out into a square. You can cut pieces off the ends and move them around to create the shape you need. Don't worry, it doesn't need to be perfect!
Use a butter knife or pizza cutter to slice straight edges all the way around, discarding the small number of scraps you're left with.
Spread butter over the entire sheet of dough, add the brown sugar sweetener over the butter, then sprinkle cinnamon over the top. Note that I use Country Crock as my butter, which is a light butter spread, so it's very easy to spread over the dough. If you use regular butter, you'll want to make sure it is room temperature, or softened in the microwave, to be able to easily spread.
Roll the cinnamon roll dough towards you, trying to keep it as tightly rolled as possible. I used the parchment paper to pull it towards me to allow the dough to roll itself, but you can also simply use your hands. Plastic wrap is also a great way to roll the dough, as you'll find in my Oreo Sushi Roll recipe.
Spray an 8″ cake pan and add your cinnamon rolls. You can bake these protein cinnamon rolls on a baking sheet as well, but using a pan keeps everything nicely enclosed and allows the cinnamon rolls to bake into each other a bit.
Bake at 350 degrees F for 15 minutes.
I drizzled some butter over the top of my cinnamon rolls before baking, which is why you see so much caramelized butter on the bottom of the pan. It wasn't detrimental, but it didn't add anything to the final product, so I left that step out of the recipe.
Although I must admit, it did create a beautiful caramelization on the bottom of my protein cinnamon rolls!
Allow the warm cinnamon rolls to cool for about 10 minutes before adding your icing. I created a very simple icing by mixing together powdered sugar substitute and milk in a small bowl, but a cream cheese icing (like in my Funfetti Cupcake recipe) would work great here.
Enjoy these warm cinnamon rolls fresh out of the oven, or save the leftovers in an airtight container and enjoy them throughout the week.
More recipes for cinnamon sugar lovers
As a kid, I would eat Cinnamon Toast Crunch pretty much every single morning, so it's no secret that I absolutely love cinnamon sugar.
I mean, who doesn't?
Here are some other recipes worth checking out if you're a cinnamon lover: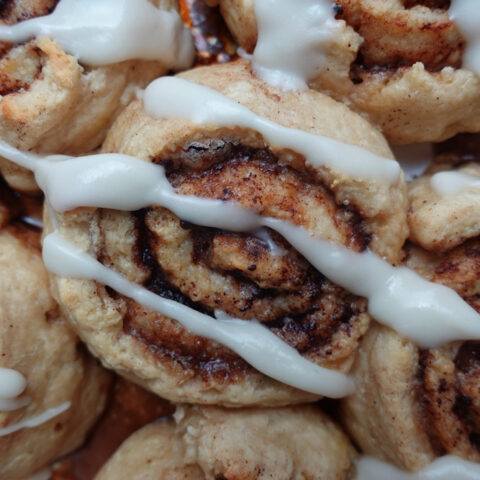 Protein Cinnamon Rolls with 11g of Protein
These deliciously soft cinnamon rolls are easy to make and are sure to be a crowd-pleaser! While they are packed with protein, these taste just like the real deal, and nobody would ever know that they are secretly healthy.
Ingredients
CInnamon Roll Dough
Cinnamon Filling
42g Light Butter (I use Country Crock Original Spread)
Cinnamon
Icing
Instructions
Preheat your oven to 350 degrees F.
In a large bowl, mix up all of the liquid ingredients for your protein cinnamon rolls (butter, Greek yogurt, applesauce, and vanilla extract).
Add the flour, baking powder, and sugar substitute to the bowl and mix it up. The mixture will start to resemble dough, but will not be quite thick enough yet.
Add the 2 scoops of protein powder, then mix the dough with your hands until it all comes together. It may seem like there isn't enough liquid at first, but it will all come together.
Lightly flour a sheet of parchment paper and add your dough onto it, sprinkling a little more flour over the top.
Use a rolling pin to roll the cinnamon roll dough out into a square. You can trim pieces off and move them to patch up uneven areas, then roll it out so it comes together (see my photos above).
Use a pizza cutter or butter knife to form straight edges around your dough.
Add the butter for the filling directly onto the dough, then use the back of a spoon or butter knife to spread it around. Light butter is very easy to spread, but if you are using regular butter, you'll want to soften it first. Sprinkle brown sugar over the butter, then top with cinnamon (I didn't measure the amount of cinnamon I used, I just made sure to cover the entire thing as seen in the photos above).
Tightly roll the dough towards you. I like to use the parchment paper to pull it towards me and allow the dough to roll itself, but you can use your hands to roll the dough as well.
Use a serrated knife to slice the dough into 6 cinnamon rolls.
Spray an 8" round cake pan with nonstick cooking spray and add your protein cinnamon rolls.
Bake the protein cinnamon rolls at 350 degrees F for 15 minutes.
Remove from the oven and allow the cinnamon rolls to cool for 10 minutes. Combine powdered sugar with a small amount of milk in a bowl to form a thick icing, drizzle over the top of your cinnamon rolls, and enjoy!
Notes
The applesauce in the cinnamon roll dough helps keep the cinnamon rolls soft and cakey. You can leave it out if needed and use 50g of extra Greek yogurt instead, but the final result will be a bit denser (more like bagels).
These protein cinnamon rolls can be baked on a baking sheet instead of inside a cake pan, but baking the cake pan method is the traditional method to allow them to all bake together.
If you do not want to use protein powder, you can replace it with the same amount of flour and follow the recipe the same way. The cinnamon rolls won't be quite as sweet, but they'll still turn out great.

If you are gluten free, I can't promise that almond flour will work in this recipe, but a 1:1 gluten-free flour replacement should work.

Note that I do not count the sugar substitute in my carb totals because they contain 0 calories, but if you are strict about counting carbs, be sure to calculate the nutrition on your own.
Recommended Products
As an Amazon Associate and member of other affiliate programs, I earn from qualifying purchases.
Nutrition Information
Yield

6
Serving Size

1 Cinnamon Roll
Amount Per Serving
Calories

175
Total Fat

7g
Carbohydrates

17.5g
Fiber

1g
Sugar

2g
Protein

11g