Today, we're combining two of my favorite recipes on the blog: Homemade Bagels & Air Fryer Pretzels.
If there's a more perfect vessel for a breakfast sandwich than a pretzel bagel, I don't think we've discovered it yet.
Okay, maybe waffles, but that's the only exception.
This pretzel bagel recipe is going to utilize the "2 ingredient dough," which combines flour with Greek yogurt to create the perfect bagel (and pretzel) texture.
These won't quite be New York caliber bagels, but they are darn close, and you would never know that they didn't contain any yeast!
If you want to make a high-protein version of these pretzel bagels, you can add some unflavored protein powder into the mix as I did with my Protein Bagels, but it isn't a requirement here.
Extra protein or not, these pretzel bagels are sneakily healthy and you would never know it! These will rival Tim Hortons or Trader Joe's pretzel bagels, and they'll be ready (completely from scratch) in under 30 minutes.
How to make pretzel bagels without yeast
These pretzel bagels are going to start just like any other bagel recipe: simply mix up the ingredients until you have bagel dough.
This recipe will make 3 bagels, so you'll break the dough up into 3 equal-sized pieces.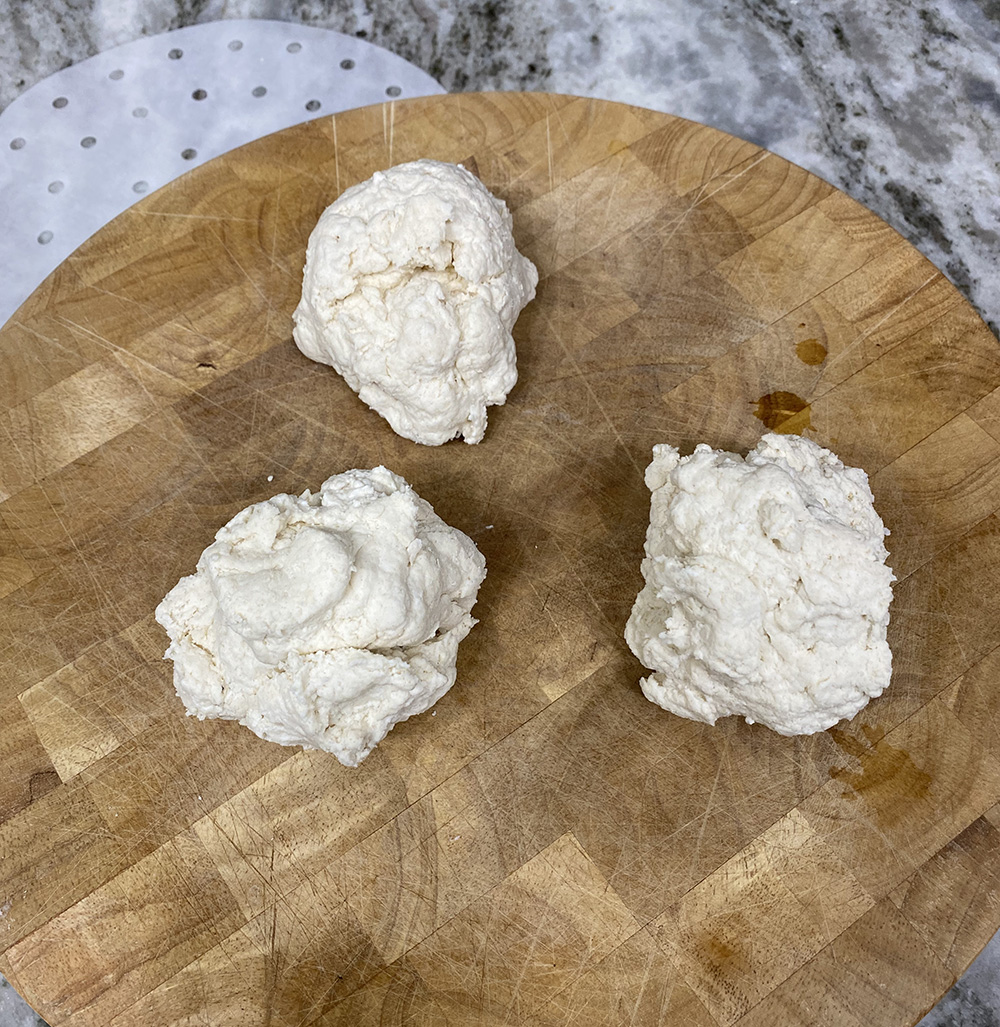 Knead each dough ball in your hands for about 30 seconds or so until they smooth out. As you can see by the photo below, we want the dough to be smooth without any major cracks in it to ensure we have a smooth bagel.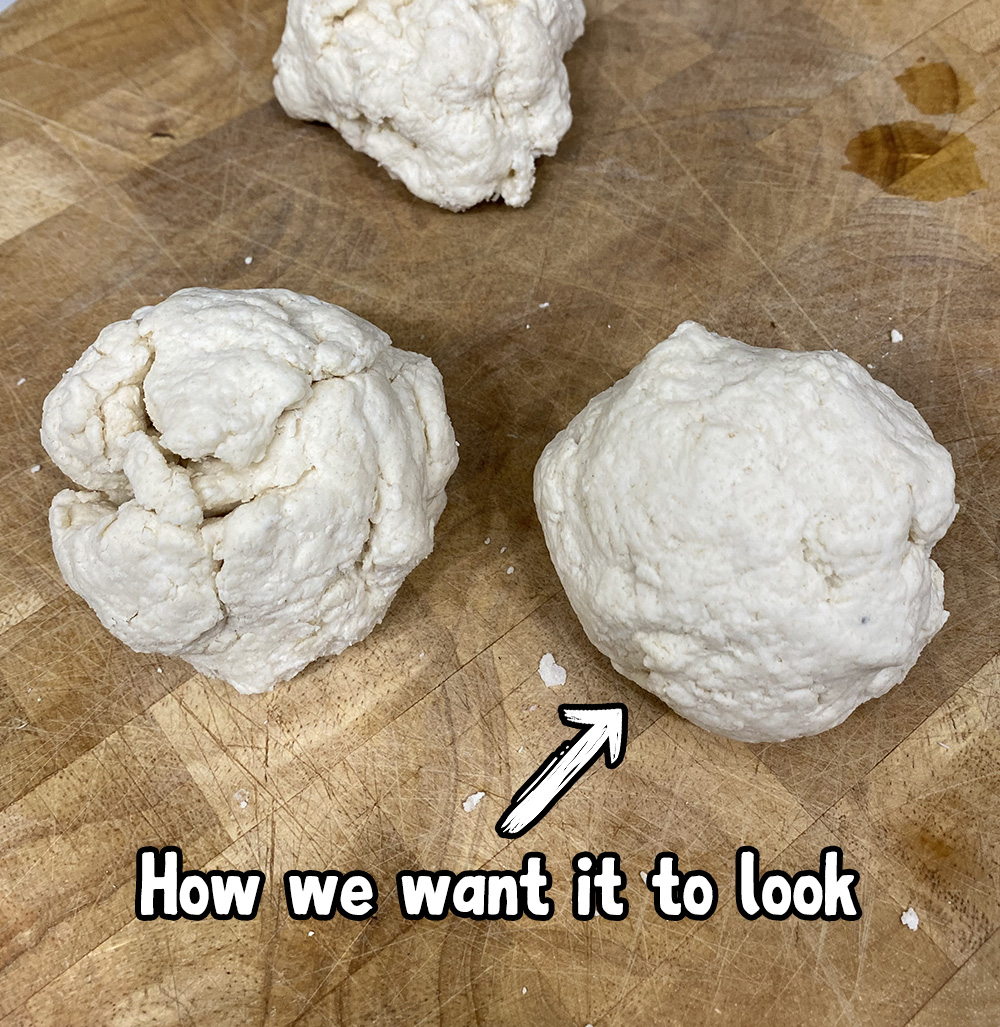 Once you have smoothed out the bagel dough, roll each ball into a rope, then pinch the ends together to form them into bagel shape.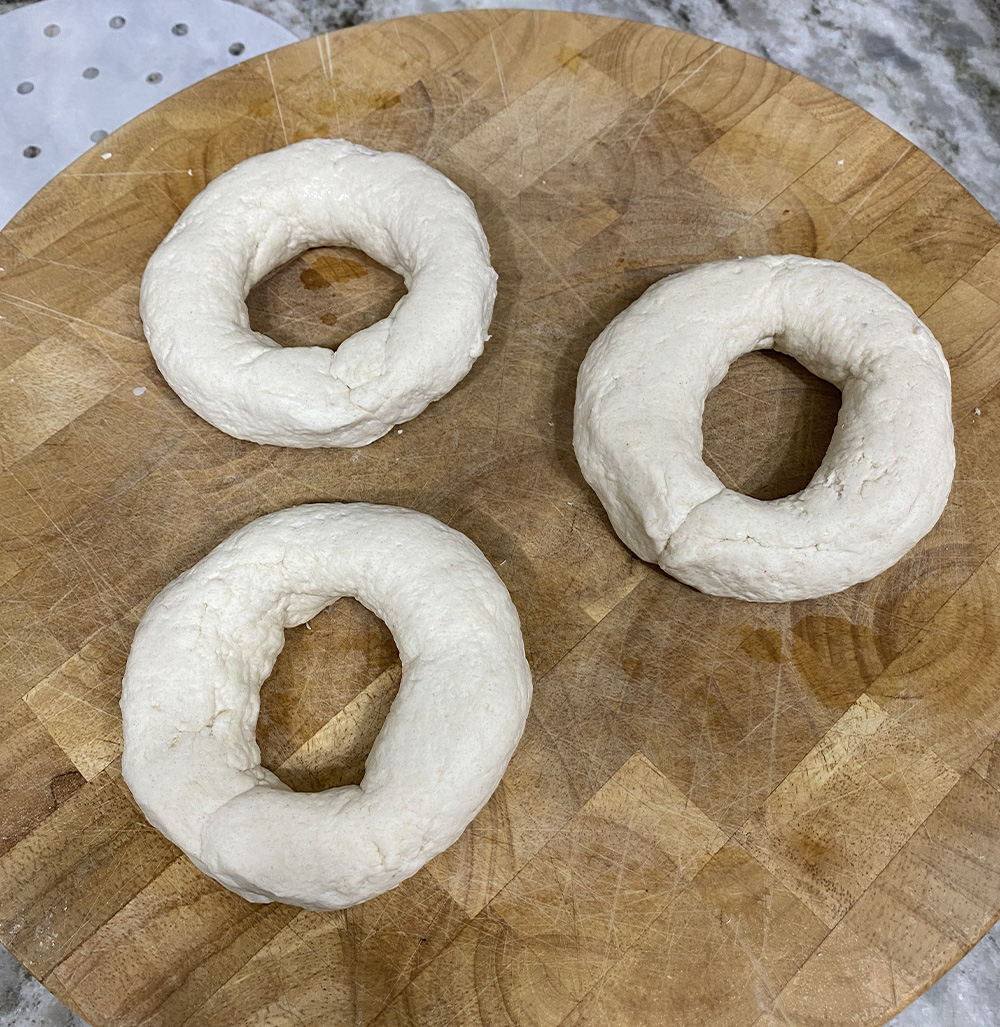 This next step is what transforms these bagels into authentic pretzel bagels: the baking soda bath.
When you dip these bagels in a mixture of boiling water and baking soda, it not only gives us that deep golden brown color, but it will also give us that authentic soft pretzel flavor we are after.
Let the bagel dough float in the mixture for about 30 seconds, then add directly to your air fryer basket.
Brush the tops of the pretzel dough with a little bit of melted butter, then sprinkle some pretzel salt, or coarse kosher salt, over the top.
Air fry the pretzel bagels for 10 minutes at 350 degrees F. I like to flip the bagels after 8 minutes to allow the bottom to crisp up a bit.
You can let these pretzel bagels cook for the full 10 minutes without flipping them and they will still turn out great.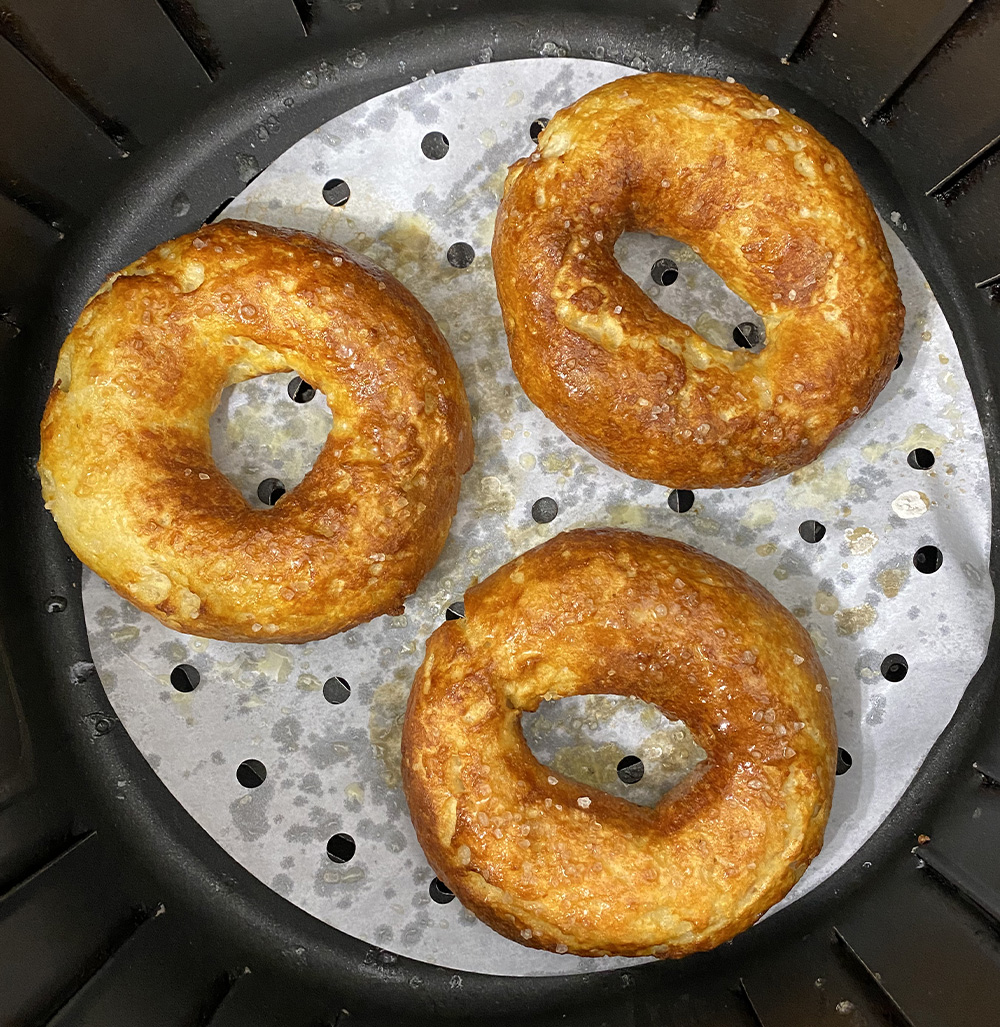 Once done, brush them once more with melted butter to give them a wonderful buttery flavor and allow them to cool for about 10 minutes.
As the bagels cool, they will continue to cook inside, so you don't want to slice them open too quickly. Once you do slice them in half, you'll be shocked at just how light and airy the texture truly is…
Enjoy these pretzel bagels with cream cheese, beer cheese, or slice them to create delicious breakfast sandwiches.
More pretzel recipes to enjoy
Pretzels are my favorite snack on the planet, so it should come as no surprise that I have a handful of pretzel-related recipes here on my blog!
Here are some other pretzel recipes to check out that are just as easy at this one:
Easy Pretzel Bagels Without Yeast
Additional Time:
5 minutes
How do you make bagels even better? Combine then with buttery soft pretzels! This recipe is incredibly easy and will yield delicious pretzel bagels from scratch in under 30 minutes.
Ingredients
180g (1.5 Cups) All-Purpose Flour (can also use self-rising flour)
180g (2/3 Cup) Plain Nonfat Greek Yogurt
2 tsp Baking Powder (omit if using self-rising flour)
1/2 tsp Salt
1 Tbsp Butter for brushing (I use Country Crock butter spread)
Coarse Salt for topping
Baking Soda Bath
1/4 Cup Baking Soda
4 Cups Water
Instructions
In a large bowl, mix up the self-rising flour, Greek yogurt, and salt until it comes together to form bagel dough. I start with a spatula but use my hands to bring it all together.
Add the dough to a lightly floured surface.
Break the dough into 3 roughly equal-sized pieces and knead each ball in your hands for about 30 seconds to smooth them out.
Using your palms, roll out each ball into a rope. If you are unsure about the length, bring the edges together to form a circle to see if the bagel is large enough. If not, you can roll it out a little bit more. The bagel will expand as it cooks, but you'll still want it to start as a full-size bagel.
Pinch the ends together to form your bagel shapes for all 3 bagels.
Combine 4 cups of water with 1/4 cup baking soda in a large saucepan to make your baking soda bath, bring to a boil, then remove from heat. While the water heats up, preheat your air fryer at 350 degrees F (preheating the air fryer should only take 3-5 minutes).
Add one bagel to your baking soda bath and let it float for 30 seconds. Remove with a slotted spatula or spoon and add directly to the air fryer basket that has been sprayed with nonstick cooking spray. Continue for all 3 bagels.
Melt one tablespoon of butter in the microwave and brush the top of your bagels, then sprinkle with coarse salt.
Air fry at 350 degrees for 10 minutes. After 8 minutes, I flip my bagels to allow the bottoms to brown for the final 2 minutes. Sometimes the baking soda mixture can cause bagels to stick, so if that's the case, you do not need to worry about flipping them.
After 10 minutes, brush each bagel with the remaining melted butter (it should absorb almost immediately). Remove the bagels from the air fryer to allow them to cool for 10 minutes before slicing.
Notes
Sometimes the baking soda water can cause sticking. If you find that your bagels have stuck to the air fryer basket, let them cool within the air fryer. Once they cool, they should come right out without peeling.
If you want to bump the protein content up, you can add a scoop of unflavored protein powder as described in my protein bagel recipe.
You can bake these pretzel bagels in the oven if you do not have an air fryer. While exact time & temperature will vary, placing them on a parchment paper baking sheet and baking at 375 degrees F for about 10-12 minutes should go the trick. Just keep an eye on the bagels and pull them from the oven when they are a beautiful golden brown.
Nutrition Information
Yield

3
Serving Size

1 Pretzel Bagel
Amount Per Serving
Calories

250
Total Fat

2g
Carbohydrates

46.5g
Protein

12g