Pretzels are probably my favorite snack of all time. If I'm going out to eat and pretzels are on the menu as an option, you bet your butt I'm ordering them.
Whether it's Auntie Anne's, Bavarian, or boring ballpark pretzels, I'm eating them.
When I had leftover pizza dough from my pizza recipe, I needed to find something to do with it (I was pizza'd out, believe it or not).
So, why not take that dough and turn it into pretzels?
All the work was already done, and I had fresh baked pretzels in about 15 minutes.
You can use store-bought pizza dough or make your own! I highly recommend making your own, but if you want to whip up pretzels in just minutes without any extra work (it's especially fun for the kids) then you can very easily buy some pre-made dough.
I'll walk you through both ways!
Making your own pizza dough
My Neapolitan pizza crust recipe is my baby- it took a lot of trial and error, but I'm very pleased with the final result!
The "problem" with this recipe, if you can call it that, is that it works best if you have a pizza oven. Without a pizza oven, you don't get quite the same result. I know this is what prevents a lot of people from trying it.
But, when it comes to pretzels, you don't need a fancy oven! A regular oven (or even an air fryer) work beautifully.
The main ingredient
Pizza Flour: A lot of people haven't heard of this, and that's totally fine! Basically, pizza flour is super fine flour. and it almost feels like baby powder. If you want to make a great dough, I can't recommend it enough. It is SO elastic, and it allows you to stretch the dough very, very easily. You can grab the one I bought off Amazon right here.
No pizza flour, no problem. While I don't advise a different flour when it comes to pizza, it won't be quite as big an issue with pretzels. A close alternative is bread flour, and that should work very well. Otherwise, you can use all-purpose flour, but the dough isn't quite as easy to work with.
Outside of flour, the recipe only requires yeast, salt, and some sugar. The sugar is optional! In my original pizza recipe, I use some garlic powder and no sugar at all. I like my pretzels with a hint of sweetness, which is why I don't mind throwing in a tiny bit of sugar, but it doesn't make a huge difference in flavor and can be omitted completely.
How to knead the dough
Once you combine all of your ingredients together, you'll want to knead the dough on a lightly floured surface.
I use the "fold and press" method (I have no idea if it's called that, but that's what we're going with).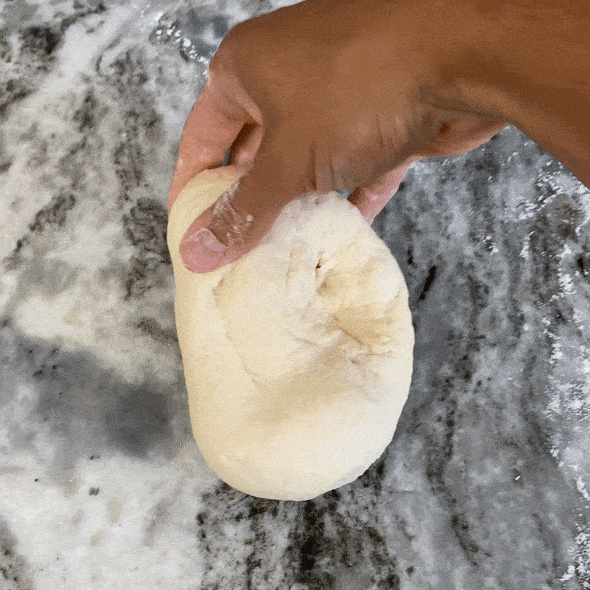 Continue doing this until the dough ball is nice and smooth. This should take 5-8 minutes in most cases. Trust me, you'll notice a difference once it's smooth, and the dough becomes pretty tough to knead, which is how you know it's ready.
At this point, I like to separate the dough into 2 smaller balls since that makes it easier to work with.
Then you just need to rub the tops with olive oil, cover them with a damp towel, and let them rise for 1 hour.
Check out how much they rise in only an hour:
After an hour, they're ready to go! Each dough ball here will turn into 4 pretzels.
You can refrigerate your dough for up to 2-3 days (or freeze it) to use later, too. If you do that, just be sure the dough sits out at room temperature for at least an hour before making your pretzels.
Using pre-made dough
Fun fact: at most pizzerias, you can purchase a dough ball. They don't advertise it, but most places have no problem selling you one of the dough balls. I've done this countless times!
Otherwise, most grocery stores should have pizza dough (check the freezer section, too).
The only variable with the pre-made dough is that they won't all be the same size. With my dough recipe, I know how many pretzels it'll make. Another dough you buy may be larger!
Here is when math comes into play. Ugh, I know, but we'll make it quick.
With my pizza recipe, each dough ball is 550 calories. I divided that dough into 4 pretzels, making each pretzel roughly 135 calories.
For me, that's a great size!
If you get pizza dough from the store that is 800 calories and want to make the same sized pretzels as I made, that would mean about 6 pretzels.
That being said, maybe you want to make thicker or larger pretzels. In that case, divide it up however you want!
If you don't know the nutritional facts of the pizza dough, you'll just need to eyeball it. Break off a piece and form a pretzel- if it's a good size, keep doing it that way. If not, adjust accordingly.
Just note that no matter what, you need to let the dough sit at room temperature for an hour before making the pretzels. If the dough is cold, it will be tough to work with!
Alternative to pizza dough?
That's where the super simple 2-ingredient dough comes into play! Check out my recipe for 2 ingredient bagels, and use the instructions here for the baking soda bath & baking time to turn those into pretzels!
Come to think of it, pretzel bagels sound amazing…
Making the pretzels
This might feel like a lot of notes, but I promise this recipe is so simple. Here's a visual to prove it to you:
Add your dough to a lightly floured surface
Cut into pieces (how many depends on the size of the pretzels you want)
Roll out into a long rope
Form a U shape
Twist at the top (I do a double twist, but a single is more "traditional"
Fold the top over the bottom of the U
Drop the pretzels into a baking soda bath for 30 seconds
Top with pretzel salt (or coarse sea salt) and bake for 10-15 minutes.
Serve with honey mustard or cheese and enjoy!
Final notes
I'd love to see you get creative with these! While I stuck with traditional pretzels, there are just so many flavors you can try.
Top with garlic & parmesan cheese, make them sweet with some cinnamon & sugar, try out cinnamon raisin, make pizza pretzels… it's a blank canvas for you to get creative!
And if you love pretzels as much as I do, you're going to want to check out these other pretzel recipes I have…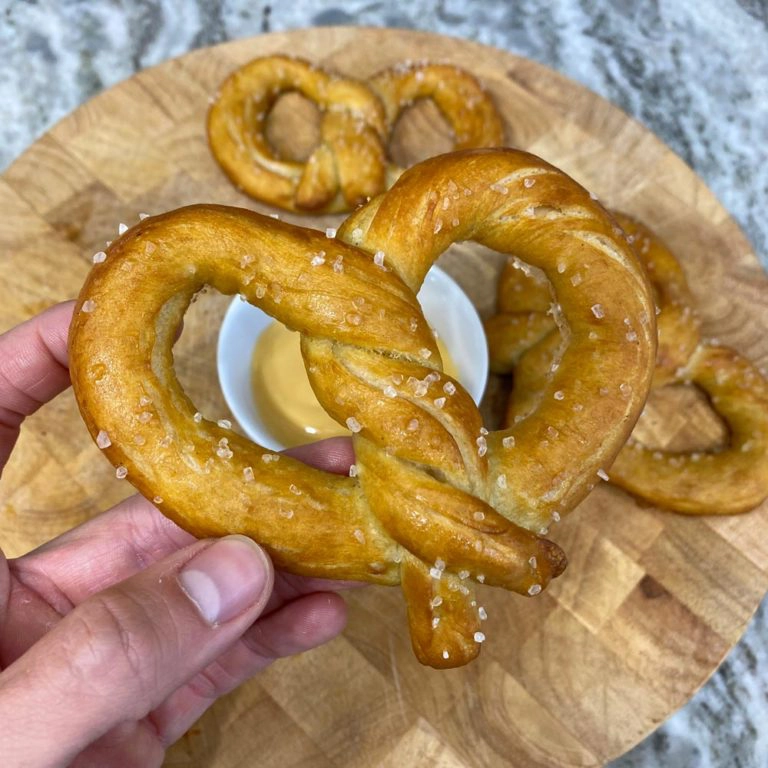 Pizza Dough Soft Pretzels
Need to find a use for that extra pizza dough? Or want to whip up incredibly easy soft pretzels? This is the recipe for you!
Ingredients
For Pizza Dough (makes 2 dough balls)
300g Pizza Flour (Italian 00 Flour) - You can use bread flour or AP flour as well
5g Instant Yeast (about 1 tsp) *may also be called rapid-rise or quick-rise
5g Salt (about 1 tsp)
1 tsp Sugar or Sugar Substitute
3/4 cup Warm Water + 2 Tbsp
1 tsp Olive Oil
For Baking Soda Bath
6 cups Water
1/2 cup Baking Soda
For Topping
Pretzel Salt / Coarse Sea Salt
Instructions
Prep the pizza dough (you can find the full instructions with photos in my pizza recipe here.) I'll summarize the dough directions here for you, too. If you already have dough, skip ahead to step 6.
In a large bowl, combine your flour, yeast, salt, and sugar substitute. Mix together. Pour 3/4 cup warm water into the bowl, and use a silicone spatula to mix it all up until there is no powder left. Add another 2 tbsp warm water, then use your hands to incorporate everything. It's okay if the dough is a bit sticky!
Generously flour a clean surface and add your dough. Add some flour to your hands to help with the stickiness as well. Knead your dough until it becomes nice and smooth- this should take 5-8 minutes. You can use a stand mixer with a dough attachment, but I like to just use my hands.
Use your palm to press and roll the dough, fold it towards you, and repeat.
Once smooth, separate the dough into 2 equal sized pieces. I used a food scale to find the total weight and divide that evenly by 2. Once you have 2 balls, roll them a few more times to smooth them out. Form a ball and put them on the counter with the smooth side up. (Note that you can keep them as one single dough ball, but I find it easier to work with when they are smaller)
Take 1 teaspoon of olive oil (you don't need much) and rub the tops of each dough ball. Cover the dough with a damp towel for 1 hour to rise. Then it's ready to go!
Preheat your oven to 450 degrees F, and then make the baking soda bath. In a large pot, combine 1/2 cup baking soda with roughly 6 cups of water and heat over medium heat until it comes to a boil. Once it begins to boil, lower the heat down to low.
While the water is heating up, use a knife or pizza cutter to cut your dough ball into 4 pieces. You can cut more or less depending on the size of the pretzels you want! Roll each piece out until about 20-24" long (that's how long mine were).
Form the pretzels by creating a large "U" shape, twisting it at the top, and then folding it down over the bottom of the U.
Using a spatula, carefully drop each pretzel into the baking soda bath for 30 seconds. Remove and add to a baking sheet. Repeat for all the pretzels.
Sprinkle coarse salt over the pretzels, then bake for 10-15 minutes, until golden brown.
Once removed from the oven, they are ready to go! To kick things up a notch, I melted one tablespoon of butter and brushed the tops right when they came out of the oven. This is optional, but nobody ever complained about a buttery pretzel.
Nutrition Information
Yield

8
Serving Size

1 Pretzel
Amount Per Serving
Calories

135
Carbohydrates

28g
Fiber

1g
Protein

5g