My Protein Brownies are by far my most recreated recipe, and for good reason. They're absolutely delicious.
It's time to take this recipe to the next level. It's time for OREO BROWNIES.
While this recipe is very similar to the original brownie recipe, there are a few key differences. Simply swapping out the cocoa powder for extra dark cocoa powder doesn't work, because the moisture of these (and bitterness) is completely changed. But don't worry, I took all of the guesswork out for you!
Oh yeah, and these are still gluten free!
The Oreo filling I made for these is worthy of it's own recipe. I didn't think it would come together as well as it did- but it tastes just like cake frosting with Oreos in it, and it's absolutely delicious. You're going to want to make it.
A few things to keep in mind…
We are using Bowmar Nutrition Protein Hot Chocolate powder in this recipe, and I highly, highly recommend you do the same. Another protein powder might work- I can't say for sure. Bowmar's protein compliments the cocoa powder perfectly and there is no "protein" taste to these at all.
We want moisture in these, so it requires one very important ingredient: pumpkin puree. Pumpkin sounds strange, I know. But I promise, it has zero taste once baked. It helps keep these brownies nice and soft, and the fat from the eggs & butter together will give you the brownie consistency we want.
My original brownie recipe was made in an 8×8 pan to yield 9 brownies. You can do the same for these if you want regular sized brownies. I did this recipe in a larger pan (9x13in) to yield 18 thinner brownies instead. I really wanted to add a layer of frosting in between thinner brownies to resemble an oreo. When all  is said and done, we still get 9 in total. But if you wanted to bake these up as 9 normal brownies and just frost the tops, that works too!
Macros for one brownie sandwich (recipe makes 9):
*2.5g Fiber & only 1.5g Sugar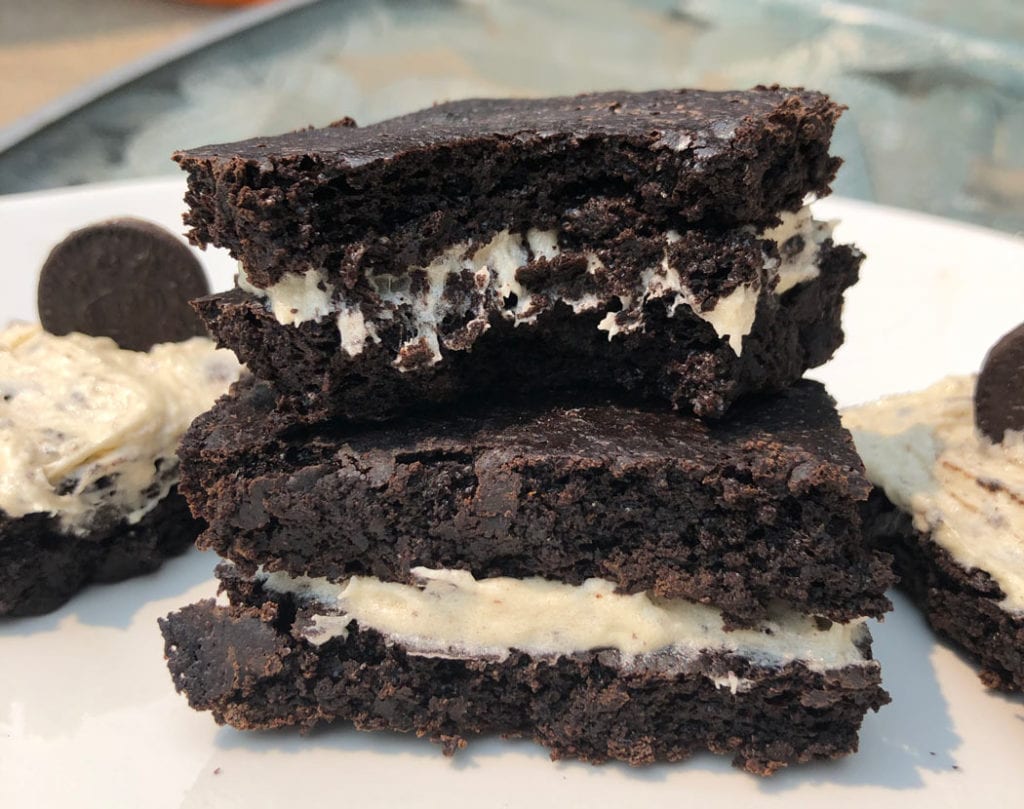 Preheat your oven to 350°F
Using a hand mixer, mix together your wet ingredients (eggs, vanilla extract, brown sugar, butter, maple syrup, and pumpkin puree). If you don't have an electric mixer, use a whisk and make sure everything is mixed well. Brown sugar can be stubborn, so make sure it is completely broken apart.
Add your dry ingredients to a separate bowl and mix together well to avoid clumping. Once mixed, slowly add to your wet ingredients with the mixer on a low speed. Continue to mix until it all comes together and looks like a beautiful bowl of brownie batter.
Generously spray a 9×13 baking pan with cooking spray, pour your batter in and make sure it is spread evenly throughout (it's okay if it seems thin- that's what we want). Add to your oven and set a timer for 20 minutes.
While these bake, you'll make your filling. Add your butter to a bowl, and use a hand mixer to fluff it up. If you are using light butter (that's what I used), it's already pretty light, so you won't need to fluff it up too much. Regular butter will require a few minutes.
Add your confectioners sugar a little bit at a time with the mixer going. It's okay that it doesn't resemble a frosting yet! Once that is all mixed, add your Frosted Cookie protein powder and mix well.
Once that is all mixed, add in your 4g of Xanthan Gum and a dash of salt. Xanthan Gum is a thickening agent, and it will give you the consistency we want once it sits. If you don't have any, you can settle for a looser frosting, or you can use less butter to begin with to have less liquid overall. I can't say for sure what ratio you need, but you can experiment.
*Optional but recommended* Put your Oreo Thin Bites or Original Oreo in a sandwich bag and break up into a dust. Fold into your filling for extra Oreo flavor!
Add your filling to the fridge while the brownies cook, allowing it to thicken and for the flavors to meld (it will taste overly sweet at first, but once it sits in the fridge, it loses some sweetness).
After 20 minutes, your brownies should be done. If they seem soft, that's what we want! They will continue to cook for a few minutes once removed from the oven. But since oven temperatures can vary, you can keep these in for a few extra minutes if they seem underdone. Let them cool completely before cutting (at least 30 minutes). ***If you are using an 8×8 pan to make 9 regular sized brownies instead, these will probably need to bake for closer to 30 minutes, so keep an eye on them.
Once cooled, slice into 18 brownies, and use your filling to create 9 brownie sandwiches. Enjoy right away, or keep in the fridge for later!
Using Bowmar Nutrition protein is important in this one. Since we're not using any flour, the protein powder acts as the base of the recipe. You can certainly try another chocolate protein powder, but there is no promise that these are going to turn out nearly as good.
Don't have Swerve sweeteners? That's okay. You can use any sweetener you'd like, but just note that brown sugar is ideal to create the soft brownie consistency we want. If you use all Stevia, for example, these are likely to come out somewhat gritty. I would use a little bit less sugar/sugar substitute and use slightly more liquid sweetener to help the grittiness.
You can certainly leave the frosting out all together. If you want to make a recipe of just 9 Oreo brownies with no frosting, they will be 75 calories, 3g Fat, 5g Carbs (2.5g Fiber), and 9g Protein!
I use light butter in this recipe because it saves a whole lot of calories while still giving that butter taste and texture. I'm fully aware that a lot of people don't love the ingredients of light butter (it uses oil to help cut the calories), so you can certainly use regular butter or another source of fat. Obviously, you will need to adjust the macros accordingly, but just note that light butter isn't absolutely necessary if you do not like it as an ingredient.
*** The carb total of this recipe is technically higher than listed, but I do not count the carbs in Swerve sweeteners. When it comes to sugar substitutes, some people like to count the carbs, but I do not- since it is zero calories, the impact of those carbs is negligible.