If you're an Oreo lover like I am, then you are going to absolutely LOVE these cookies! Not only are they packed with Oreo flavor throughout, but they're nice and soft, which is exactly the way a cookie should be…
If I wanted a crunchy cookie, I'd just eat an Oreo! But when it comes to fresh baked cookies, we want soft and gooey around here. If you prefer a nice soft brownie, be sure to check out my Oreo brownie recipe, too!
These cookies use both butter and cream cheese to keep the inside nice and soft. Plus, since we're not using any flour or eggs in this recipe, the dough is 100% safe to eat raw! Feel free to undercook these cookies to make them even softer!
This recipe makes 15 standard sized cookies, but if you prefer large cookies, you can definitely double up and create 8 larger cookies instead. If you do that, these will end up even softer, but obviously will require doubling the calories per cookie. That, and you'll need to bump up the cooking time slightly.
Prepping the cookies
Normally with cookies, chilling the dough before baking helps a ton. By chilling the dough, it prevents the cookies from spreading out too thin. I experimented with that for this recipe, but it actually doesn't make a difference at all, so we'll skip that step and save some time! Since this is a high-protein dough, it doesn't react quick the same way a regular cookie dough would, so we're in the clear.
Since we don't need to let the dough sit at all, it's a super simple process: mix everything together, scoop cookies out, press them down slightly, and bake!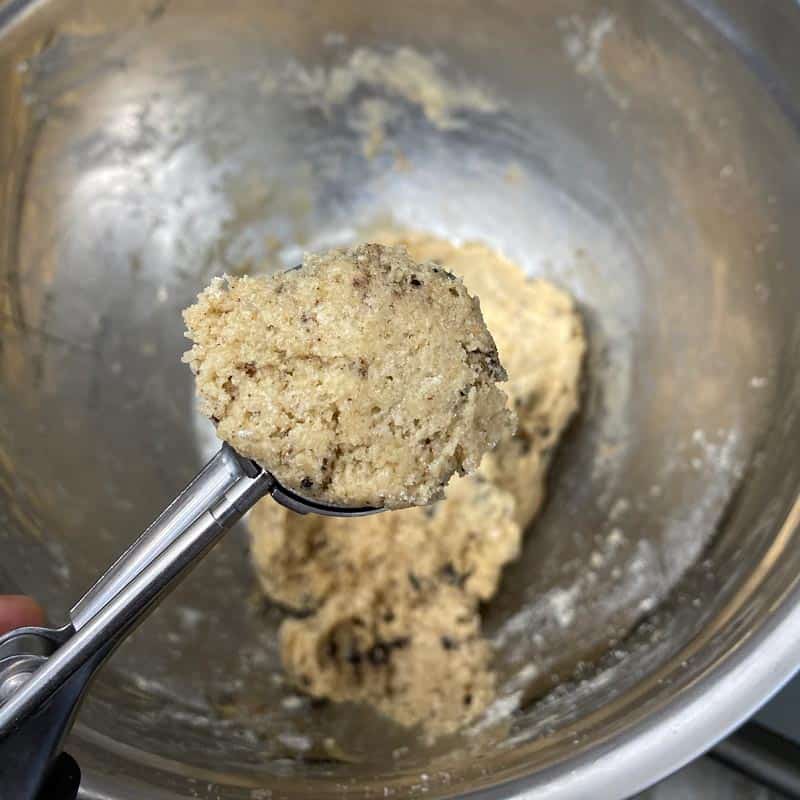 Remember, these are safe to eat raw if you really want to, so no harm in sneaking one off the tray before baking if you can't help yourself. And if you end up liking these cookies, odds are you'll love my cinnamon roll cookies too!
Ingredients and Substitutions
I did some experimenting with these cookies to save you the trouble, so I want to break down the main ingredients used here and WHY they're used.
Greek Cream Cheese: Not whipped! I know that this is an ingredient that not everyone can find, and that's okay! I prefer this cream cheese because it's got slightly more protein and less fat, but it's not a huge difference. You can use regular cream cheese or low fat cream cheese instead, but I'd caution against using fat free. Flourless, high-protein cookies are stubborn, and they definitely need some fat. It's not a huge amount from the cream cheese, and you can certainly try going fat free, but my guess would be that it'd dry these out. I definitely don't recommend using whipped cream cheese- since we're already using light butter, I don't think the combination of that + whipped cream cheese will create the final texture we want.
Almond Flour: This is the main flour I use for these cookies because it's low carb and frankly, I find it delicious. It ends up baking softer than regular flour, which I also wanted for this cookie. I did try to use some regular flour in its place, but the cookies turned extremely "cakey". That might work for you, but it didn't feel like eating real cookies to me.
Vanilla Whey: Another main component of the cookies is vanilla whey protein. I used Bowmar Nutrition's Frosted Cookie protein, which is essentially a vanilla flavor, but you can use any brand you'd like to get the same result. I know that PEScience and Quest are 2 popular protein powder brands, but those are whey/casein blends, and I'm not sure how that will work in this recipe. If anyone tries it, please let me know the result! My guess would be that it would still work great, but I did not try this.
Coconut Flour: Almond flour is not super binding, so the coconut flour helps to give these cookies structure. I know a lot of people don't love the flavor, but you don't even taste it once these are baked! If you don't have any coconut flour, or don't care to use any, a common swap is to use 2x the almond flour for the amount of coconut flour the recipe calls for. I didn't try this, but the Google machine tells me that it might work.
Light Butter: I use light butter in this recipe to save some calories. Light butter is basically butter + oil combined to lower the overall calories, but some people are not fond of the ingredients. If you want to use real butter, you absolutely can. In all honesty, your cookies will likely turn out even better, but the calories will increase quite a bit.
Oreo Thins: I like using Oreo Thins because I wanted to maximize the Oreo flavor in this recipe. But by all means, use regular, double stuffed, whatever! And don't be shy about the amount, either. I didn't get too wild with the amount of Oreos, but if you wanted to even double it up, it ends up only adding about 10 calories per cookie. Totally worth it! Nobody ever complained about having too much Oreo flavor.
Protein Oreo Cheesecake Cookies
How do you make Oreos high-protein and keto-friendly? Stuff 'em inside these cookies.
Ingredients
60g Vanilla Whey Protein (I used Bowmar Nutrition)
56g Almond Flour
14g Coconut Flour
20g Brown Sugar Substitute (I used Swerve)
42g (3 Tbsp) Greek Cream Cheese (regular cream cheese will work great)
56g Light Butter
1 tsp Vanilla Extract
1/4 tsp Baking Soda
1/4 tsp Salt
4 Oreo Thins (or regular Oreos)
Instructions
Preheat your oven to 350 degrees F.
Combine all of the dry ingredients (whey protein, almond flour, coconut flour, brown sugar, baking soda, and salt) in a large bowl.
Add the cream cheese, butter, and vanilla extract, and use a silicone spatula to mix everything together well. Continue until you have a large dough ball that is sticky, but workable.
Add the Oreo Thins to a sandwich bag, seal it, and then crush them up into crumbs. Pour the crumbs over the dough and use your spatula to fold everything together. Pro tip: while the recipe only calls for 4 Oreo Thins, I recommend taking one or two extra, breaking them into larger pieces, and folding those in as well. Getting Oreo chunks in your cookies is always a nice treat.
Line a baking sheet with parchment paper or a silicone baking mat, and use a small cookie scoop to scoop out 15 small dough balls. If you don't have a cookie scoop, you can use a small spoon. They're going to look very small, but don't worry, they will expand once cooked.
Give each dough ball a roll in your palms to smooth them out, and then lightly press them down with your fingers to form a cookie shape.
Bake the cookies at 350 degrees for about 8 minutes. Remember, all of the ingredients are safe to eat raw, so you can remove these when they are undercooked and safely enjoy them! That being said, 8 minutes was the perfect amount of time for mine, but oven temperatures can vary.
Let cool for 10-15 minutes and enjoy! I enjoyed these for a few days after baking and they remained soft. Since there is cream cheese in these, you can store in the fridge, but I kept them on the counter and had no issues!
Nutrition Information
Yield

15
Serving Size

1 Cookie
Amount Per Serving
Calories

65
Total Fat

3.5g
Carbohydrates

4g
Protein

5g