If you've ever ordered nitro cold brew from your favorite coffee shop, you know just how delicious it is.
The only problem is that nitro coffee can get pretty expensive, so we're going to make our own at home!
By using our own homemade cold brew recipe, we can have incredible nitro cold brew in just one hour.
What exactly is Nitro Cold Brew?
If you've never had nitro before, you may be wondering what all the hype is about.
Nitro cold brew is made by infusing regular cold brew coffee with nitrous oxide, which results in a smooth and creamy coffee with a frothy head.
If you've ever seen draft beer served from a tap, you'll know what that creamy head looks like on top of the nitro draft beer. That's exactly what nitro cold brew looks like!
Nitrogen-infused coffee isn't just here to look pretty, it also has a very unique flavor profile. The nitrogen bubbles help to enhance the flavor of the coffee, and you'll find that nitro cold brew has a much smoother & complex flavor with less acidity than regular coffee.
In other words, while it's truly just cold brew coffee mixed with nitrogen, it ends up tasting completely different.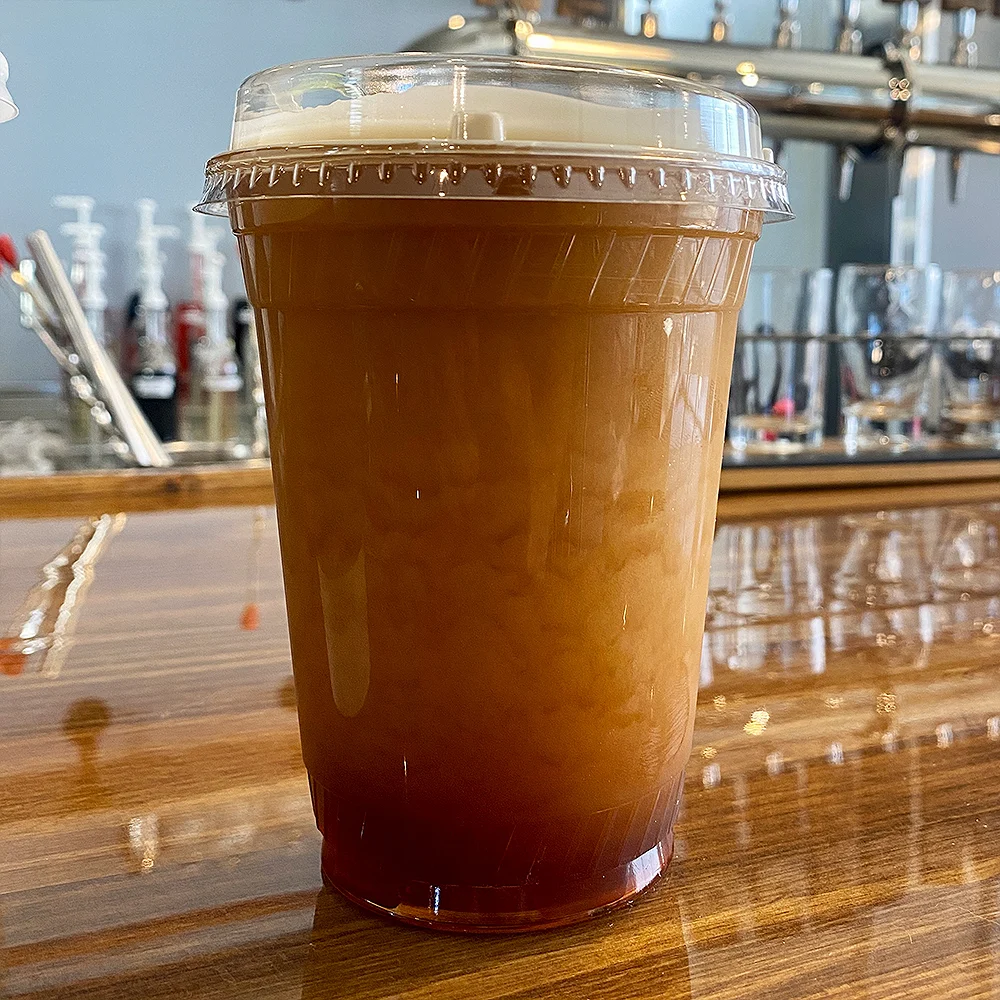 Nitro is generally served in a glass or cup without ice since the nitrogen creates a very cold coffee on its own, and ice cubes would interfere with that beautiful cascading effect.
The Best Coffee for this Nitro Cold Brew Recipe
You don't just want to pour hot coffee into your mini keg to make nitro, because there's a big difference between iced coffee and cold brewed coffee. That being said, you have some options for making your own nitro brew:
Make your own cold brew concentrate at home. I make my own cold brew every single week, and you can find my cold brew coffee recipe here.
Use store-bought cold brew coffee concentrate. Most grocery stores will carry some kind of cold brew concentrate, but my favorites are Starbucks and Trader Joe's. Don't worry about getting anything flavored- we want to start with black coffee and we can add flavor later.
Use regular cold brew (not concentrate). Cold brew concentrate requires diluting the mixture with water to create a drinkable glass of cold brew, but you can also use cold brew that has already been made. Grab some Starbucks cold brew and transform it into nitro cold brew at home to save a few bucks!
The easiest way to whip up a batch of nitro brew coffee will be to buy a coffee concentrate, but you can't beat homemade.
How to Make Nitro Cold Brew at Home
To make nitro cold brew coffee at home, you have two options: you can use a whipped cream dispenser, or you can use a mini nitro keg.
I absolutely love using a mini keg, so I'm going to walk you through that process, but I'll touch on the whipped cream option quickly at the end.
First and foremost, you need to create your cold brew concentrate. You can use a French press, large mason jar, or cold brewer to make your own concentrate.
Simply let coarse coffee grounds steep in cold water for 12-24 hours (I aim for 16 hours for mine). For best results, let the coffee steep at room temperature to extract the best flavor from the coffee beans.
Then, all you have to do is filter out the coffee using filter bags, a coffee filter, or fine-mesh strainer.
Don't worry, you can find full step-by-step instructions with measurements right here.
Once your concentrate is ready to go, we're going to prep it to make 48 ounces of cold-brew coffee. I like to use a 1:2 coffee-to-water ratio, meaning I mix 16 ounces of cold brew concentrate with 32 ounces of water to create 48oz of cold brew.
Most nitro mini kegs are 64 ounces, but you can only fill them up 75% to allow the rest to fill with nitrogen gas, so that leaves us with 48 ounces of liquid.
Now it's time for the magic: bring on the mini keg!
Pour the prepped cold brew into the body of the keg, then tightly seal the faucet onto the top. Make sure it is very tight so that no coffee leaks out during the brewing process.
Now we need to infuse the coffee with nitrogen.
Your mini keg requires buying nitrous oxide cartridges, which I get from Amazon (these are what is used to make whipped cream).
Take a nitrogen cartridge and add it to the cartridge holder, then tighten it onto the tap. Twist until you hear a whistling sound, which is the nitrogen gas entering the mini keg.
As you can see from this photo below, pure nitrogen gets cold very quickly.
Give the keg a good shake for 15-30 seconds, then place the entire keg in the fridge for one hour to allow the cold brew to come to the correct temperature.
Now you're ready to serve! Place a glass or cup under the tap, pull the lever, and watch the magic happen.
Nitro cold brew coffee should have a nice cascading effect with foam settling on top, but don't stress if it isn't perfect on your first try. To be honest, it took me a few tries to really get the hang of my mini keg, but once I got it down, it was totally worth it!
If you like some flavor to your coffee, I find it best to start with black coffee and add your flavor at the end. Add some simple syrup, cream, vanilla syrup, or anything else you enjoy to your glass, then dispense the nitro cold brew right over it.
If you've never experienced the creamy mouthfeel of nitro, you have to try this nitro cold brew coffee recipe.
How to Make Nitro with a Whipped Cream Dispenser
While I believe that a tap system is the best way to make nitro coffee, using a whipped cream dispenser is another very easy method you can use.
Prep your cold brew the same way as above, then pour it into your dispenser. Take one of your nitro cartridges, twist it onto the metal canister, and give it a very vigorous shake for about 30 seconds.
Put the canister down and let it sit for about 30 seconds to allow the nitrogen gas to fully mix into the coffee. Flip the canister over and dispense!
More Recipes for Coffee Lovers
My fellow coffee drinkers know that nitro cold brew is some of the best coffee you can have, but it's not the only coffee. Here are some other coffee recipes you should check out:
How to Make Nitro Cold Brew Coffee at Home
If you want the smooth taste of Nitro Cold Brew at home, it's much easier than you think! Whip up a batch of delicious cold brew concentrate and turn it into nitro cold brew in just one hour.
Instructions
I am using a 64oz Nitro Mini Keg, which you fill up 75% with cold brew (to leave room for the nitrogen gas). This means we will be using 48oz of cold brew coffee. If your keg is a different size, adjust accordingly.
If using cold brew concentrate, dilute the concentrate with water to create 48oz of cold brew. I use a 1:2 coffee-to-water ratio, meaning I mix up 16oz of cold brew concentrate with 32oz of water.
Fill your nitro mini keg with 48oz of cold brew.
Tightly secure the stout faucet onto the body of the keg. Make sure it's very tight so no coffee leaks out.
Place an N2O (nitrous oxide) whipped cream canister into the cartridge holder. Twist to tighten until you hear a whistling sound- this is the nitrogen entering the keg.
Gently shake the keg for 15-30 seconds, then place the keg in the refrigerator for one hour.
Place a glass under the tap, then pull the handle to dispense the delicious nitro cold brew.
Notes
To use a whipped cream dispenser:
A whipped cream dispenser is a popular method for dispensing nitro cold brew. All you have to do is fill the dispenser with cold brew, then charge it with a nitrous oxide cartridge. Vigorously shake the canister for about 30 seconds, let the dispenser sit for 30 seconds to become cold, then dispense!
If you want to enjoy nitro cold brew without the caffeine, you can make your own decaf cold brew concentrate.
Flavor your cold brew using some homemade vanilla sweet cream.
Recommended Products
As an Amazon Associate and member of other affiliate programs, I earn from qualifying purchases.
Nutrition Information
Yield

4
Serving Size

12oz Cup
Amount Per Serving
Calories

0
Total Fat

0g
Carbohydrates

0g
Protein

0g