This loaded nacho tater tot casserole is very appropriately named because this thing is indeed loaded.
Recently, I wanted to put together a plate of loaded nachos for a football game. I took inventory of the fridge, and we had all the fixings for nachos… but no tortilla chips.
Suddenly in the mood for nachos, I turned to the next best thing: tater tots!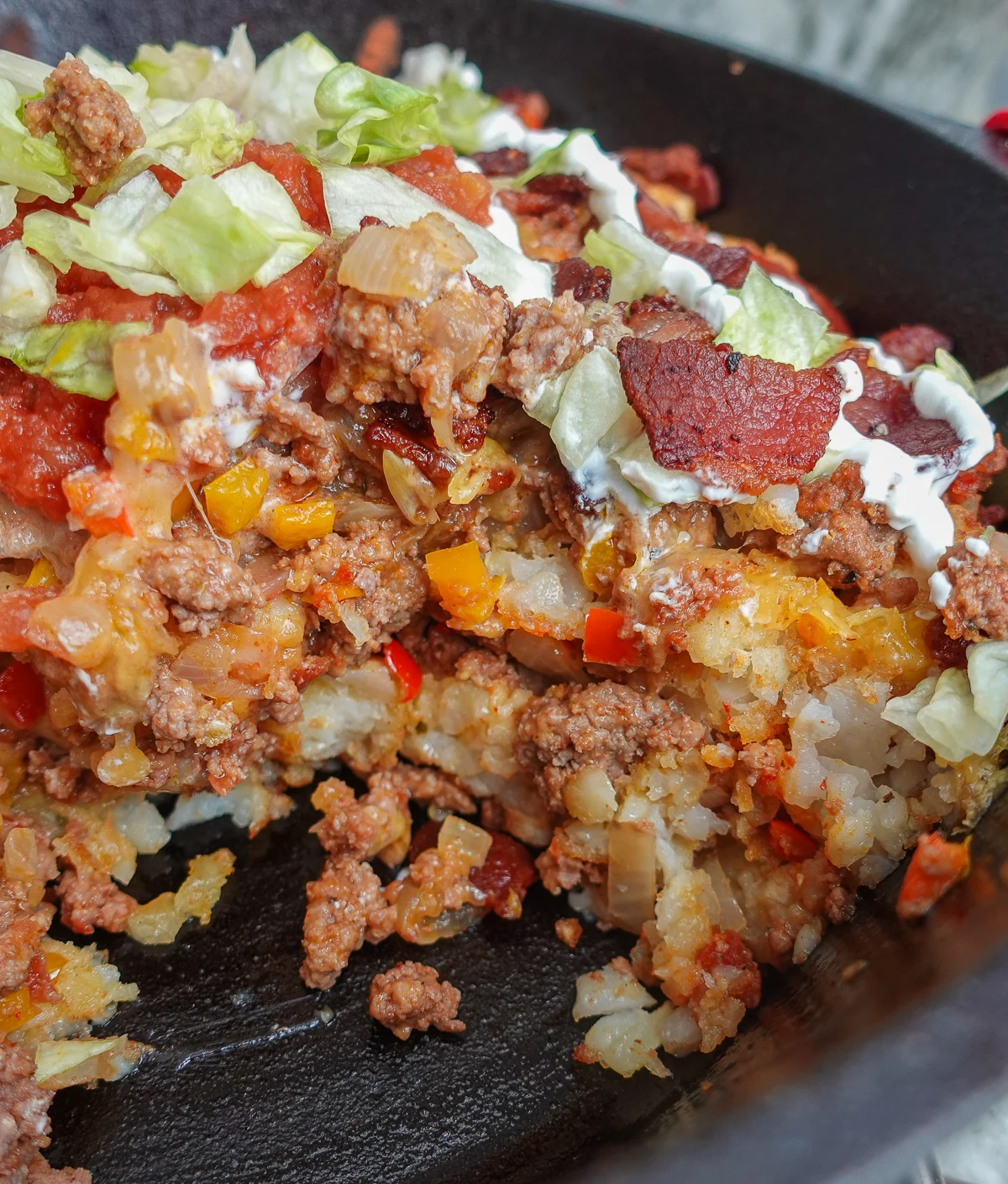 I may not have invented tater tot nachos (often referred to as "totchos") but I just may have perfected it.
Layers of crispy tater tots, lean taco-seasoned ground beef, cheese, and of course, bacon! I topped this with hot sauce and a little bit of Greek yogurt (in place of sour cream) and it was one of the best meals I've had in a long time.
Now, this may not be the "healthiest" recipe you'll find on my website, but it's still plenty healthy in my eyes. We're using lean, 90/10 ground beef to keep the calories slightly lower and the protein a bit higher, and I kept it conservative with the cheese to not go completely overboard.
But hey, if you want to double up on the cheese, I won't stop you.
How to make loaded tater tot nachos
To keep things nice and easy, we're going to prep everything separately and then assemble everything at the end to melt it all together.
By keeping everything separate, we're ensuring the tater tots stay nice and crispy to create the base for these loaded tater tots.
First things first, you're going to need some frozen tater tots. Any brand will work great here, and I used this full 2lb (32oz) bag of frozen tater tots.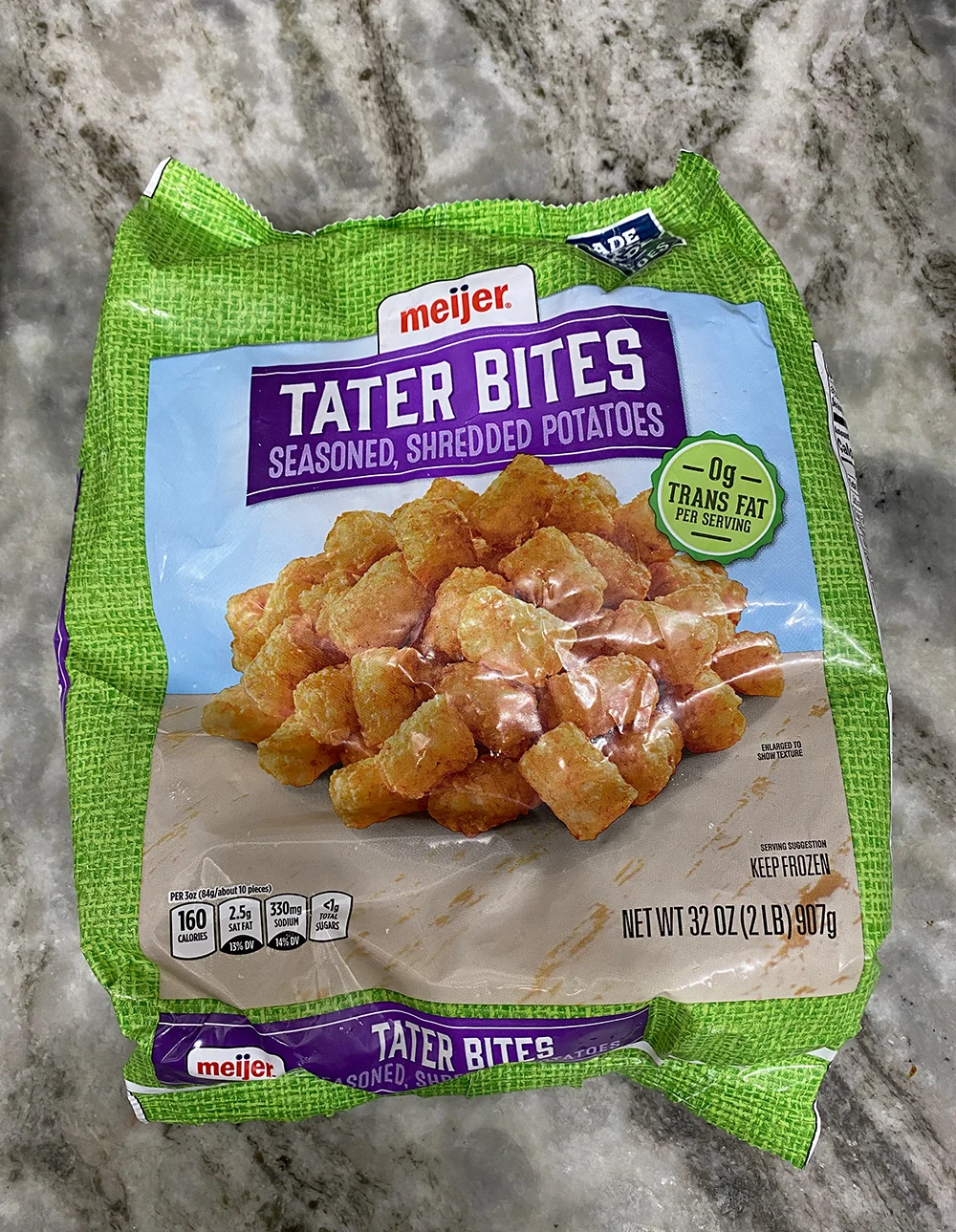 As you'll see when we assemble the final skillet, you can create more than two layers, so if you have a larger bag of tater tots, you can create more layers!
The beauty of this recipe is that we can bake the tater tots in the oven and then prep everything else while they cook, so we streamline the entire process.
Bake the tater tots for 30 minutes at 425 degrees F.
While they're baking, you'll prep the beef taco mixture. Once the 30 minutes is up, you'll be ready to assemble your skillet!
Here's a quick breakdown of all the steps…
Chop up 6 strips of bacon and add them to a pan. I much prefer this over pan-frying full strips of baking as it helps them cook quicker.
Cook the bacon down until crispy. You don't need to make the bacon too well-done, because it will be going back into the oven at the end. Remove the bacon from the pan and use a paper towel to soak up most of the bacon grease, leaving just enough to coat the pan. Leaving too much bacon grease will result in a greasy end-product.
Dice up pepper and onion and add right into the pan we cooked the bacon in. You can do this all in a clean pan, but I love the extra flavor from the small amount of bacon grease leftover.
Cook down the pepper and onion for 1-2 minutes, then add the lean ground beef.
Allow everything to cook until the beef has mostly browned but there is still some pink showing, then add taco seasoning and salsa. Let it all cook together for 5-10 minutes until the beef is completely cooked through.
Lightly spray a 10.5in a cast-iron skillet (a larger pan will also work) and add a layer of your cooked tater tots- you'll use about half of the tater tots here.
Layer the taco meat on top of the tater tots, then add shredded cheese and hot sauce.
Top with the rest of the tater tots, covering as much as possible to create a solid layer.
Add the rest of the taco meat, then add the bacon and the rest of the cheddar cheese right on top.
Bake for an additional 10 minutes to melt everything together.
You can top this Mexican tater tot casserole with whatever you'd like.
I kept it simple with a little salsa, lettuce, and Greek yogurt (a replacement for sour cream). You can also add some nacho cheese sauce to add a ton of creaminess on top of the shredded cheese we're already using.
It's also worth noting that you can easily customize this taco casserole with even more layers, so if you want to add refried beans, black beans, corn, or any other vegetables, you certainly can.
I estimate that this entire recipe should yield 8 servings. Since these loaded tater tots need to be scooped out of the skillet, each serving size will be slightly different, but we got right around 8 servings in total.
Can these loaded tater tots be eaten as leftovers?
This is a large skillet, so if you're not sharing, you're likely going to have leftovers.
Since we're layering so much on top of the cooked tater tots, they're going to be the crispiest when served fresh. But that doesn't mean the leftovers won't still be delicious!
I stored what was left over in the fridge and enjoyed the following night for dinner, and it was still delicious.
The tater tots became pretty delicate when reheated, but the flavor was all there. I heated the leftovers up in the air fryer to keep the tots as close to crispy baked tater tots as possible.
I wouldn't reheat in the microwave, as the tater tots would get really soggy, but it'll work in a pinch.
If you plan ahead, you can even separate the tater tots out before storing the leftovers so heat them up separately, although it isn't necessary.
Loaded Tater Tot Nacho Casserole
Additional Time:
5 minutes
This loaded tater tot nacho skillet is HUGE, with layers of tater tots, beef, vegetables, and bacon, all cooked to perfection. Prep it as an appetizer for the game night, or serve it up as the main dish for your next Taco Tuesday.
Ingredients
1 Bag (2 lbs) Frozen Tater Tots
1 Pound Lean 90/10 Ground Beef
1 Medium Sweet Onion
6 Mini Sweet Peppers (or 1 large bell pepper)
6 Strips Center Cut Bacon
1/4 Cup Salsa
4 tsp Taco Seasoning
56g (1/2 Cup) Shredded Cheddar Cheese
28g (1/4 Cup) Shredded Mozzarella Cheese
Hot Sauce & Sour Cream (or Greek Yogurt) for Topping
Instructions
Spread the frozen tater tots out on a baking sheet and bake at 425 degrees F for 30 minutes.
While the tater tots bake, we're going to make the beef and vegetables for our final nachos.
Slice up 6 strips of bacon (this helps them to cook faster in the pan) and cook them down over medium heat until crispy.
While the bacon cooks down, dice up your pepper and onion and set those aside.
When the bacon is done, add it to a paper towel-lined plate to soak up any excess bacon grease. Use a spatula and paper towel to carefully wipe down the pan, leaving only a small amount of grease behind, then add the pepper and onion directly to the same pan. Lightly season with salt & pepper and let cook for about 1 minute.
Add the ground beef to the pan and use a spatula to break it up. Continue to cook until the beef browns but there is still some pink visible.
Add 4 tsp taco seasoning, along with 1/4 cup salsa, then mix it all together and allow it to fully cook down until the beef is completely cooked through (about 5 minutes or so). Remove from heat.
When the tater tots are done, remove them from the oven but leave the oven on.
Spray a 10.5in cast-iron skillet (see notes below for alternatives) with nonstick spray, then add a layer of tater tots to the bottom. Add your beef taco mixture on top of the tater tots, covering completely, then add 1/4 cup of shredded cheddar cheese and mozzarella cheese (I also added some hot sauce to this layer).
Carefully add the rest of the tater tots on top of that layer- I was a little more deliberate with making this layer fit like puzzle pieces.
Top with the rest of the ground beef mixture, add your bacon, then the final 1/4 cup of cheddar cheese.
Bake in the oven for an additional 10 minutes to melt everything together.
Carefully remove the skillet from the oven and let cool for about 5-10 minutes. Add any additional toppings before serving (like lettuce or sour cream), then scoop out servings and enjoy!
Notes
I highly recommend this deep cast iron skillet because it makes layering a breeze. But these loaded tater tot nachos can be prepped in any other number of ways. You can assemble them on a baking sheet, in a cake pan, or in a small baking dish. If all else fails, since everything is getting pre-cooked, you can assemble everything together in bowls and serve right away without any extra bake time.
This recipe is forgiving, so if there are other ingredients you like in your nachos, they can easily be added here.
I'll admit, this isn't the "healthiest" recipe I've ever created in the traditional sense of the word, but it is definitely one of the most delicious!
If you want to make loaded tater tots in the air fryer, check out With the Woodruffs for a quality recipe.
Recommended Products
As an Amazon Associate and member of other affiliate programs, I earn from qualifying purchases.
Nutrition Information
Yield

8
Serving Size

1 Large Scoop (1/8 of Skillet)
Amount Per Serving
Calories

365
Total Fat

20g
Carbohydrates

28g
Protein

19g