The idea of cornbread cookies, let alone protein cornbread cookies, has probably never crossed your mind before, but this is the recipe you never knew you needed.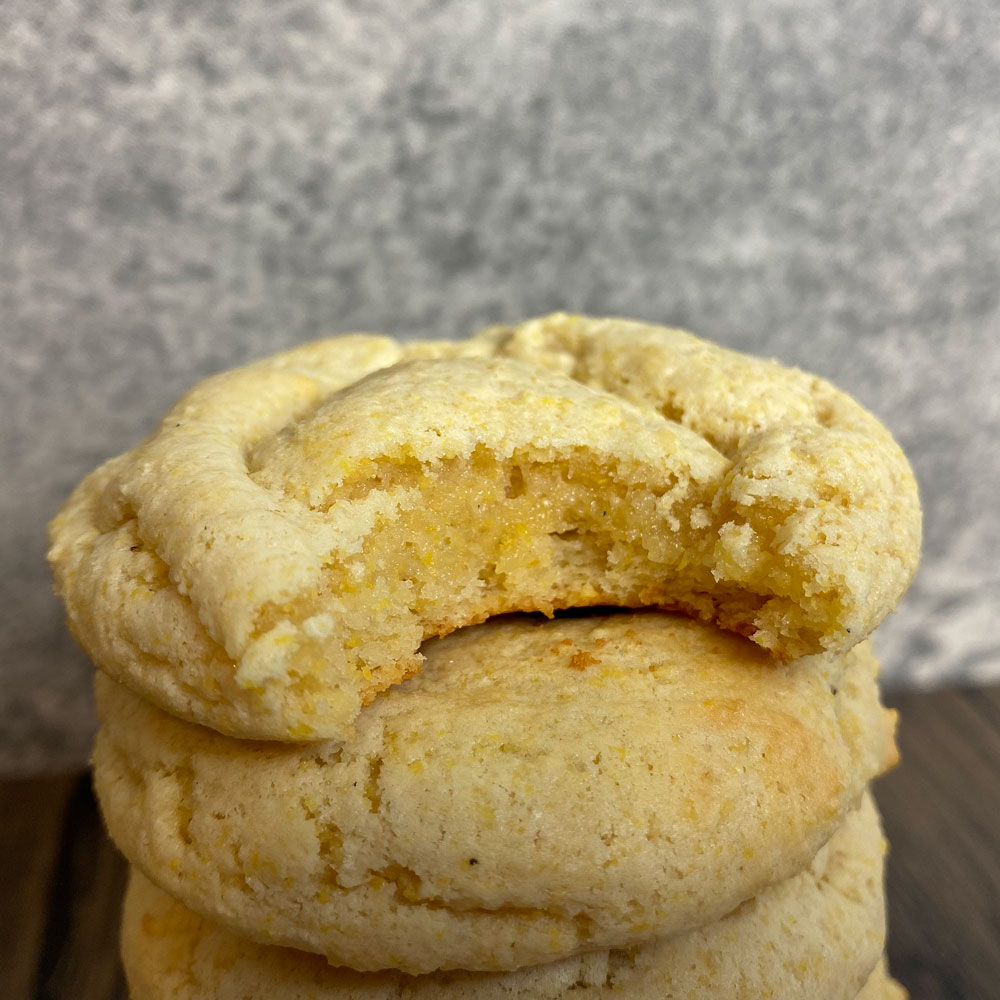 The texture of these is a perfect cross between a cornbread muffin and a soft cookie.
They're soft and moist, but still slightly cakey to give you that corn muffin feel.
Flavor-wise, these protein cornbread cookies are a perfect marriage of a sugar cookie and cornbread. It's one of those things that you're just going to have to try for yourself to see exactly what I mean!
And at only 100 calories and 6g of protein per cookie, it's quite impressive in the nutrition department, too.
Ingredients needed for Protein Cornbread Cookies
In my mind, cornbread should always be sweet.
I've heard the arguments for a savory cornbread, but why anyone would want anything other than sweet, moist (sorry for saying moist…twice) cornbread? I'll never understand that.
The problem with cornbread is that it's one of the more difficult things out there to make. When it's done correctly, it's amazing. But it seems VERY difficult to get it right.
More often than not, it comes out as a dry, crumbly mess.
And if you try making a high-protein version… forget about it. It dries out extremely fast, and dry cornbread is terrible.
That's why we're going to cheat a little bit with this recipe and use boxed cornbread mix.
If you want to make your own cornbread from scratch, by all means, be my guest. I'm going to stick with the pre-made mix and doctor it up to become a high-protein cornbread cookie, because it makes life MUCH easier.
Not to mention, by using a boxed mix, you can get the exact flavor you want.
As an average home baker, I just do not have the skills to master a solid cornbread. That's why I buy the pre-made stuff; somebody else has already mastered it!
And let me tell ya, Famous Dave's does it best.
I grew up down the street from a Famous Dave's, and I used to legitimately get a dozen corn muffins to-go. I was absolutely obsessed.
They're so soft, moist, and sweet- exactly the way I want my cornbread to be.
Lucky for us, Famous Dave's sells their cornbread mix! That is what I chose for this recipe, and I strongly encourage you to do the same. Not only will it give you the best result (since that's all I tested), but it's seriously so delicious.
This mix should be available at most major retailers. I buy mine from the local Kroger, but I know that Target and Walmart also carry it. And if all else fails, there is always Amazon (you just pay more buying it online).
We're going to combine the cornbread mix with some vanilla protein powder, butter, applesauce, and baking soda.
Why applesauce? It acts similarly to butter, but helps us cut down on some of the calories! I promise you won't taste it in the slightest.
What kind of protein should you use for these Protein Cornbread Cookies?
Whenever I post a recipe, I get a message from someone who tried the recipe and had it come out terribly.
When we discuss it, about 96.4% of the time it comes down to substituting the protein powder for a different type.
Baking with protein powder is a tough science. Not only is every type of protein different, but every brand is even different. The slightest change can easily lead to overly dry baked goods.
I'll do my best to continue testing different powders for you to help make things easy, but I always encourage you to follow the recipe as closely as possible. However, I know that is not always possible, so here are some tips:
As you can see by the photo here, there is quite a huge difference depending on the type of protein powder you use.
The best result I got here was a vanilla whey/casein blend. I've been using PEScience (you can get it on their website or on Amazon with Prime shipping) because I really love the flavor. The vanilla is not overpowering and it's not insanely sweet, so it works great for these cookies. Most importantly, the casein helps these cookies hold their structure. Casein is thicker than whey and holds moisture better, helping these cookies to hold their shape without spreading too thin.
If you use whey protein, the cookies lack that appealing crackly texture. They turn out just fine, but they're much closer to muffin tops than they are cookies!
I did not try a vegan protein powder, but I can't promise it would turn out. Most plant-based protein is very absorbant, so your cookies will likely end up being very dry.
Much like my Giant Protein Cookie, whey protein alone just does not lead to as appealing of a result.
Chilling the dough: absolutely necessary
These protein cornbread cookies require chilling the dough for 1 hour before baking. This serves 2 purposes:
It firms up the dough to prevent them from spreading too thin.
If you use a whey/casein blend, it will give you the crackly top and more authentic cookie texture.
Don't worry, I tested a few batches chilled vs not chilled so you can see the difference for yourself. Up first, we have the whey/casein cookies (my recommended version) both ways…
As you can see, the cookies held their shape pretty well in both cases thanks to the casein. However, the texture was much more cookie-like once chilled!
If you're in a rush, the non-chilled version came out tasty, but not quite ideal. Again, much closer to a muffin top than a cookie.
Even when chilled, these protein cornbread cookies look pretty cakey and round when they come out of the oven. Don't worry, they will sink into shape as they cool!
The photo above shows the cookies right out of the oven vs after 10 minutes of cooling. They'll seem cakey at first, but they'll fall right into place.
Now, when it comes to using 100% whey protein (and not a protein blend), it is ABSOLUTELY NECESSARY to chill the dough. If you decide not to, well…
Without chilling, your cookies are going to become dry, inedible discs.
In my opinion, even the "good" whey protein cookie isn't quite the ideal shape, but the unchilled version fell completely flat.
In summary, I highly recommend chilling the dough for one hour! It will be worth the wait.
Just a little patience will make a world of difference.
A note on forming your cookies
When it comes to forming your cookies, I love using a cookie scoop.
When you scoop the cookie dough, it helps them bake into the perfect cookie shape.
If you don't have a cookie scoop, you can also just break off pieces and roll them into balls.
Both methods work, but I find using a cookie scoop to lead to more appealing results.
Regardless of the method you choose, you're going to be left with perfectly crackly cookies:
Protein Cornbread Cookies
Prep Time:
1 hour
5 minutes
Total Time:
1 hour
13 minutes
If you like sweet cornbread, then you're going to LOVE these soft cornbread cookies. They're the perfect blend of sugar cookie & corn muffins, and just 100 calories per cookie!
Ingredients
105g Sweet Cornbread Mix of Choice (I love Famous Dave's Cornbread Mix)
42g Light Butter
30g Unsweetened Applesauce
Pinch of Salt
1/4 Tsp Baking Soda (if you are using 100% whey protein and not a blend, leave this out)
Instructions
In a large bowl, combine your cornbread mix, protein powder, salt, and baking soda.
Add the light butter and applesauce, and use a silicone spatula to mix together until a dough forms. Add to the refrigerator for one hour to chill the dough. This is a critical step, so don't skip it! Chilling the dough prevents the cookies from spreading too thin and leads to the perfect cookie texture.
After one hour, preheat the oven to 375 degrees F. Remove the dough from the fridge, and use a medium cookie scoop to scoop out 7 dough balls onto a nonstick cookie tray or baking sheet. If you don't have a cookie scoop, you can use a spoon and then roll the dough into balls with your hands.
Add to oven and bake for 8 minutes.
The cookies will seem cakey when you remove them, but let them cool for 10-15 minutes and they will fall into place. Then it's time to enjoy!
Notes
I prefer my cookies slightly gooey inside, so I pulled them at exactly 8 minutes. If you prefer them slightly more cakey (but still soft) 9 minutes is the perfect amount of time!
I use protein powder that is a blend of whey & casein protein. To see how different types of protein powder affect cookie recipes, check out my Ultimate Protein Powder Substitution Guide.
Recommended Products
As an Amazon Associate and member of other affiliate programs, I earn from qualifying purchases.
Nutrition Information
Yield

7
Serving Size

1 Cookie
Amount Per Serving
Calories

100
Total Fat

4g
Carbohydrates

10g
Fiber

0.5g
Sugar

5g
Protein

6g