Who doesn't love snacking on a crunchy cracker? Whether you're eating crackers right out of the box or dunking them in your favorite dip, there are few snacks better than crackers.
Store-bought crackers are a convenient choice, but have you ever thought of making your own crackers?
Not only is this a healthier choice over traditional crackers you find at the grocery store, but it's also a surprisingly easy recipe to make.
This homemade crackers recipe comes together in no time using simple ingredients. Not only are these delicious crackers incredibly easy to make, but they are also a perfect way to add some extra protein to your diet.
Each cup of these crackers contains only 155 calories with 8 grams of protein.
Plus, you can season them however you'd like, so there are tons of possibilities for this one!
How to make healthy protein-packed crackers
Our cracker dough is prepared with all-purpose flour and unflavored protein powder. I tend to stick with all-purpose flour, but you can easily swap it out for whole wheat flour to make whole wheat crackers. The best crackers have a great crunch, and either flour will accomplish that for you.
Now, you might be wondering why I've chosen to use protein powder in this recipe. Using protein powder in your dough is an amazing way to sneak some protein into your diet (or your kids' diets) without even tasting it.
I like to use a blend of whey & casein protein powder, but you should be able to use whey protein in this one. You can try plant-based flour to make vegan crackers, but I did not test it.
Not a fan of protein powder? No worries. You can simply replace the protein powder with the same amount of flour and they'll still be low-calorie and perfectly crispy.
The best part of this recipe is that these crackers can be flavored with your favorite seasoning, and there is no limit to the type of cracker you can make.
I've used everything bagel seasoning here, but feel free to mix it up: pumpkin seeds, chia seeds, poppy seeds, onion powder, or nutritional yeast are all great options.
To create your cracker dough, combine the dry ingredients, then add olive oil and a half cup of water. Divide the dough and roll it out on sheets of parchment paper with a rolling pin. We want to roll the dough quite thin to make sure these crackers will crisp up well in the oven.
Transfer your crackers onto a baking sheet using the parchment paper. Using a pizza cutter, cut the dough into squares (or rectangles). The exact size is up to you, and you can make these crackers as small or large as you would like. If you want to give this a fun twist for the kids, you can even use cookie cutters to create fun shapes.
Sprinkle your preferred seasoning over the crackers, then use the rolling pin to lightly press the seasoning down into the dough to help it stick.
These beautifully golden brown crackers will come out of the oven in just 12 minutes.
Don't worry if your crackers are a little soft when they come out of the oven. Just let them cool for an hour on a cooling rack and they will harden up and be ready to eat. For even crispier crackers, you can let them sit at room temperature overnight in a sealed bag or airtight container.
And remember to store these healthy crackers in an airtight container for enjoying throughout the week.
Creating the Perfect Cracker Texture
What's a cracker without the crunch? If you're trying to swap the olive oil with a lower-calorie alternative like applesauce, please reconsider. While those healthy swaps work in a lot of recipes, it's not ideal for this one.
The oil gives these crackers their delightful crunch, and it's worth every calorie. Coconut oil or butter works as a good option too if you can't use olive oil for any reason.
I love the healthy fats, not the mention the flavor, that olive oil provides, so I highly recommend using it!
Variations and Flavor Additions
These crackers are delicious on their own, but they also provide a great base to let your imagination shine. Add garlic powder, sea salt, poppy seeds, sesame seeds, or sunflower seeds.
You could even top these with cinnamon & sugar for the next time you're in need of a sweet treat. The options are truly endless.
More recipes you're going to love
If this healthy cracker recipe has caught your attention, you've got great taste. If savory recipes are your style, I've got a ton of healthy recipes here on my blog for you to check out.
Here are some great ones to get you started: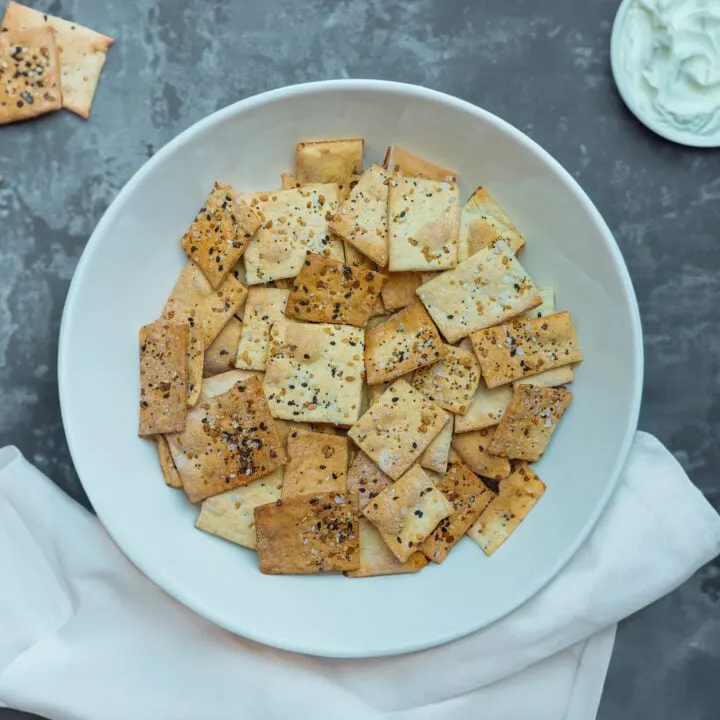 Healthy Protein-Packed Crackers
Total Time:
1 hour
22 minutes
Crunchy crackers that are perfect for snacking, dipping, or pairing. An entire cup of these healthy crackers contains just 155 calories with 8 grams of protein, making it a great way to sneak some extra protein into your diet.
Ingredients
180g (1.5 Cups) All-Purpose Flour (or Whole Wheat Flour)
1 tsp Salt
3 Tbsp Olive Oil
1/2 Cup Cold Water
Everything Bagel Seasoning (or seasoning of choice)
Instructions
Preheat the oven to 450 degrees F.
In a large bowl, combine the flour, protein powder, and salt. Add the olive oil and 1/2 cup cold water, then mix until everything comes together to form a dough.
Split the dough into 2 pieces to make 2 batches (this makes it much easier to work with). Add one piece of dough to a lightly floured sheet of parchment paper.
Sprinkle some flour over the top of the dough, then use a rolling pin to roll the dough out into a thin rectangle. If you want perfectly square crackers, use a pizza cutter to trim the edges to form a perfect rectangle. Otherwise, you can leave the edges imperfect and it will still work out just fine.
Transfer the parchment paper to a baking sheet. Use your pizza cutter to cut the sheet into small squares (as small or large as you'd like the crackers to be). Sprinkle seasoning over the top and use a rolling pin to lightly press the seasoning down into the dough.
Bake at 450 degrees for 12 minutes. While they bake, repeat these steps for your second batch.
Transfer to a cooling rack and let these crackers cool and crisp up for about one hour. They will be soft right out of the oven but harden as they sit.
Notes
Don't skip the oil or try to substitute it to reduce the calories. The oil is what will make these crackers nice and crispy. You can use another fat source, such as butter or coconut oil, but I do not recommend a lower-calorie alternative like applesauce.
I use PEScience protein powder, which is a blend of whey & casein protein powder. Whey protein should work here as well, but I did not test it.
That said, the protein powder can be left out entirely and swapped 1:1 with additional flour.
Some crackers will end up lighter than others, but they will all crisp up as they sit. If you find your crackers soft, let them sit overnight in a sealed bag or container.
Leftovers can be stored in a sealed bag and enjoyed throughout the week- a great snack to prep in bulk to help you hit your protein goals.
Recommended Products
As an Amazon Associate and member of other affiliate programs, I earn from qualifying purchases.
Nutrition Information
Yield

8
Serving Size

1 Cup (30g)
Amount Per Serving
Calories

155
Total Fat

6g
Carbohydrates

17g
Protein

8g