If you don't love Dunkaroo dip, it can only be for one reason: you haven't tried it.
As a 90's kid, Dunkaroos were a staple in my elementary school lunch box. They've recently made a comeback after being off shelves for years, and I must say, they are just as good as I remember them to be.
But as an adult (by age, not by choice) Dunkaroos leave a little bit to be desired at this point.
So, we're giving them a remix with our very own (healthier) Dunkaroo dip!
This version of Dunkaroos is lower calorie AND higher protein than the original, and dare I say, may taste just as good.
Regular Dunkaroos are 190 Calories, 8g Fat, 29g Carbs, and 0g Protein.
Our homemade Dunkaroos are 160 Calories, 4g Fat, 21g Carbs, and 8g of Protein.
And best of all, it couldn't be easier to throw it all together!
How to make Healthy Dunkaroo Dip
Our Dunkaroo dip is made from 3 simple ingredients:
Vanilla Frosting
Vanilla Protein Powder
Vanilla Greek Yogurt
The protein powder & Greek yogurt give us that protein bump, but the authentic vanilla frosting is what brings this home with the true Dunkaroo flavor.
Now, please be warned: the type of protein powder you choose matters!
Regular whey protein powder is going to be very sticky. That's why I much prefer to use a protein powder that is a blend of whey AND casein protein. The addition of casein protein makes it significantly smoother (and in my opinion, improves the taste).
I always recommend PEScience in my recipes, because I truly believe it tastes better than any other protein out there! By all means, use whatever protein you'd like, but I highly recommend PEScience. If you want to try their protein, you can save 15% with my code "MATT".
Step 1: Mix the Greek yogurt and protein powder
Mix these together until there is no dry powder remaining. It's not going to be completely smooth, and it's going to be quite thick, but that's to be expected at this stage.
Step 2: Fold in vanilla frosting
I used "Fluffy Frost" here, which is a slightly lighter version of regular vanilla frosting.
I found that the fluffy version made this very easy to mix, but regular ol' vanilla frosting will work just as well. This frosting is a slightly lighter version of traditional frosting (in terms of calories) but either will work just the same.
Fold in the frosting and mix until it is nice and smooth, then refrigerate for one hour.
I know that waiting a full hour might feel like torture, but trust me here. The Dunkaroo dip will set and the flavors blend together perfectly in that hour.
After one hour, remove the Dunkaroo dip from the fridge and fold in your sprinkles.
I didn't measure the amount of sprinkles used, but nobody will ever complain about too many sprinkles. I'm quite certain that is not possible.
Now the Dunkaroo Dip is ready to serve!
When you compare it side-by-side with original Dunkaroos, I won't specifically say it looks more appetizing, but…
I'll let you be the judge there.
I pair my Dunkaroo Dip with Kodiak Cakes "Bear Bites," which are essentially a higher-protein version of Teddy Grahams. They may just be my favorite crackers out there, and they are the perfect dippers for this Dunkaroo dip.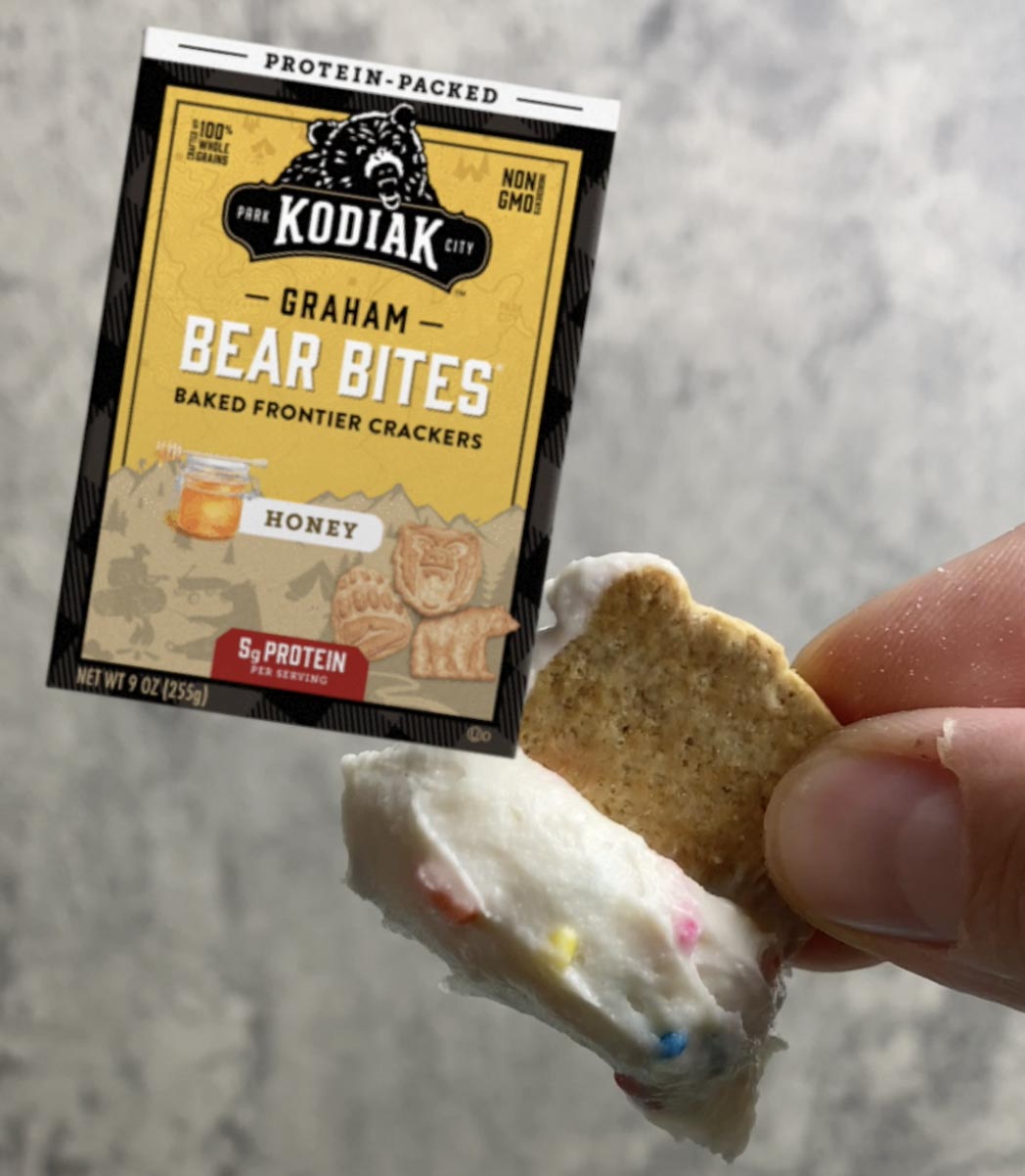 I emptied out a container of Dunkaroos to add my own Dunkaroo dip, along with 10 of the Bear Bites. The recipe will yield roughly 6 servings of the dip, unless you want to get very heavy-handed with it.
You can also serve the entire batch of Dunkaroo dip in a bowl alongside your favorite crackers without the need to portion it out.
If you want to make your own homemade crackers or cookies to serve with this Dunkaroo dip, my Protein Cookie Crisp Cerea would work very well! If you leave out the chocolate chips, you'll have perfect little vanilla cookies for dipping.
Homemade Healthier Dunkaroo Dip
Total Time:
1 hour
2 minutes
We're taking the snack that every kid growing up in the 90's loved, but putting a new, healthier spin on it. Each serving has only 160 calories and packs 8g of protein- a big improvement on the original.
Ingredients
60g Vanilla Nonfat Greek Yogurt
Rainbow Sprinkles
Kodiak Cakes Bear Bites (for dipping)
Instructions
Mix together vanilla Greek yogurt and protein powder in a bowl until smooth. It will be very thick, but we just want to mix until there is no dry powder left.
Fold in the vanilla frosting and mix with a silicone spatula until smooth.
Refrigerate the Dunkaroo dip for 1 hour to fully set.
After 1 hour, mix in sprinkles. I didn't measure how much, but you are free to use as much or as little sprinkles as you prefer.
Now you're ready to serve! I emptied out Dunkaroos and filled the containers with my own dip, which was enough to fill 6 containers, but serving in a single bowl works great.
Use Kodiak Cakes Bear Bites as dippers (they are essentially high-protein Teddy Grahams, and they're delicious) or you can use any cookies or crackers you'd like! I used 10 Bear Bites with each serving of the Dunkaroo dip, because that is what fit well in the container.
Notes
You want to use a protein powder that not only tastes great, but is also thick. A standard whey protein is not going to work very well. I use PEScience, which is a blend of whey AND casein protein, and it works so much better than anything else I've tried. Casein alone should work, and even a plant-based protein should work here, although it won't taste nearly as good.
You can serve this dip with whatever you'd like, but I can't recommend the Kodiak Cakes Bear Bites enough. I have no affiliation with them, I just think they are delicious.
The entire batch of Dunkaroo dip on its own is 465 calories, 16g Fat, 54g Carbs, and 29g Protein
Recommended Products
As an Amazon Associate and member of other affiliate programs, I earn from qualifying purchases.
Nutrition Information
Yield

6
Serving Size

1/6 of Dip With 10 Crackers
Amount Per Serving
Calories

160
Total Fat

4g
Carbohydrates

21g
Protein

8g