This creamy taco pasta recipe is going to bring your next Taco Tuesday to the next level.
Each serving of this pasta contains 27 grams of protein and just 300 calories, but you'd never know it based on how much flavor it packs.
If you don't feel like firing up the oven for a taco pasta bake, this easy cheesy taco pasta is a great recipe that is sure to become a family favorite.
The entire recipe will be ready in under 30 minutes whether you choose to go completely from scratch or prefer to use leftover taco meat, so it's perfect for busy weeknights or meal prep.
Ingredients needed for this creamy taco pasta
This cheesy taco pasta is like if you combined Hamburger Helper with tacos, but made it taste 10 times better and be way more nutritious.
Here is everything you need to make this delicious meal: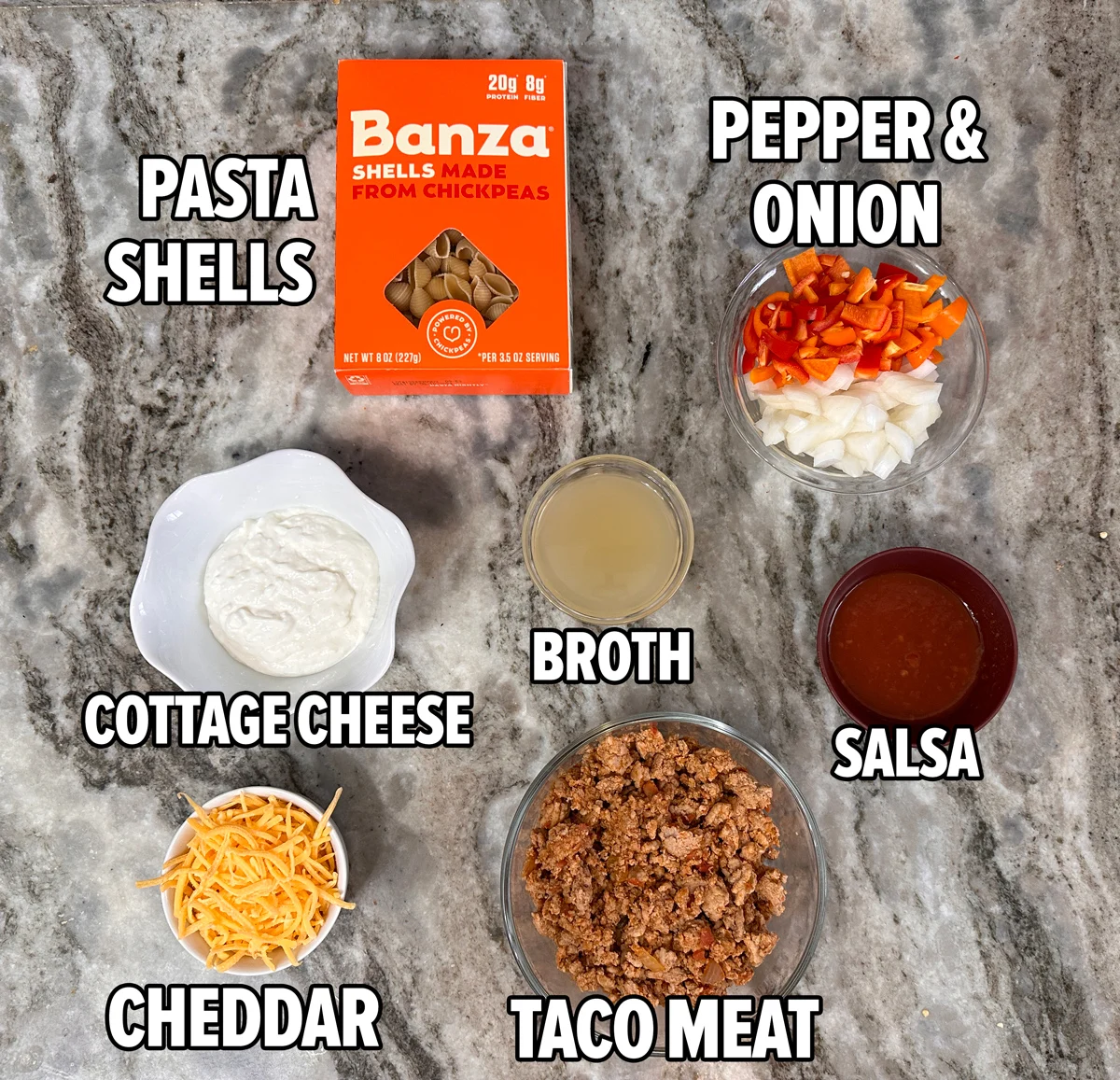 Pasta Shells (I use Banza chickpea pasta for added protein)
Diced Pepper & Onion
Chicken or Beef Broth
Salsa
Shredded Cheddar Cheese
Cottage Cheese
Taco Meat
The creaminess of this dish comes from the combination of shredded cheese and cottage cheese. I've recently started using cottage cheese more in my recipes because it's an incredible way to sneak protein into dishes without any unwanted flavor- I've found Greek yogurt to be too tart, so cottage cheese is an amazing substitute.
For this creamy pasta, the cottage cheese takes the place of something like heavy cream, which is what gives this pasta its creaminess. If you don't like cottage cheese, you can swap it out for sour cream in this recipe, but sour cream will alter the flavor a bit.
I chose to keep this pasta recipe simple by just using bell pepper and onion, but you can add any additional vegetables you'd like: black bean, tomato, pinto beans, whatever you'd like.
This recipe is amazing because you can use leftover taco meat from your Taco Tuesday celebrations, but it's VERY easy to make your own from scratch. Here's what I use to make my own taco meat:
Lean Ground Turkey
Salsa
Taco Seasoning
You can use ground beef in place of ground turkey, I just prefer using turkey. Just be sure to use lean beef like 90/10 or 93/7 to keep the macros favorable.
If you don't have (or don't like) store-bought taco seasoning, you can easily make your own. My friend Danielle from Oh Snap Macros includes a simple homemade taco seasoning within her Taco Mac & Cheese recipe, which I guarantee you'll love.
How to make this easy taco pasta
To start, you'll boil your pasta shells based on the package instructions. For the chickpea pasta, the instructions state 9 to 11 minutes, so I cooked the pasta for 9 minutes.
We'll add the pasta to the large skillet with the rest of the ingredients at the very end, so we want to keep the pasta al dente.
While the pasta cooks, you'll dice up your bell pepper and onion and add them to a pan over medium heat with a little bit of salt and pepper.
Let those cook down for a few minutes before adding your ground meat to the pan and breaking it up.
You'll want to cook the meat until it is mostly cooked through but still has some pink, at which point you'll add the taco seasoning, salsa, and beef or chicken broth. Mix it all up, then let it cook together for 3-4 minutes.
If you find yourself with a lot of leftover taco meat, you can use the leftover meat in this recipe! Simply add the leftover ground beef or turkey to the pan the same way, but leave out the taco seasoning and reduce the salsa to 1/2 cup.
Add your drained pasta to the pan, then give everything a quick mix before finally adding in your cottage cheese and shredded cheddar.
Turn off the heat, stir everything up, and you're ready to go!
I like to top my taco pasta with some green onion, but you can also add some fresh cilantro, hot sauce, or additional shredded cheese. Whatever your favorite taco toppings are will work great!
This recipe keeps really well as leftovers to enjoy as an easy meal during the week. Simply store leftovers in an airtight container and reheat for 1-1.5 minutes in the microwave when ready to serve the next day or later in the week.
More recipes you're sure to love
As of the time of writing this recipe, I am actively working on bringing you many more easy meals just like this. If you need another easy recipe that the entire family is sure to love, here are some great ones (including plenty of pasta dishes):
Easy & Delicious Creamy Taco Pasta
This creamy taco pasta comes together in just 30 minutes and can easily be made from scratch or by using leftover taco meat! Level up your taco night with a recipe that the whole family will go crazy for.
Ingredients
1 Pound 93/7 Lean Ground Turkey (can use lean ground beef instead)
1 Cup Salsa of Your Choice
1 Tbsp Taco Seasoning
1 Box (8oz) Banza Chickpea Pasta Shells (or your favorite pasta)
1 Cup Diced Onion
1 Cup Diced Pepper
1/2 Cup (113g) Fat-Free or Low-Fat Cottage Cheese
1/2 Cup (56g) Reduced Fat Shredded Cheddar Cheese
1/2 Cup Chicken or Beef Broth
Instructions
Boil the pasta based on the package instructions. For the Banza pasta, it calls for 9-11 minutes, so I went with 9 minutes since we'll be mixing & heating everything together at the end. Drain the pasta and set aside.
Dice up your pepper and onion and add them to a pan over medium heat with a pinch of salt & pepper. Cook down for about 3-4 minutes.
Add the ground meat to the pan and break it apart with a spatula. Cook until the meat is almost cooked all the way through but still has a little bit of pink.
Add the taco seasoning to your pan and give it a quick mix.
Add the salsa and broth to the pan, stir it all together, and let everything cook for 3-4 minutes.
Take your cooked pasta and add it to the pan, then stir everything together.
Turn off the heat, then mix in the cottage cheese and shredded cheddar. Note that it works best if you blend the cottage cheese until smooth prior to adding it, but you can get away with adding the cottage cheese as-is and it won't be an issue.
Give everything a quick mix to melt the cheese and make sure everything is evenly distributed, top with some green onion and hot sauce if desired, then serve.
Notes
This recipe is very forgiving, so feel free to play with the ingredients if you need to make substitutions.
Cottage cheese is a great way to add creaminess to this dish while also adding some extra protein. If you need to leave it out, you are able to, but I would recommend adding some cream, milk, or additional cheese.
Instructions if using leftover taco meat:
If you are using leftover taco meat for this recipe, follow the instructions the same way, but disregard the taco seasoning, and reduce the amount of salsa used to 1/2 cup. When you add the leftover taco meat to the pan, it will only need a couple of minutes to heat up rather than needing to cook through.
Recommended Products
As an Amazon Associate and member of other affiliate programs, I earn from qualifying purchases.
Nutrition Information
Yield

6
Serving Size

1/6 of Recipe
Amount Per Serving
Calories

300
Total Fat

9g
Carbohydrates

30g
Protein

27g