Subway has long been considered one of the healthiest fast food restaurants, and that's for good reason. When you look at the Subway menu, it's clear that there are some great healthy options depending on what you are looking for.
Since you are able to build your own meal at Subway, it's easy to customize your order to build the perfect healthy meal for your diet.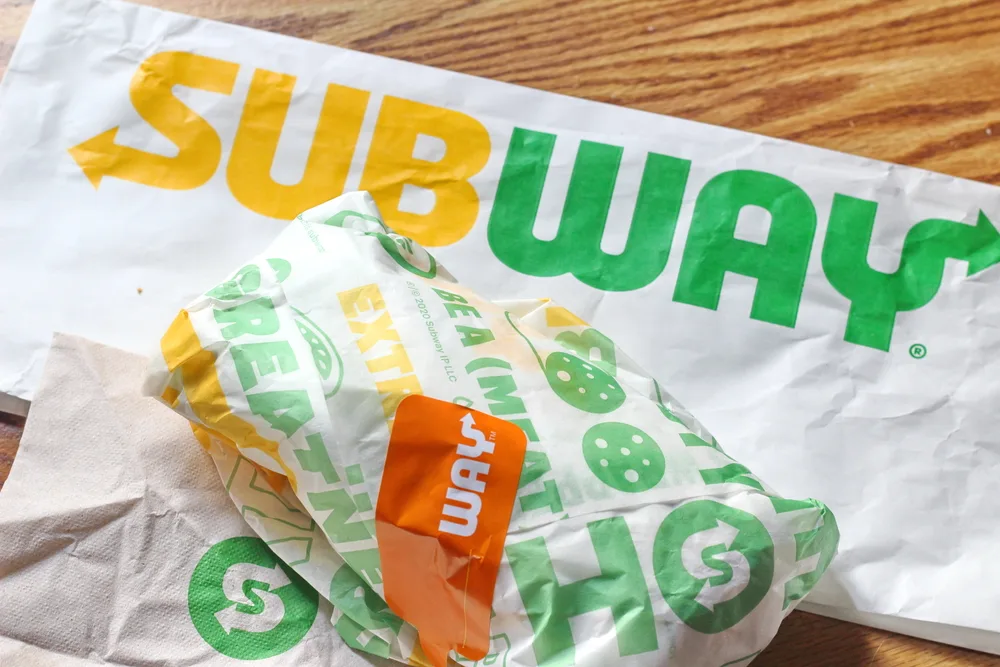 In this guide, I want to help you find the healthiest Subway sandwich for your preferences. Whether your goals revolve around building muscle or weight loss, I want to help you find the best healthy food at Subway to support your goals.
We're going to look at the highest protein options, as well as the lowest calorie options. Finally, we'll look at various customization options to help you build the ultimate healthy option for your diet.
Subway is best known for its sandwiches, but there are also wraps, bowls, and salads available, so it's important we look at the entire menu as a whole.
Note: All menu images used in this breakdown are property of Subway
The Highest Protein Footlongs at Subway
Subway Footlong With the Most Protein
The Monster Footlong PRO (Double Meat)
1,470 Calories, 80g Fat, 83g Carbs, 114g Protein
Subway Footlong With the Most Protein For 500 Calories
Oven Roasted Turkey Footlong
520 Calories, 6g Fat, 78g Carbs, 40g Protein
If your goal is to eat high-protein, Subway has a ton of options available to you.
To start, let's take a look at Subway menu items that have the most protein regardless of calories. For this, we strictly want to find the most protein on the menu.
In this case, all of the highest protein options are Footlong PRO sandwiches, which are footlongs with double meat.
As you can see, not every footlong sub is a particularly great option. Even though they are very high in protein, the calories are rather high as well.
The Subway sandwich with the most protein is The Monster Footlong PRO. Since it contains double protein, it contains 114 grams of protein, which is a ton for a single sandwich
However, with nearly 1,500 calories and 80 grams of fat, it may not be the best choice on the menu.
Instead, if you want to get a ton of protein, the Grilled Chicken Footlong PRO will give you the most bang for your buck.
With 82 grams of protein, it is a very high-protein option, but the calories are half of The Monster with only 730 calories. While that may be more calories than you'd like, 730 calories with 82g of protein (and only 11 g fat) is a very solid option.
The Highest Protein 6″ Sandwiches and Wraps at Subway
Subway 6″ Sub With the Most Protein
The Monster
540 Calories, 29g Fat, 39g Carbs, 35g Protein
Subway 6″ Sub With the Most Protein For 300 Calories
6″ Rotisserie-Style Chicken
300 Calories, 6g Fat, 50g Carbs, 23g Protein
If the Footlong PRO options contain too many calories for your diet, you'll likely want to turn to a 6-inch sub or wrap.
While these options may not have as much protein as the footlongs, in most cases you are getting much more bang for your buck.
The wrap with the most protein at Subway is the Chicken & Bacon Ranch Wrap with 55 g protein, but considering it also contains 840 calories, it may not be one of the best options for protein.
Most of the other wrap options contain right around 500 calories and 40 grams of protein, which is a much better option! Whether you want steak & cheese, buffalo chicken, chicken teriyaki, or roast beef, these wraps are a great source of protein.
As far as 6″ subs go, The Philly and The Great Garlic are two of the best options, each with 31g of protein and under 500 calories in total.
The Lowest Calorie Options at Subway
Lowest Calorie 6″ Sub
Veggie Delight
200 Calories, 2g Fat, 39g Carbs, 8g Protein
Lowest Calorie Protein Bowl
Oven Roasted Turkey Bowl
150 Calories, 3g Fat, 8g Carbs, 25g Protein
For some people, calories are the main concern over protein, so it's important that we look at some of the lowest calorie options on the Subway menu as well.
Since I wanted to look strictly at the lowest calorie menu items, some of these options are more macro-friendly and protein-packed than others.
One important note about this guide is that I decided to leave off the Subway salads. Since Subway's website lists all of the salads without dressing, the calories are deceivingly low. In fact, nearly every salad listed is right around 200 calories or less.
If you select the Steak & Cheese Salad on the Subway website, it will come up as 210 calories, but that does not include the dressing. Don't worry, the next section below will break down the dressing options.
Subway's protein bowls (The No Bready Bowls) are similar to salads, but they are described as everything you'd get in a footlong, served in a bowl. Because of this, the focus is on extra protein, so I wanted to highlight the protein bowl options here.
If you're looking for an option for 200 calories or less, Subway has a few options for you. The Over Roasted Turkey Bowl, Black Forest Ham Bowl, and Grilled Chicken Bowl all contain 200 calories or fewer, as well as a fair amount of protein.
The Grilled Chicken bowl still contains 35g of protein thanks to the lean chicken breast, making it one of the healthiest options.
If you are watching your carbs and want to avoid the bread, all of the bowls have very minimal grams of carbs, making them great options.
For a low-calorie sub, the 6″ Veggie Delite is technically one of the healthiest Subway sandwiches, but it contains very little protein with only 8g. If you want a healthier option (in terms of calories) that still contains a good amount of protein, the 6″ roast beef sub is a great option.
With 300 calories and 22g of protein, it's a great way to get protein without a ton of calories.
Customizing Your Ultimate Macro-Friendly Subway Meal
The amazing thing about Subway is that you can customize your order however you'd like! Since you can swap out the bread, cheese, sauces, and veggies, you can build countless healthier options for yourself.
Starting with the bread, you have the option of Italian bread, flatbread, multigrain bread, Italian herbs & cheese, or a wrap. All of the nutrition facts are fairly similar for the bread options, but Italian bread is actually the lowest calorie option with only 160 calories for a 6-inch sub.
As far as the cheese is concerned, most options are going to be interchangeable in terms of macros. For a 6″ sub, American cheese will add 40 calories, while pepper jack, Monterey jack, and provolone will all add 50 calories.
For this guide, I chose to leave the fresh vegetables out, because they are all essentially calorie-free! Green peppers, black olives, red onions, banana peppers, etc, will all add 5 calories at most to your sandwich, so it's not enough to stress about.
Where the calories can really make a difference is in the sauce or dressing choice you make. The cream-based sauces, like mayo, ranch, and garlic aioli, all contain 80-100 calories per serving.
If you add mayo to a footlong sandwich, that's going to add an extra 200 calories!
If you want a low-calorie sauce option, mustard or honey mustard are two of the best choices. It's surprising to see that the teriyaki sauce from the sweet onion chicken teriyaki is one of the lower-calorie options as well as most teriyaki sauce tends to be high in sugar.
Macro-Friendly Subway Tips
I hesitate to call these hacks because they are not necessarily secrets. However, there are some great tips you can utilize to get the most bang for your macro-buck at Subway. Here are some of my favorite tips:
Ask for "less" sauce or dressing. This will essentially cut the sauce in half, which can be a huge calorie saver if you are adding something like mayo or garlic aioli.
Go with double meat on a 6″ sub. To keep the calories lower, you'll want to stick with a smaller 6″ sub, but you can get double protein on any sandwich! In a lot of cases, the caloric impact is pretty minimal, too. For a Sweet Onion Chicken Teriyaki sub, ordering double meat will add 110 calories and an extra 16g of protein.
Order a protein bowl with a side of flatbread. My favorite thing to do at Chipotle is ordering a bowl with a tortilla on the side, then assembling my own burrito, and this is the same idea! The protein bowl maximizes the protein you're getting, and by getting a flatbread on the side, you can assemble your own little sandwich.
Skip the cheese. I know, this isn't much of a trick, but it's one of my go-to's. Personally, I don't find that cheese adds much flavor to my sandwich, and by leaving it off, you can save yourself some extra calories.
Conclusion: How Healthy Is Subway?
Like all fast-food restaurants, Subway is only as healthy as you make it.
From an ingredients standpoint, it's tough to say that Subway is not an overall great choice. I mean, they've coined the term "Eat Fresh" for a reason, and they have lots of great, fresh ingredients available to you.
If we're talking about strictly calories and macros, Subway is definitely one of the best fast-food restaurant options I've come across.
While you can certainly make substitutions at most places, the substitution options at Subway are nearly endless. Because of this, you can build the perfect meal to fit your goals and your specific macros.
When it comes to eating high-protein fast food, Subway definitely has some of the best options out there! And while a lot of those options come with a ton of calories, there are some incredible low-calorie options available as well.
It all comes down to your own preferences, but when looking at the menu, I would definitely say that Subway has lots of amazing options for almost anyone.